Image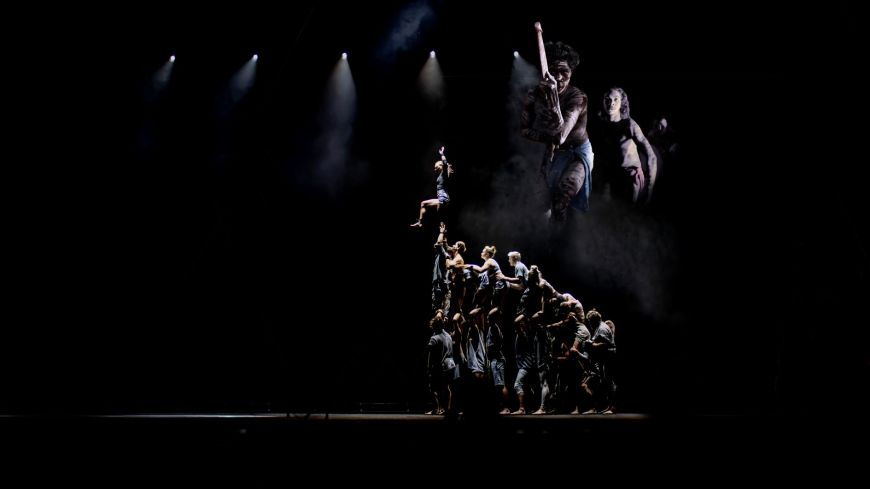 The last two years were tough on live, performing arts, but with signs that the worst of the pandemic is receding, the Edinburgh Festival is finding its feet again in its 75th anniversary year and it will include many free shows.
So whether you are looking to pad your schedule with a few more shows, don't have the budget to splash out at the box office, or just want a wee taste of this year's Edinburgh's Festivals with limited financial outlay, here's a starting point for discovering free festival shows across Edinburgh this July and August.
Note that while the shows are free, you may need to book tickets ahead and, of course, that many shows will happily accept donations!
1. Mardi Gras
The Edinburgh Jazz and Blues Festival is the first in line to get the summer festival season going. There are two stand-out free events on the first weekend - the Mardi Gras, down in the Grassmarket, is an afternoon of a range of jazz styles. There are several stages and people spill out from the neighbouring bars into the street for a music-filled afternoon. 
Times: 16 July, 1-4pm. Free. Booking is not required.
2. Carnival
The other main Jazz Fest free event is the Edinburgh Carnival, the day after Mardi Gras, which is more of a  multicultural, cross-festival celebration, with a colourful parade of 800 performers trooping and swinging down the Mound from the Old Town. The parade is followed by three hours of live music and entertainment at West Princes Street Garden. 
Times: 17 July, 1-6pm. Free. Booking is not required.
3. Macro
The Edinburgh International Festival - that's the official or flagship festival - always likes to open with a big splash. In previous years, some of these large-scale events have been truly eye-popping - like Deep Time and Five Telegrams.
This year's event, Macro, should also be a crowd-pleaser when it takes place at Murrayfield Stadium, with Australian acrobatics, Scotland's youth choir, a light display, drums, and a musical collaboration between aboriginal and Celtic artists.
Times: 5 Aug, 9.30-10.40pm. Free. Booking required, details to be announced 27 June 2022
4. Festival Anniversary Concert
Traditionally, the Edinburgh International Festival concludes with the Edinburgh Festival Fireworks Concert under  Edinburgh Castle. Unfortunately, this hugely popular highlight of the summer festivals is not happening this year,  organisers say, due to the pandemic leaving too short and uncertain a lead time to prepare for such a large event. However, rounding off the festival will be a special Anniversary Concert - to mark the 75 years since the founding of the Edinburgh Festival.
Arias from Puccini's La bohème and Gershwin's Porgy and Bess and the finale of Beethoven's Seventh Symphony, are among the pieces of a programme put together by Conductor Yannick Nézet-Séguin.
Times: 27 August, free, book a ticket on Monday 4 July.
5. Fringe Street Theatre
The Royal Mile and the Mound Precinct have always been people magnets for live street shows. Professional street performers mix with thesps, musicians, acrobats, and many others previewing their Fringe productions. The whole gamut of Fringe entertainment can be found here. 
In 2022, as part of the 75th anniversary celebration, Fringe street events will also take place at new locations in East Princes Street Gardens, St Andrew Square, Multrees Walk, and Cathedral Square outside St James Quarter. 
The Fringe has partnered with social media platform TikTok to extend the reach of the street, with live streaming from "taster" stages at St Andrew Square and Cathedral Square. Two screens on the Royal Mile will show the TikTok content as well as showing digital posters of fringe shows.
Times: 5 - 29 August
6. Free Shows at the Fringe
The full Edinburgh Fringe programme is not out until 7th July but a search for free, in-person shows on the Fringe web site returns a total of 289 results at time of writing - also bear in mind these are shows that have paid for a listing with the Fringe Society's official programme, so there's probably more shows out there that are so fringe they are not even listed in the Fringe programme. 
There are two rival organisations that have taken on the mantle of the "Free Fringe": Laughing Horse and Peter Buckley Hill's Free Fringe. Shows are typically in pubs or clubs, and comedy and cabaret make up a significant portion of the free entertainment. If you like the show you can put money in a donation bucket at the end. Sadly, beer is not free as well. 
Shows are both ticketed and non-ticketed. Non-ticketed shows are on a first-come-first-served basis.
Times: various, 5 - 29 August
There are many free permanent exhibitions at Edinburgh's galleries and museums throughout the year. The same is true of the Edinburgh Art Festival which has 35 exhibitions this year, talks and tours. They are not all free, but many are.
The National Galleries of Scotland, Modern 1 and Modern 2, or City Art Centre in the Old Town, are popular places to head for, but there are more unusual and unique exhibitions at this year's art fest, particularly focussed on the 200th anniversary of the Union Canal.
Times: various, 28 July and 28 August, 2022 
While you will have to pay for many author events at the Edinburgh International Book Festival, the village is free to enter at Edinburgh College of Art during August. There's also several different strands of free events.    
For children and families, there's a half hour storytime (10am-10.30am) with visiting authors each morning called "Are You Sitting Comfortably?". 
In "Reading the World", big issues of the day are discussed with visiting authors at 3pm-3.30pm.  
The Book Festival also has 15 minute slots each day (10-10.15am) called "Passion Projects" where a Festival author shares an unexpected inspiration for a book or passion. 
Look out, too, for "Scotland's Stories Now: On This Day", an interesting project that saw people across Scotland – of any age, background or ability – submit their own stories responding to the prompt 'On This Day'. At 5pm, different storytellers from around the country share their work.
Check the Book Festival website for details of these and other free shows.
Times: 13 August to 29 August, 2022
9. Edinburgh Castle Fireworks and Flyovers
As we pointed out above, the Festival Fireworks display that traditionally closes the Edinburgh Festival is not happening this year, but the Edinburgh Military Tattoo does have a small fireworks display as part of its show which you'll hear reverberate around Edinburgh each night.
It's nothing like on the scale of the official fireworks display - as it's designed for those watching the Tattoo - but if you look above Edinburgh Castle from Princes Street, Calton Hill, or other vantage point, you'll catch the small display in the night sky.
On Fridays and Saturdays the Tattoo has an enhanced fireworks display that lasts longer. A few of the shows also have flyovers by air display teams. See our Edinburgh Military Tattoo page for more details.
Times: 5 August to 27 August
10. Dreammachine
The Edinburgh International Festival is giving away over 35,000 free tickets in 2022. As well as MACRO and the Anniversary Concert (see above), another major Festival free show sees art meet science in Dreamachine at Murrayfield Ice Rink. The "immersive experience" uses light and sound for "exploring the limitless potential of the human mind...for  exploration, joy and reflection".
The experience is created by Collective Act, presented by Edinburgh Science, and brings together Turner Prize-winning artists Assemble, Grammy and Mercury nominated musician and composer Jon Hopkins, and a team of  technologists, scientists and philosophers.
Times: 13 to 25 August. Free tickets for Dreamachine will be available from Monday 11 July.
The Edinburgh International Festival was born out of a desire to bring nations together after the devastation of the Second World War, so it's appropriate that the EIF recognises the current grim conflict with a special free concert in solidarity with the victims of the war in Ukraine at the Usher Hall.
Times: Saturday 6 August 2pm, ticketed, booking from Monday 18 July.
This three-day series of free classic and new film screenings is part of the Edinburgh International Film Festival programme. As in recent years, the free film fest takes place in St Andrew Square Gardens. Films reflect themes in the wider EIFF programme and other festivals taking place this August.
Times: Friday 12 to Sunday 14 August, free and unticketed. More info.
13. BBC at the Edinburgh Festival
Each year, a host of BBC radio and television programmes record live and pre-recorded programmes at the Edinburgh Fringe and Festivals. This year the BBC will be operating out of a Spiegeltent at the St James Quarter. Shows range from chats with selected artists performing in the festivals (see the Afternoon Show or Front Row), and familiar shows (Breaking the News, Sacked in the Morning) given an Edinburgh Festival spin.
Times: various dates in August, free but ticketed. Book tickets by 25th July. More info.
14. Pianodrome @ The Old Royal High
The amphitheatre made from recycled pianos is back in a new form at the Old Royal High School on Calton Hill. The amphitheatre plays host to over 250+ acts between 1 July and 11 September as part of its Summer Resonancy 2022. The programme includes free, lunch time concerts and a open invitation to drop-in, marvel at the creativity of the piano recylistas and have a go on one of the three working pianos.
1 July - 11 September, free. More info
15. EIF At Home
When Covid-19 struck all the festivals scrambled to bring audiences more online content to fill the creative vacuum. In 2021, this evolved into the hybrid model where shows were both in-person and online. Part of the Edinburgh International Festival's pandemic response was to introduce a free programme of online concerts under the banner "At Home". This year, it returns again with more free content from the festival, including 5 specially commissioned pieces shot in classic Edinburgh locations, 2 full-length concerts (including the Closing Concert) and a series of behind-the-scenes pieces. Unlike the rest of the events in this list, the free part of this recommendation is mostly not in-person and it's months after the festival, but given that it can bring you a little sunshine in the dreich winter months it would be remiss of us to leave it out. What's more, there are some free, online talks as part of At Home, during August. 
16. Livestream Thank You, Edinburgh Concert in the Garden
If you couldn't get tickets to the Thank You, Edinburgh concert at the Playhouse, you can still watch it on a  livestream at the Ross Theatre in the afternoon of the penultimate day of the Festival. The Philadelphia Orchestra, who are in residence, will be play a varied programme. Seats will be available from 2pm, and the first 100 arrivals get a goody bag of snacks. See article.
27 Aug, 3pm, free. More info
Many shows are still being added to this year's festival schedule - we'll keep this page updated with free festival recommendations as events are confirmed. Follow us on Twitter and Facebook, or check back later for updates.