Image (reusable)
Image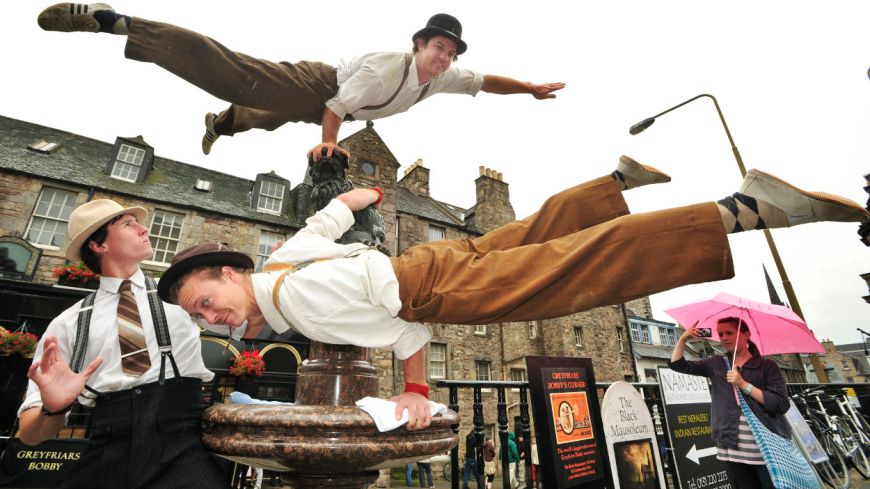 Telephone (box office)
0131 226 0000 / 0131 226 0036 (Friends of the Fringe)
The Edinburgh International Festival may have come first, but generally it's the Fringe that Edinburgh is best-known for. There's really nothing quite like it - "the largest show on Earth".
The stats from the last normal Fringe bear that out: 2019 saw 3,841 shows in 323 venues across Scotland's capital city.
It's a sprawling, anarchic, sleepless month of live performances. There are hundreds of free shows and pay-what-you-want shows at the Fringe as well.
Due to Covid-19 restrictions, the Fringe in 2021 will be following a slimmed-down, hybrid programme of both in-person live performances and online shows at fewer, socially distant venues.
The Fringe Society is not printing a Fringe brochure in 2021, so check the Fringe website as shows are being added on an ongoing basis each week.
Each year, EG's Fringe team follows the drama, on stage and behind the scenes at the Fringe.
Fringe Festival Coverage
Fringe Tickets (2019 info)
The first batch of Fringe tickets go on sale on 1st February, with a fresh batch of tickets released each month up until the 5th June when the Fringe 2019 programme is launched.
The 2019 Fringe Programme is free from outlets around town and in digital form on the Fringe web site. Tickets can be bought online, over the phone, and in person at the Fringe Box Office and at outlets around Edinburgh (see the Fringe tickets web site details).
A booking fee of 80p per ticket (up to a maximum of £4.80) is applied to all bookings, including in person counter sales, except on tickets purchased from the Half Price Hut. Discounts are available for students, over-60s, unemployed, etc. There's often a 10% discount for groups of 10 or more.
Fringe Ticket Deals
Tickets for shows generally tend to be cheaper at the start of the Fringe festival, with special deals at most venues and ticket giveaways to get bums on seats during the crucial first week when the press are in. Many shows also offer concessions for children, families, students, registered unemployed, customers with disabilities, and senior citizens. Groups of 10 can often get a discount of 10%.
Among the ticket deals you'll find a number of shows have two-for-one deals when buying a full price ticket on 5th to 6th August 2019.
The Fringe half price hut has many half-price deals (10am-9pm).
Tickets to BBC shows at George Heriot's school are free but due to popularity are distributed by a random draw. See tickets to BBC at Edinburgh's Festivals.
There's also a host of performers and free shows along the Royal Mile and outside the National Galleries at the foot of The Mound.
There are also many free and pay what you want shows throughout August, not just at the Fringe but at all the Edinburgh Festivals. See our Edinburgh Festival for free guide.
Edinburgh Fringe Reviews Archive: