Image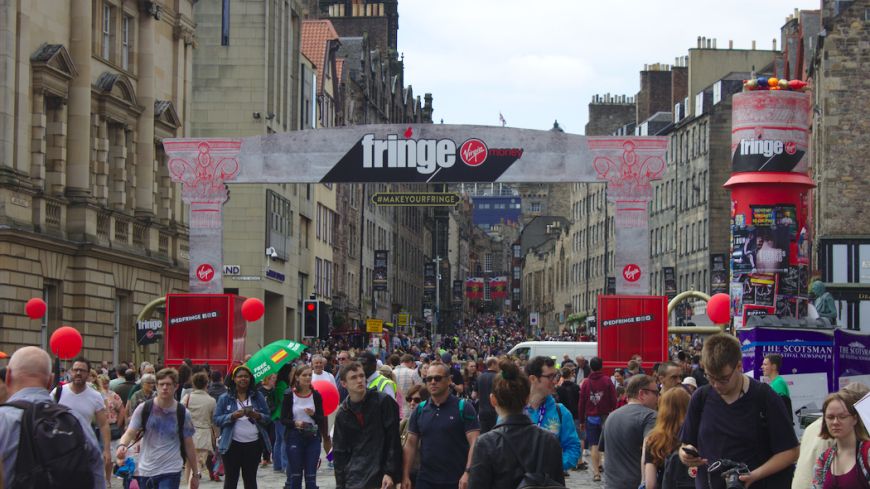 On first reading, you might have passed it off as a weak April Fool's joke. But in these extraordinary times, the announcement that all of Edinburgh's summer festivals are to be cancelled in 2020 due to the Covid-19 pandemic was what everybody feared.
The five festivals that take place over August - the Edinburgh International Festival, the Edinburgh Festival Fringe, the Edinburgh Book Festival, the Edinburgh Art Festival and the Edinburgh Military Tattoo - made the simultaneous announcement earlier today. 
The impact will reverberate throughout the city economy and well beyond. Together, the five festivals comprise over 5,000 events across Edinburgh each summer, ranging from a handful of people in a small temporary Fringe venue to thousands each night on the esplanade at Edinburgh Castle for the Edinburgh Military Tattoo.
In total the city welcomes audiences of 4.4 million and over 25,000 artists, writers and performers from 70 countries. "The Festival", as all the festivals are usually referred to, is considered the second biggest cultural event in the world after the Olympics. 
"Over the past month as the Covid-19 crisis has accelerated, I have been working with the Festival team to consider how we might present a Festival in 2020," said Edinburgh International Festival Director Fergus Linehan. "It has now become clear that, given the current outlook, it is not going to be possible to do so." 
Shona McCarthy, chief executive of the Edinburgh Festival Fringe Society said the decision was ultimately "unavoidable" given the Covid-19 restrictions in place on social distancing are expected to continue into the summer months.
However, some Fringe groups still hold out the hope that there may be some reprieve from virus restrictions by August and that they will be able to host some shows on an albeit smaller scale probably to a mainly local audience.
The Stand, which has been getting good viewership with its free, live, online comedy shows during lockdown, will no doubt bounce back as soon as the all-clear comes.
The Pleasance, one of the "Big Four" Fringe venues, didn't say it was cancelling its programme although tickets are being refunded: "we have taken the difficult decision to suspend planning for our 2020 Edinburgh Festival Fringe season" promising though "we will return to the Edinburgh Festival Fringe galvanised within a renewed purpose, be that in 2020 or 2021."
Likewise, Assembly Festival, Gilded Balloon, and Underbelly held out the faint hope that restrictions might clear by festival time in their Covid-19 statement by not mentioning the word "cancel", while looking ahead to August 2021.
"So, whilst we are suspending our 2020 plans for now, and fully supporting our artists' withdrawal from this year's Fringe, please be assured that we remain committed to returning fully in 2021," said Assembly Festival.
The Fringe being the freewheeling beast that it is, there is no curatorial control over what shows take place and if they take place in August. The Fringe Society's role is to offer advice to participants, facilitate ticket sales through its box office and brochure, as well as celebrate the Fringe.
In a Q&A on its Covid-19 statement, the Fringe Society says:
"The Fringe Society is a small charity that exists to support Fringe artists and audiences and therefore does not have the power to cancel the festival as a whole. The Fringe remains an open access festival, which means the Fringe Society does not decide who can and cannot put on shows. We are advising all venues and companies to follow the latest government and public health advice, and will continue to provide support and guidance for all participants as the situation progresses."
Edinburgh City Council pledged to continue funding support for Edinburgh's cultural sector during the ongoing crisis. 
"We're looking at every feasible option to help to sustain our key sectors, including the festivals, and have committed to honouring all grant payments due to our cultural partners for the current year, and to the repurposing of these, as required. By releasing the allocated grants to our Strategic Partners across the city we're helping support them as far as possible through these exceptionally challenging times," said Council Leader, Councillor Adam McVey. 
"The most important thing at this time is the safety of our residents so we agreed at the Leadership Advisory Panel's first meeting yesterday that this funding can be put towards mitigation of the impacts of coronavirus to help ensure the brilliant artistic ecosystem that exists in our Capital isn't lost, without forcing events to take place as a condition of funding. We'll do everything we can to assist our world-renowned cultural sector to remain at the heart of the Edinburgh's identity going forward."
One of the biggest impacts in terms of numbers will be felt by the Edinburgh Military Tattoo, which normally starts erecting the scaffolding for its 8,800-seater grandstand in May. The Tattoo includes military bands, large dancing groups and other performers numbering some 1,000 people. 
It's shaping up to be an unusually quiet August in Edinburgh this year.
*
Here are the Covid-19 statements from the various festival heads:
Shona McCarthy, chief executive of the Edinburgh Festival Fringe Society
"Just a few months ago, the idea of Edinburgh without the Fringe and our sister festivals would have been totally unthinkable; now, like so many other aspects of our day-to-day lives, we must pause and take stock in the face of something far bigger. 
My thoughts too are with the many thousands of artists, writers, producers, reviewers, venues and backstage crew whose careers have been put on hold over the past month or so. We know today's decision will be a difficult one for many, but please know that we will continue to be here for you and will do everything we can to support you in the weeks and months ahead.
Today's decision that the Fringe will not go ahead as planned was not taken lightly. We have spent the past month listening to a broad cross-section of Fringe participants, as well as to government, healthcare professionals, residents and many more; however, in light of present circumstances it was unavoidable. Public health must and always will come first.
We are working hard to mitigate the impact of this decision on Fringe artists and audience members. Today we are committing to refunding all participant registration fees, as well as refunding the Fringe tickets and Friends memberships purchased by our audience members. We are also offering participants who have already paid the alternative of rolling their show registration forward to the 2021 Fringe to cover an equivalent show listing. Our thanks in particular here go out to our sponsors and partners, without whose long-term commitment to the Fringe none of this would have been possible. 
Financially this has not been straightforward – as the small charity that underpins the Fringe we receive very little public subsidy – but we believe that offering refunds is the right thing to do and will turn this around as quickly as possible. There will also be an option to donate all or part of your purchase to support artists and the work of the Fringe Society, but this will of course be entirely optional. 
Whilst the Fringe and its sister festivals may not be able to provide a stage in the same way as before this summer, we are committed to working with artists and creatives from Edinburgh, Scotland and across the world to find new ways of uniting people under a Fringe umbrella. It's too early to say what this will look like, but we are confident that as a collective we can find a way to reach through the walls that currently surround us and inspire, cheer and connect. 
The performing arts have an important role to play in providing a prism through which to process and understand the multiple traumas of this pandemic. Art has always helped shape and reshape how we think of ourselves, and will help now to pull through the threads that unite us as human beings in a globally shared experience.
From its earliest beginnings in 1947, the Fringe has provided a totally uncensored platform for artists from all backgrounds, cultures and perspectives to tell their story and shape their own worlds. As we try to adapt in the face of an all-encompassing global emergency, this spirit of shared storytelling and open dialogue feels more important than ever. 
We look forward to seeing you in Edinburgh in 2021. In the meantime, look after each other and stay safe."
Edinburgh International Festival Covid-19 Statement on 1st April
Fergus Linehan, Festival Director:
"On behalf of all at the Edinburgh International Festival, I hope that you, your family and your loved ones are keeping well during these difficult times. Our thoughts are with those who are dealing with the pandemic on the front line and those whose lives and businesses have been thrown into uncertainty by the sudden changes.
Over the past month as the Covid-19 crisis has accelerated, I have been working with the Festival team to consider how we might present a Festival in 2020. It has now become clear that, given the current outlook, it is not going to be possible to do so. We have, therefore, along with our board of trustees, taken the hugely disappointing decision to cancel the 2020 Edinburgh International Festival.
There are more important challenges to be faced over the coming months but I know that the Festival plays a central role in the cultural, social and economic lives of many in our city and country. I am very sorry that on this occasion, the show can't go on. However, this just has made all of us at the Festival more determined than ever that when it is safe, we will be back.
Like many other enterprises, this cancellation causes the Festival significant financial challenges. We are working closely with our family of public funders, private donors and corporate partners to secure the Festival's safe passage through this perilous period.
The Edinburgh International Festival was born out of adversity – an urgent need to both reconnect and rebuild. This current crisis presents us with a similar sense of urgency. Work begins straight away on a 2021 Festival that will boost both our spirits and our economy. 
 
As we observe our essential social distancing we can, I hope, look forward to being back together soon: sharing beautiful musicianship, brilliant acting and exquisite dance from the greatest creative minds of our time. Until then, thank you for all your good wishes and keep safe in the coming months."
Edinburgh International Book Festival Covid-19 Statement on 1st April
Nick Barley, Director
"Sadly, because of the problems caused by the Covid-19 pandemic, the Edinburgh International Book Festival will not take place in August this year. 
This is not a decision we have taken lightly, but it has been reached in unison with Edinburgh's other August festivals. Whether it's our authors, audiences, supporters, staff and suppliers, or citizens and visitors to our wonderful city, the health of the people we exist for is of paramount importance. 
I am aware that the Book Festival is an important supporter of literary activity not only in Scotland but in all four corners of the earth. My heart goes out to everyone who will miss out this year: the writers, illustrators, artists, chairpeople, publishers and partners we've been working with so closely to create the 2020 programme; our staff, sponsors, funders and the loyal audiences whose ticket sales and book purchases are so crucial to the health of the UK literary sector. You are the Book Festival: without you it wouldn't exist. We will be working hard in the coming months to ensure the Book Festival Charity survives this unprecedented time and is able to continue to provide a place where writers and readers can converse and connect. 
We very much hope to be able to programme a series of online events to take place this summer. We don't know yet if this will be possible, or what form it might take, but offering a place where writers can share their stories, perspectives and ideas with others is what we do, and we will be exploring the options available to us to help writers continue to connect with readers.
Look after each other and stay safe."
Edinburgh Art Festival Covid-19 Statement on 1st April
Sorcha Carey, Director
"It is with deep sadness that today we announce the cancellation of Edinburgh Art Festival 2020. Our decision is taken in response to the ongoing risks posed by the Covid-19 pandemic, and the need to prioritise the safety of our audiences, artists, participants, staff and indeed all those working to combat coronavirus.  
 
While it has become impossible to deliver a festival this year, we remain fully committed to doing all we can to continue to support our visual arts community during what is going to be a hugely challenging time in the weeks and months to come.
We hope that it will be possible for galleries, museums and production spaces across the city to reopen their doors in the coming months; and in the meantime, we will work creatively to find alternative ways to share the work of artists with audiences.  
 
We will be back next year – as always working closely with our partner galleries, and alongside our extended network of sister festivals, to celebrate the work of artists with audiences and communities across the city." 
The Royal Edinburgh Military Tattoo 2020 Covid-19 Statement on 1st April
Brigadier David Allfrey, Chief Executive and Producer
"Like most people, businesses and institutions, The Royal Edinburgh Military Tattoo has been working hard to adapt to the unprecedented conditions occasioned by the COVID-19 pandemic while conforming to the contingency measures being set by our Governments. 
In the first instance, we have sought to comply carefully with Government advice and guidance in looking after our customers, staff, suppliers, stakeholders and all those who rely on our annual success and charity.  In addition, we have been looking at how best to make a constructive contribution to the wider endeavour.
The pandemic is impacting across the world and proving to be significantly more disruptive and potentially longer lasting than many of us might have first thought.  The duration of the crisis will be dictated by many factors which will vary from country to country, and the Tattoo - along with other major events and festivals - will need to watch carefully to understand how best our plans might evolve to support whatever is the emerging, new normal.  Indeed, the Tattoo is already looking at how we might help during the pandemic and at how we might contribute usefully to national, regional, municipal and individual recovery.
During the early stages of the pandemic, we were naturally keen to retain an option of delivering a 70th anniversary show in some form during August.  We were keen to do this as a great many people have come to rely on our annual routines for their livelihood and their entertainment, with associated benefits that stretch internationally and across Scottish and UK tourism.  Now though, irrespective of how we as a nation are coping with the pandemic, and even when we contemplate the recovery, we judge it is both impractical and undesirable to stage a Tattoo in anything like its normal form in August. 
Accordingly, we have decided - for the first time in our 70-year history - to cancel all our shows set previously for the period 7 - 29 August 2020.
In the light of this decision, we understand our trade and individual customers will be looking for timely refunds on tickets and hospitality.  We are ready and able to attend to this and are communicating directly with all ticket buyers to offer a transfer to our 2021 show or a full refund. 
In parallel, we are in conversation with our performers, suppliers, partners and stakeholders and will continue to work with all parties at best effort until we are safely rebalanced.
While our Box Office team will be leading the refund process, the rest of our staff will be turning their creative energies and expertise towards the projects that lie ahead - not least our 2021 production and perhaps other events and activity as well - with the imperative to contribute to our national recovery when the moment is safe and appropriate. 
The current circumstances are unique and unquestionably challenging, but we are inspired daily by the work that is being done by so many to carry us all beyond the pandemic.  As ever, it is our customers, partners and communities that have shaped the remarkable institution that we are today.  We would like to thank you all for your continued support of The Royal Edinburgh Military Tattoo - and all that we represent – and hope to see you very soon when we return to our stage on the Esplanade of Edinburgh Castle."
1st April Covid-19 Statement by the "Big Four" Fringe Venues (Assembly Festival, Gilded Balloon, Pleasance, and Underbelly)
"For the past few weeks, in conjunction with the Fringe Society and all our festival partners, we've been working hard to explore all avenues to put on this summer's festival. 
However, due to the continuing spread of the Coronavirus, the increasing threat to people's health, and the potential need for an extended period of social distancing, we have taken the collective decision to suspend our 2020 programme as it stands. 
This means that as of today we will be taking shows off sale and automatically refunding any ticket purchases made for the 2020 Gilded Balloon programme for this Fringe, less booking fees.
Whilst we are suspending our 2020 plans and fully supporting our artists' withdrawal from this year's Fringe, please be assured that we remain committed to returning fully in 2021. Gilded Balloon has provided a platform for new and established artists at the world's greatest arts festival for more than 35 years and we plan to do whatever we can to continue to do this in the future.
We are heartbroken to have had to make this decision – particularly for the artists who have made such great work and for all those people for whom the festival is so important.
We'll be in touch once we have more news but for now, stay safe and look out for each other."
Traverse Theatre Executive Covid-19 1st April Statement  
"Alongside Edinburgh's other Festivals, we have taken the difficult decision to cancel our planned Traverse Festival 2020. Until very recently this would have been literally unimaginable to us, but we find ourselves living in unimaginable times.
We know this will be disappointing news to many – the realisation has been an upsetting one for us too.
However, with the uncertainty of when restrictions on our venue and limitations on public gatherings might be lifted, we feel that this is not only the right thing to do to support the country's critical resources and public health, but the only option we have at this point.
We are so sorry not to be able to share the work of the incredibly exciting companies who were due to be part of this year's Traverse Festival and are hugely grateful to them for their patience and support throughout this time. Truly, we are all in this together.
Though this may be a 'see you later', particularly to those who join us from far afield in August, please be assured it most certainly isn't 'goodbye'.
We will use the time usually spent on planning and delivering our Festival to develop new ways of supporting the discovery and creative development of the artists who will tell the stories we will all want – and need – to hear when these disrupted times are over. Though we may be offstage, we are not offline.
If you would like to, and you feel you can afford to, make a donation to the Traverse Theatre, to support us through this challenging period and help us work towards our boldest festival yet in 2021 - plus many other showcases before then - you can do so below. Every donation makes a difference."