Image (reusable)
Image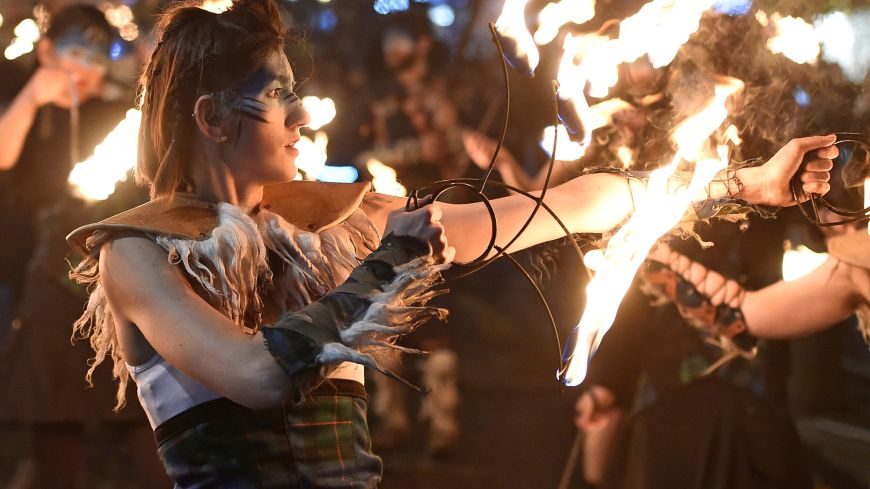 Telephone (box office)
0131 510 0395
Traditionally, Hogmanay is marked in Scotland with friends and first footing at the strike of midnight in the New Year. The origins of Hogmanay are somewhat obscure although elements of it have been traced to Celtic, Pictish and Norse Winter Solstice traditions.
Edinburgh's Hogmanay is a three-day winter festival that takes place at the end of each year. Highlights include the Torchlight Procession and Edinburgh's Hogmanay Street Party (read review, watch videos) where 80,000 or so revellers jam into the city centre to see in the New Year.
Check the Edinburgh Weather forecast.
Edinburgh's Hogmanay 2019-2020 Programme
Hogmanay 2019-2020 Ticket Prices
Edinburgh's Hogmanay Box Office
Online sales Edinburgh's Hogmanay website (official site)
Telephone 0131 510 0395.
In person Details to be confirmed, but in the past you could buy tickets at Edinburgh's Christmas ticket offices in Princes Street Gardens or St Andrew Square.
Details to be confirmed, but in the past, from 27 to 31st December, you could visit the official Edinburgh's Hogmanay ticket office in person in Bristo Square.
Edinburgh's Hogmanay Night Buses
Lothian Buses and City Link (pre-book) run at Hogmanay, and there is usually a free tram service from midnight to 5am from St Andrew Square to Edinburgh Airport.
Edinburgh's Hogmanay Accommodation
Accommodation in Edinburgh fills up quickly so it pays to plan ahead.
For Hogmanay celebrations information for the rest of Scotland check out the Home of Hogmanay site at www.hogmanay.net