Image (reusable)
Image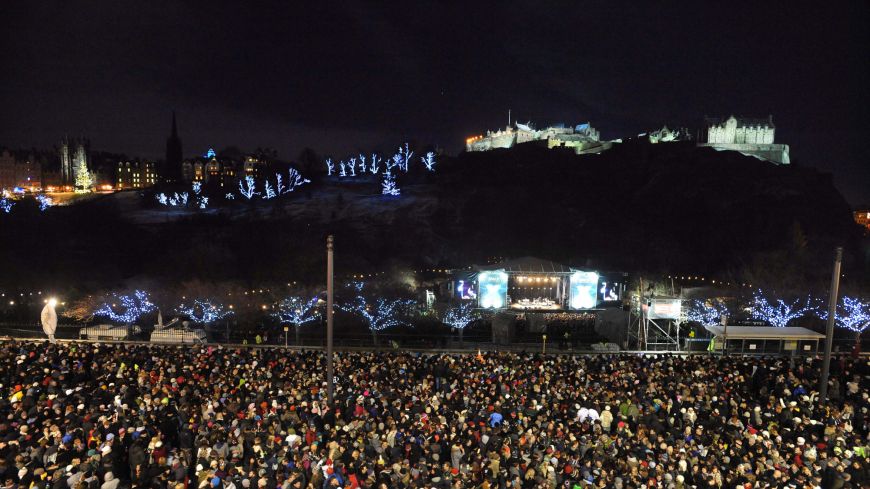 Telephone (box office)
0844 573 8455
The Street Party (tickets, review, map) is perhaps the best-known event in the 3-day Edinburgh's Hogmanay Festival. The New Year street party is a ticketed event that each New Year Eve runs for five and a half hours across the length of Princes Street, with live bands, a carnival atmosphere and dancing in the street.
Unfortunately, due to Covid-19, the 2020-2021 Hogmanay Street Party and all Hogmanay live events were called off. Hogmanay "moments" were streamed online in its place. Hopefully, if the pandemic has come under control, a live Hogmanay event will be able to return to the streets of Edinburgh on 31st December 2021.
LIVE STREAM:
In 2019, Edinburgh's Hogmanay introduced a livestream of the street party, which was viewable around the world for the first time. The live cast was hosted by the Mac Twins and featured music acts and street theatre from around the Hogmanay arena and the fireworks at midnight. The 16-camera live stream cost a reported £200,000 and ran from 7.30pm on 31st December 2019 until 1am, 1st January 2020. The livecast was not archived for later viewing.
The main event of Edinburgh's Hogmanay 2019/2020, is the Concert in the Gardens (review) with, this year, Mark Ronson. It is a separate ticketed event, but within the street party arena there are a number of stages with an array of bands and artists.
Street Party Stage times
Waverley Stage
21:00 - 21:30 Keir Gibson
21:45 - 22:45 The Ninth Wave
23:05 - 23:55 Marc Almond
00:15 - 00:55 Porkpie
Johnnie Walker Stage
21:00 - 22:00 The Great Calverto
22:05 - 23:59 Arielle Free
00:12 - 00:55 Mac Twins
High Street Stage
21:00 - 21:30 Vanives
21:45 - 22:40 Idlewild
23:00 - 23:55 The Snuts
00:08 - 00:55 Shooglenifty
Hogmanay in the Gardens (requires additional ticket)
20:30 - 21:20 Mungo's Hi-Fi
21:30 - 22:40 Rudimental
23:00 - 01:00 Mark Ronson, with Midnight Fireworks
Meanwhile, mingling among the crowd will be groups of street performers from Scotland and beyond, including Compagnie, Remue Ménage, PyroCeltica, Harbingers Drum Crew, Dundu, Close-Act Theatre, Picto Facto, Gandini Juggling, Avant Garde Dance, and Circus Alba.
This year's sponsor is Johnnie Walker whisky, which means there's a complimentary Johnnie Walker Premix Highball Cocktail for every reveller (of drinking age).
Following countdown fireworks at 9pm, 10pm, and 11pm, the street party climaxes with the bells of "Midnight Moment", and a dramatic fireworks display above Edinburgh Castle and from Calton Hill to herald in the New Year.
In 2019-2020, the firework display is choreographed to a soundtrack by Mark Ronson.
This is followed by a joining of hands as the crowd sings Auld Lang Syne, a kissathon, and more partying into the wee wee hours both on the street and around the city.
The festivities get going when the stages and screens go live at 9pm. Access is by street party ticket and booze is permitted so long as it is not in cans and glass containers. There are also some pay bars and food outlets within the street party arena which are open from 7pm, although be prepared to queue and choice of drinks will be limited.
Ticket pass-outs are not permitted (leaving the arena and trying to gain re-entry) and there is also no entry after 10.30pm.
Tickets
2019/2020 Edinburgh's Hogmanay Street Party tickets are on sale online. Early bird tickets are £20.00 (plus £1 booking fee). In 2018, tickets were £30.00 (plus £1 booking fee) from the Hogmanay Box office. There is a 20% discount for 10,000 tickets for a limited number of EH postcode tickets (first come first served basis).
Free Trams, Hogmanay Buses
There are free trams from every 20 minutes from midnight on December 31 to 5am on January 1 between the West End in Edinburgh and Edinburgh Airport.
Lothian buses has a Hogmanay £5 ticket deal with unlimited travel on its buses from 6pm on 31st December and all Hogmanay buses after midnight. Lothiancountry has a similar deal for either £5 or £10 depending on journey length. More on Hogmanay bus services.
Television coverage and Hogmanay livestreams
The Street Party, Concert In the Gardens, and Ceilidh Under the Castle are being live streamed on YouTube and on Facebook Live in a five-and-a-half hour show. Running from 7.30pm on 31st December 2019 until 1am on 1st January 2020, organisers say the 8-camera show will have a production budget of £200,000.
In the past Hogmanay has been broadcast live on television by Sky News and the BBC have webcast the celebrations.
In 2011/2012, there was a 1 hour live video stream starting at 11.30pm, with viewing limited to 20,000, on a first come/first served basis. The webcast was archived until Tuesday 2 January 2012, 11pm (GMT).
You can also try and catch the celebrations on Edinburgh webcams although the feeds are usually unable to handle the spike in Hogmanay traffic.
Edinburgh's Hogmanay Street Party History
Edinburgh's Hogmanay Street Party has been scaled back over the years. When Unique Events started organising the Street Party in 1993 it was a free, non-ticketed event.
Then in 1999, huge crowds of around 300,000 crushed into the city centre and railings collapsed on Princes Street, with hundreds of revellers injured. Organisers responded by creating a gated area within the city centre for the 1997-1998 Hogmanay Street Party.
The event has since gone from around 180,000 revellers of the millennium Hogmanay party to around 80,000 within a smaller cordoned-off area.
The Street Party was cancelled in 2003-2004 and in 2006-2007 due to bad weather conditions, in particular strong winds.
The event has been affected in the past by tram works.
Edinburgh's Hogmanay Street Party Tickets, News & Info
Edinburgh's Hogmanay Reviews