Image (reusable)
Image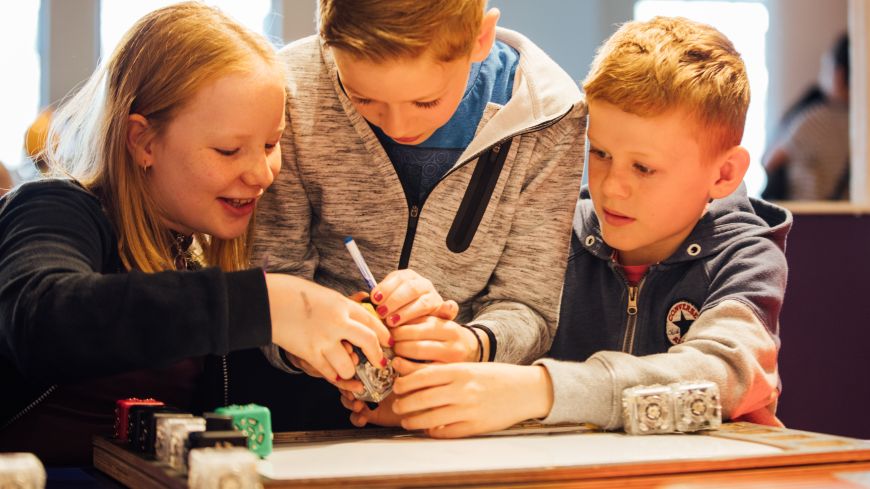 Telephone (box office)
0131 226 0005
Founded in 1988, the annual Edinburgh Science Festival is a programme of around 250 educational and interactive activities for the wee ones, and events and talks for adults in over 30 venues across town during the Easter holidays. The festival aims to provide a fun introduction to the world of science, technology, engineering and maths (STEM).
After the Science Festival was cancelled due to the Covid-19 pandemic in 2020, the EISF moved in 2021 from April to June/July and adapted the programme to feature more outdoor events and online components to augment the live Festival experience.
In 2022, the Science Festival returns to its traditional Easter hols spot in the events calendar with in-person events, workshops, guided tours, talks, and hands-on activities on the theme of Revolutions, focusing on the power of circles and revolution(s). There's a big focus on educational fun for kids, but also intellectual fodder for adults.
Highlights of Edinburgh Science Festival 2022 include:
City Art Centre (9-23 April) The Science Festival's hub for kids since 2011 with interactive activities over five floors, such as ER surgery, Blood Bar, Dig Up a Dinosaur, build your own robot, meeting endangered species, and building an underwater-scape.
Summerhall sees the return of Elemental, a digital, immersive experience combining magic, alchemy and science, while in in Bioverse, exhibitions explore the dynamic biological revolutions within our natural world
At the National Museum of Scotland there's a closer look at the power of big data in free interactive exhibition Datasphere.
At the Mound Precinct, free, interactive exhibition Consumed shines a light on waste and champions circular economies and more sustainable lifestyles
The Royal Botanic Garden Edinburgh hosts a new botanical art exhibition in Seeing the Invisible featuring 13 augmented reality (AR) works by artists Ai Weiwei, Isaac Julien CBE, Daito Manabe, El Anatsui and Refik Anadol and others, as well as A Rose By Any Other Name, an exhibition all about the obsession, threat and the riddle of rhododendrons.
The annual Edinburgh Medal Address is given by Ugandan veterinarian, pioneer in community-led wildlife conservation, Dr Gladys Kalema-Zikusoka.
On Portobello Promenade, Wild Scotland is a free, large-scale photography exhibition featuring stories of the flora, fauna and people who call Scotland's wild spaces home, opening in advance of the festival (19 March – 24 April)
Selected EISF coverage