Image (reusable)
Image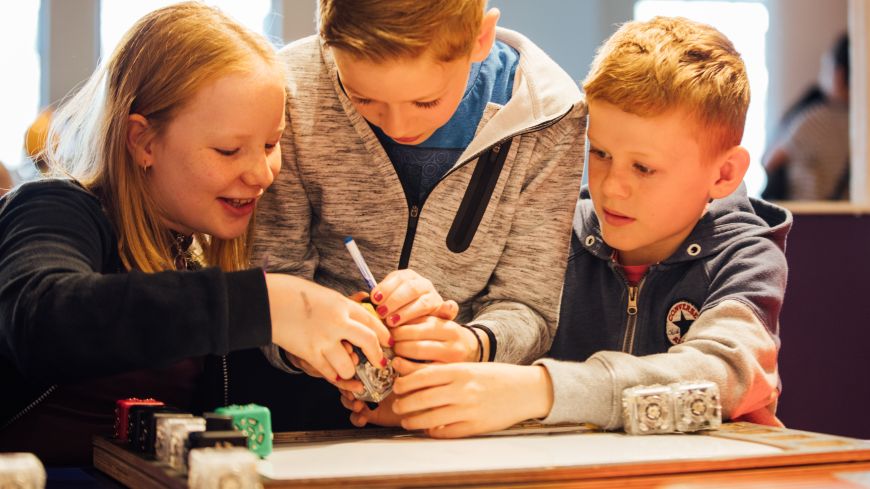 Telephone (box office)
0131 226 0005
Founded in 1988, the annual Edinburgh Science Festival is a programme of around 250 educational and interactive activities for the wee ones, and events and talks for adults in over 30 venues across town during the Easter holidays. The festival aims to provide a fun introduction to the world of science, technology, engineering and maths (STEM).
There's a big focus on educational fun for kids, but also intellectual fodder for adults.
Each year, the Edinburgh Science Festival takes on a different theme. In 2023, the EISF goes to the heart of the scientific method with Let's Experiment. This year's Science Festival (launched in February 2023) embraces the concepts of experimentation, innovation, creativity, curiosity and invention that lie at the heart of all scientific and creative disciplines.
Highlights of Edinburgh Science Festival 2023:
City Art Centre (daily 1-15 April) The Science Festival's flagship venue for kids since 2011 with interactive activities over five floors. There's 6 new workshops this year – including Construction Challenges, Ella's Wobble, Speedy Sails, Creative Coding, Tech Corner and LEGO® Build The Change – as well as old faves like E.R. Surgery and Splat-tastic
Experimental Life at the National Museum of Scotland (3-14 April) – new, free, interactive experience inviting everyone to take a deep dive into the weird and wonderful diversity of life. Includes Trees of Life installation from We Throw Switches and artist Robert Baumgarten exploring Darwin's revolutionary theory of evolution.
FutureFest (1-2 April) and EarthFest (15-16 April) also at the National Museum of Scotland. Two family-friendly, hands-on weekends - the first with robotics, artificial intelligence, coding, computers, and space and the second more ecologically minded one, with a focus on the animals that live on this planet and how we can take care of them.
The annual Edinburgh Medal Address is given by Prof. Marion Nestle, a pioneer in the study of nutrition, public health and food politics, who will explore the wide-reaching implications of what and how we eat – from production and marketing, to the possibilities of fairer distribution of resources.
On Portobello Promenade, Cherish: Shaping Our Planet (23 March-4 May) – a free, large-scale, outdoor photography exhibition which looks at the human impact on the landscapes that support all life and considers how we can cherish its wonders and tread more lightly upon this Earth.
A Climate of Change: Nicola Sturgeon in Conversation with Ambassador Patricia Espinosa (6 April) - Ambassador Patricia Espinosa, former Executive Secretary of the United National Framework Convention on Climate Change (UNFCCC, 2016–2022) was instrumental in efforts to make the Paris Agreement a reality and led crucial climate conversations at COP26 in Glasgow. She joins Scotland's First Minister, Nicola Sturgeon, in conversation exploring Scottish, and global, efforts to tackle climate change.
Science Festival Background
After the Science Festival was cancelled due to the Covid-19 pandemic in 2020, the EISF moved in 2021 from April to June/July and adapted the programme to feature more outdoor events and online components to augment the live Festival experience.
In 2022, the Science Festival returned to its traditional Easter hols spot in the events calendar with in-person events, workshops, guided tours, talks, and hands-on activities on the theme of Revolutions, focusing on the power of circles and revolution(s).
Selected EISF coverage