Image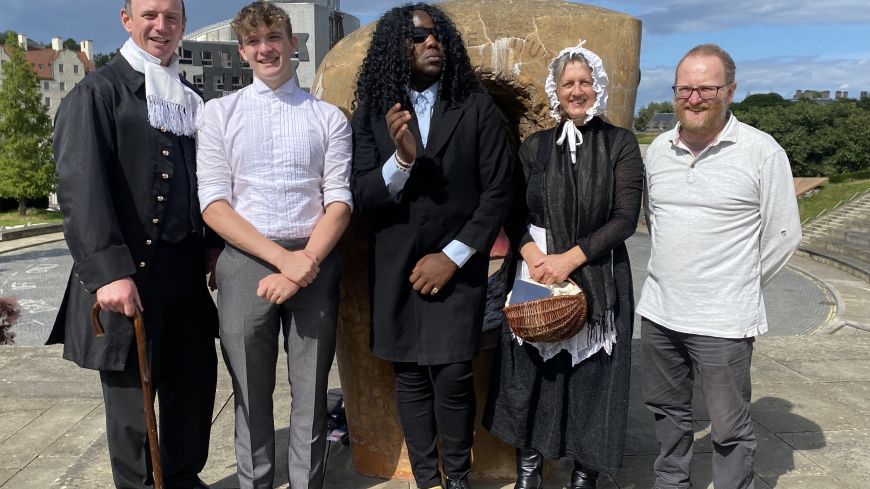 Production
Jane Westhead (Writer, Director); Dr JN Westhead (Original Concept)
Performers
Angus Miller (Tour leader, Time Traveller); Jane Westhead (Mrs McKay); Aaron McVeigh (Charles Darwin); Marshall Mandiangu (John Edmonstone); Billy Quain (Professor Grant)
This is an interesting look at the two years Charles Darwin spent in Edinburgh as a young man at the medical school. It looks at his influences in the people that he met here and the impact that then had on his future interests and research. The five-strong team pop up at intervals along the walk and give a brief flavour of his life as imagined from the research carried out by writer Jane Westhead.
The tour leader is clearly a seasoned guide and leads us around the busy streets of Edinburgh with ease. What is good about this tour is that it goes past hidden streets and some parts that tourists would not necessarily go to. Travelling from beside Potterrow to Dynamic Earth, during the 90 minutes, we walk along paths and see plaques in those hidden places. 
The performance pieces are expositional rather than drama pieces and the actors were still finding their feet during the review day which was during previews. There was a lovely opportunity to join in a song at the end, but perhaps it is something best saved for the very end as walking, reading song lyrics and singing at the same time is tricky with something unfamiliar. It also meant that sound was sometimes lost due to the travelling. Despite these small issues, it is an interesting tour, and you will feel like you have learned something new by the end of it, whether a visitor to Edinburgh or a native.
Show Time: 10-13 August @ 14:00
Meeting Point at Potterrow Underpass
Ticket Prices: £10x-£12
https://tickets.edfringe.com/whats-on/darwin-in-edinburgh
Accessibility: Audience will be standing throughout and required to walk or move around during the performance; 8+ (guidance)