Image
Image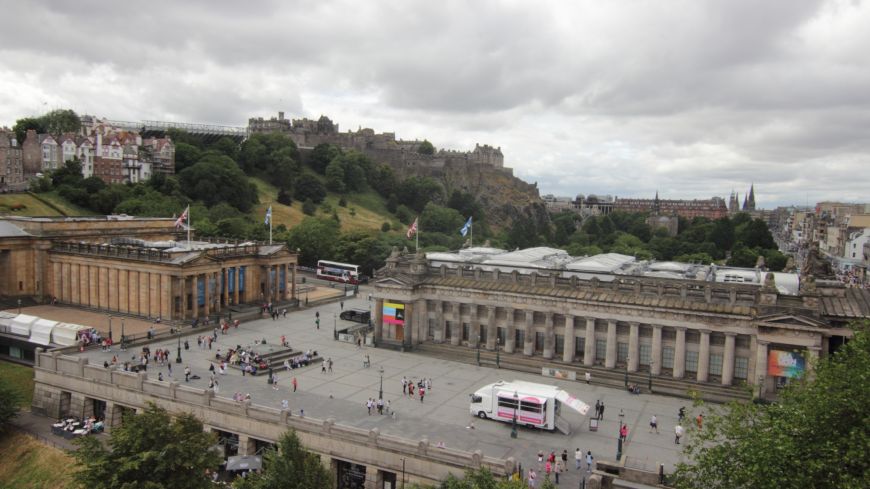 Credit
EdinburghGuide.com
Telephone (info)
0131 226 0026 (Fringe only)
The Mound precinct is a public space by the National Galleries on Princes Street that is frequently used by buskers, street performers and for other outdoor events. In August, the free entertainment site is branded the Virgin Money Fringe on the Mound. The area also is referred to by locals simply as "The Galleries".
The space lies between East Princes Street Gardens and West Princes Street Gardens at the foot of The Mound.
During the Edinburgh Festival in August, the area outside the galleries is mobbed as street performers move in with free music, comedy, and acrobatic acts. This is where you will find the Virgin Money Half-Price Hut for ticket deals in August.
During Edinburgh's Hogmanay the Mound precinct becomes a ticketed street party space for the Keilidh.
The Edinburgh International Film Festival has hosted several free outdoor movie screenings in the space.
The installation of iron fences around the gallery buildings themselves, and laying of pebbles on the ground, in the early Noughties took away some of the pleasant plaza atmosphere of the space.
In the past, people would linger and chat on the giant steps of the galleries.
The layout discouraged large crowds of the past, with the hub of the Edinburgh Festival moving to the High Street/Royal Mile space outside the Fringe Shop.