Image (reusable)
Image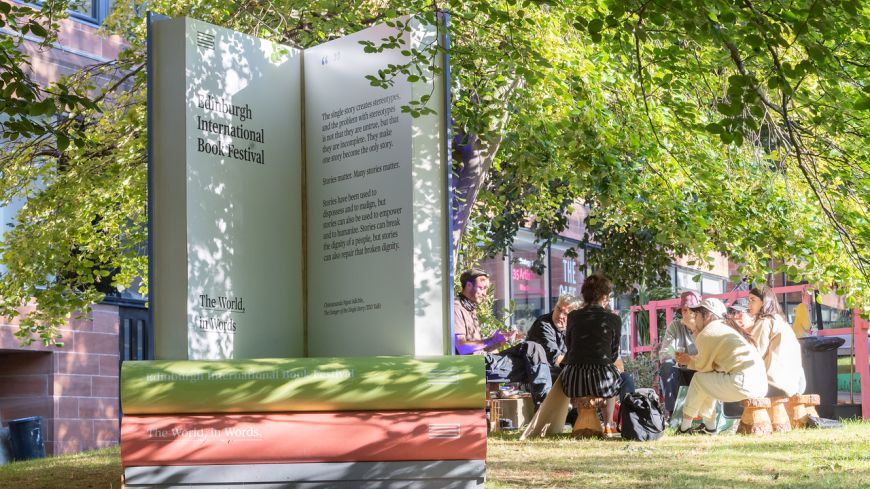 Telephone (box office)
0345 373 5888
The Edinburgh Book Festival was launched in 1983, the "biggest festival of the written word in the world". In normal years, it brings up to 900 or so writers, poets, thinkers, politicians, photographers and artists from 60 countries to debate, discuss, argue and inspire. The EIBF saw 550 guests from 50 countries in 2022.
The EIBF 2023 programme will be released on 14 June. Tickets go on sale on 29 June.
The Book Festival includes a major programme of children's book events.
Access to the Book Festival Village at Edinburgh College of Art in Tollcross is free.
On a sunny day, it's a good place to stop for a coffee and settle in for a read, as well as enjoy author events.
Book Festival on the Move
The EIBF's answer to the pandemic restrictions was a hybrid, live-online model. In 2021, the book festival moved from the familiar surroundings of Charlotte Square Garden to Edinburgh College of Art in the south of the city, where it will remain until it moves to its permanent home at the Edinburgh Futures Institute in 2024.
At the ECA, it has recreated the live, tented-village buzz of its former New Town location, as well as expanding the online offering of its festival programme, which it pioneered at the height of the pandemic in August 2020.
In 2021, the Book Festival venue at the ECA had three broadcast studios, two with live audiences. In-person events in 2021 had a reduced capacity of 100 in the New York Times Theatre (in Sculpture Court) and 60 in the Baillie Gifford Theatre (in West Court). In 2022, the Festival expanded into the nearby Central Hall, and created new spaces in the ECA including in the Castle View Studio.
Outside in the ECA's courtyard - the "village green" element of the Book Festival - visitors will find a bookshop, café, family play area, and places to sit.
Book Festival Director Nick Barley says of the ECA venue: "The Book Festival has always aimed to be an oasis of calm and, as ever, this will be a space for audiences to chat, relax, read a book and while away the hours in the summer sunshine."
Tickets go on sale from 10am on Thursday 23 June 2022.
Tickets can be booked online through the Book Festival's website and in-person during the Festival.
The Book Festival is operating a Pay What You Can scheme for all online events.