Image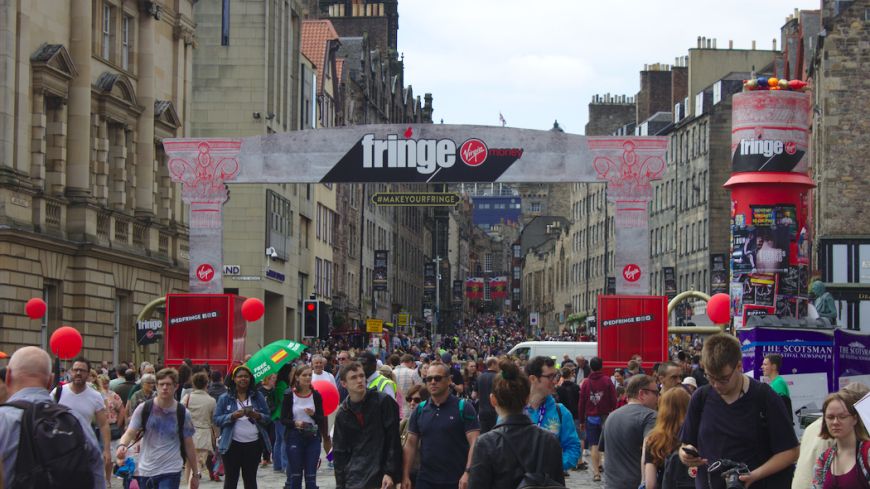 The Edinburgh Fringe today announced the first set of shows for the 2021 Edinburgh Festival Fringe. Shows are available to book from today at Edinburgh Fringe.
Tickets for over 170 shows will be released at noon today, with more programme details set to be announced weekly in the run up to the Fringe (06 – 30 August).
The programme features both online and in-person shows, with theatre, comedy, music, dance, musicals, variety, visual art, events and more represented.
In addition to ticketed shows, street events will be returning this August, although details will be announced next week.
"After the year we've all had, it brings me an indescribable amount of joy to see Fringe shows going on sale," said Shona McCarthy, Chief Executive, Edinburgh Festival Fringe Society.
"Fringe operators and artists have been working tirelessly to make this Fringe not only possible, but as safe, accessible and engaging as it can be."
Last year's Fringe, along with the other summer festivals, had be cancelled due to the pandemic. This year's event is a big departure from the traditional live format with the Fringe Society exploiting digital mediums that most of us have become accustomed to. The Society is not even printing a programme for 2021.
"Things will, of course, look a little different this year," says McCarthy. "But embracing the unknown and turning it into something magical is what the Fringe does best. I'm excited to see the ways that digital platforms are being used to create exciting, accessible work, and I'm inspired by the way producers and artists have adapted to the ongoing restrictions to bring live performance back to our lives."
"There's still work to do, and with the situation ever-changing, we'll be updating the programme and ticket site weekly. I'm proud of the resilience of our Fringe community, and we're excited to make this festival the very best it can be."
Pandemic restrictions
Shows will be socially distanced in-person events, scheduled online performances and on-demand digital shows. 
In-person shows: Registered live, in-person performances taking place at various outdoor and indoor venues must comply with City of Edinburgh Council and Scottish Government covid-related regulations.
At time of writing, one metre social distancing will be in place (having come into effect from 19 July), masks should be worn indoors and regular hand washing and clear ventilation is strongly advised. Many Fringe venues are operating outdoors in 2021.
The Scottish Government has advised that regulations could lift on 09 August, though this is contingent on Covid levels and the continued vaccination roll out in Scotland and is subject to review.
The Fringe Society will be updating audiences and artists regularly on what changing restrictions mean for in-person performances at the Fringe.
Online shows: There will be two kinds of online events available this year: scheduled and on demand.
With scheduled shows, audiences can buy tickets as they would to a traditional in-person event. Shows will have a dedicated start and end time and are treated as an 'appointment to view' event.
On-demand shows
Audiences can buy tickets to watch at their leisure, but some online shows will have a viewing window (where the content will be available to watch for a set amount of time).
Detailed information about how each individual online event is viewed is clearly available at the point of booking.
Fringe Player and online platforms.
Audiences can view Fringe shows via a new Fringe Player, available via the Fringe website.
The player will be accessible to audiences from 6 August, with captioning built in.
Both on-demand and scheduled online shows are available on this platform.
Where other platforms (such as Zoom, YouTube and Vimeo) are being used to host online work, information on how to access these is clearly provided at the point of purchase.
Online shows will be available to watch from August but can be pre-booked from today.
Tickets and programme: This year and in keeping with reducing contact during in-person interactions, all events will be e-ticketed and shows will be listed online, as there won't be a printed programme for 2021. Audiences will be able to attend shows without using paper tickets.