Image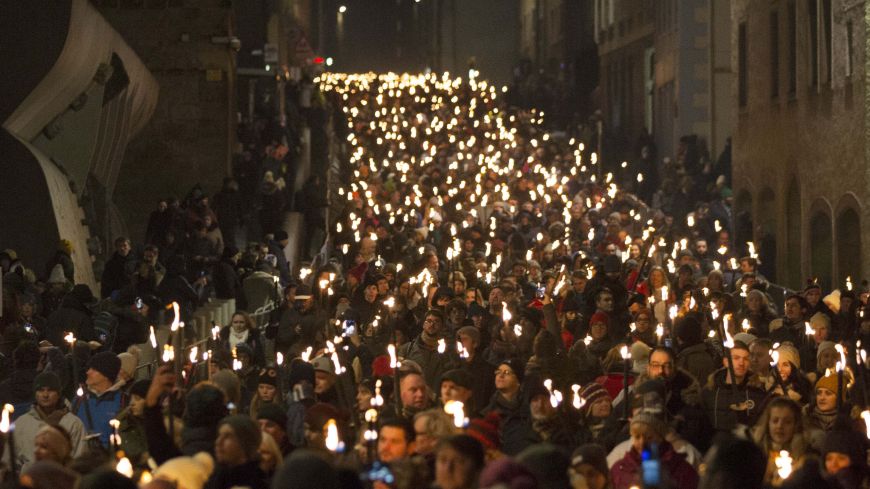 Edinburgh's Hogmanay Torchlight Procession is returning in 2023 for the first time since 2019 to open a 4 day programme of Hogmanay events.
Tickets for the event on Friday 29th December and the Hogmanay Street Party go on sale tomorrow (25th August) at 10am. A total of 20,000 participants are expected at the Torchlight  Procession and 50,000 at the Street Party and Concert in the Gardens.
This year's organiser Unique Assembly has partnered with homelessness charity Social Bite in a bid to raise an expected £50,000 over the festival towards the charity's projects.
A donation of £2 from each torch (£20 incl fees) and £1.50 from each additional Procession ticket (£7.50 incl fees) will be made.
Where in the past torchlight carriers have gathered on the Royal Mile and at Old Town locations before processing in a "river of fire" through the city centre, this year's event begins in The Meadows. 
Before the procession, there will be a carnival-like atmosphere with street performers, fire breathers, pipe bands, and drummers.
The procession will set off toward the Old Town with vikings from Shetland of the South Mainland Up Helly Aa' Jarl Squad at the head.
Extinguished by the pandemic 
The Torchlight Procession was cancelled in 2020 along with the full Hogmanay programme due to the pandemic. 
It looked like the Torchlight Procession might go ahead in 2021, but it was cancelled a few days before the festival was due to start, due to pandemic restrictions limiting crowd sizes. 
When Edinburgh's Hogmanay returned as a 3-day event in 2022, the Torchlight Procession was not included in the programme. 
Then new Edinburgh's Hogmanay organiser Unique Assembly blamed "the current economic climate, and the drop in available funding".
Organisers said today that they were "thrilled" to announce the return of an event that "has been greatly missed by locals and visitors".
Other Hogmanay Events
Unique Assembly also said family-friendly  Sprogmanay, Night Afore Disco, and the First Footin' culture trail on 1st January will also return this year. Details will be announced in coming weeks.