Image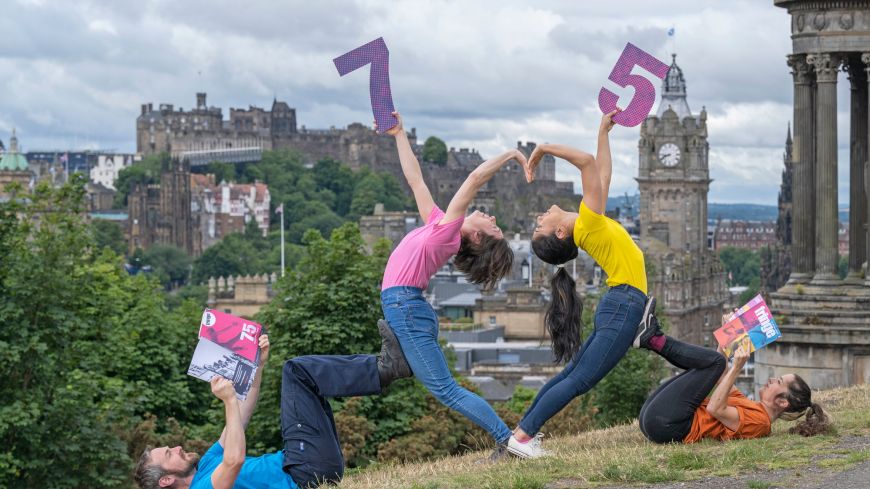 The printed Edinburgh Fringe brochure is back this year, after the pandemic forced it to a digital-only edition for 2021. Between its covers is a packed programme that promises as much buzz and bustle as in previous, pre-Covid years.
The 2022 Fringe will feature 17.5% fewer shows than the last pre-pandemic Fringe in 2019, when there were 3,841 shows in 323 venues across Scotland's capital city. But there will still be a head-spinning 3,171 shows, in 255 venues in August 2022. Quite enough.
Chief Executive of the Edinburgh Festival Fringe Society, Shona McCarthy, welcomed the end of "two years of uncertainty and reinvention" with the 75th Anniversary programme launch yesterday, looking forward to "a glorious return to fully live shows in theatres, venues and public spaces across Edinburgh."
New for 2022, is an extension of the popular free Fringe Street Events, which will see festival acts performing on new stages around the city as well as the traditional street performance space on the Royal Mile and Mound. In an exclusive new partnership, streaming media platform TikTok will livecast Fringe acts performing on the "taster" stages including at St Andrew Square and St James Quarter (Cathedral Square). 
The Made In Scotland programme, a showcase of homegrown dance, theatre and music, will return this year with its  largest ever Scottish government-supported line-up since its inception in 2009. A total 27 artists, companies and ensembles will present their works, including a world premiere of Exodus (Traverse Theatre, p.270), a satire about a politician's bid to become her country's leader and Black Glass in Pieces by award-winning experimental composer Michael Begg at the Queen's Hall (p.188).
There are many familiar names coming to Edinburgh: from Sir Ian McKellen with ballet choreographer Peter Schaufuss presenting a version of Hamlet at Ashton Hall, St Stephens Stockbridge, (p.277); to Camille O'Sullivan who presents Dreaming, with the music of Bowie, Cohen, Pulp, Radiohead and Rufus Wainwright (Underbelly, Bristo Square, p.190). 
Much to the consternation of the Live Comedy Association, there is no Fringe app this year. In a public letter, released before the Fringe programme came out, the organisation detailed a long list of grievances about the preparations by the Fringe Society this year, from limitations imposed by train timetables and the impact of poor wifi on e-ticketing, to the decision to remove the Virgin Money Half Price Hut from the Mound (the 2-for-1 ticket deals that the Hut offered will be available from the Fringe Office on the High Street still).
"Why is there no app this year? And worst of all, no communication, consultation or explanation offered. It is absolutely vital during the fringe, especially selling tickets on the day or closer to the time of the show," said the Live Comedy Association in the letter.
McCarthy responded on Facebook: "After two pandemic-affected years running on shoestring budgets, we simply d​id not have the budget required to build and maintain the app this year ​at the point when this work needed to be undertaken (Dec 2021)." The Fringe Society boss also published a lengthy response yesterday to the Live Comedy Association.
Comedy still makes up a big part of the Fringe programme with 1,130 shows, including popular acts like Frankie Boyle with his show Lap of Shame (Assembly Rooms – Music Hall, p.83); American comedian Janeane Garofalo starring in Pardon My Tangent at Gilded Balloon Teviot (p.96) and Omid Djalili with his The Good Times on stage at The Stand's New Town Theatre (p.123). 
Fringe veteran Frank Skinner explores 30 Years of Dirt (Assembly Roxy, p.83) and Al Murray is back with a Gig for Victory (Assembly George Square Gardens, p.46). Meanwhile, Josie Long: Re-Enchantment presents an hour "infused with humanity, compassion and probably some brief political rants" (Monkey Barrell Comedy, p.101), Catherine Bohart gives out some "horrendous life advice" at Monkey Barrell Comedy with her show This Isn't For You (p.64) and Phil Wang: The Real Hero in All This brings his "British-Malaysian variant of comedy" to the Fringe at Assembly George Square Gardens (p.127). 
Reginald D. Hunter comes to Edinburgh with his show Bombe Shuffleur (Assembly Rooms, p.130) and Jerry Sadowitz presents Not for Anyone, featuring "whacky impressions of Greta Thunberg, Frankie Boyle and deep vein thrombosis" (Pleasance at EICC, p.97).
Fringe Days Out scheme 
Initiatives to bring the Fringe to more Edinburgh residents through local charities, community groups and schools continues with Fringe Days Out. Now in its 5th year, the scheme has helped nearly 10,000 people from across Edinburgh visit the festival and attend a show.  
Similarly, the Children and Young People (CYP) will also be continuing its ticketing scheme, first launched in 2014, to provide tickets for children and young people who otherwise wouldn't visit the festival.
Fringe Show Biz
Fringe Marketplace, which has its launch on Monday, will provide an online showcase for an expected 200 plus "tour-ready" works to professionals in the performance arts world. 
At the same time, Screen Fringe, originally piloted in 2019 by Screen Scotland with the Edinburgh Festival Fringe, will be on the lookout for theatre and comedy acts that could be ripe for development as film or TV. 
Free and Pay What You Can Shows
Last week, we wrote about the array of free shows at the Edinburgh Festival. As in the past these number into the hundreds at the Fringe. To be exact the Fringe programme lists 355 free shows, 217 Pay What You Can and 234 Pay What You Want shows in this year's programme. 
Pay What You Can shows give you tiered options for buying a ticket (e.g. £2.50, £5, £7.50, £10). With Pay What You Want ticket holders for the show are allowed in first, followed by those who have opted not to buy a ticket, and then often you can contribute money into a bucket at the end.
You can pick up a hard copy Fringe 2022 programme around town and order a copy online. You can also view a digital version of the print programme. 
Fringe 2022 stats
Total shows: 3,171
Total venues: 255
Performances: 49,827
Rest of UK 1,663
Countries represented: 58• International countries: 54
There are 355 free shows, 234 Pay What You Can shows, and 217 Pay As You Go shows
There are 843 Scottish shows, with 533 shows coming from Edinburgh.
Shows within each section:
Cabaret & Variety 144
Children's 120
Comedy 1,130
Dance 138
Events 45
Exhibitions 36
Music 415
Musicals and Operas 100
Spoken Word 140
Theatre 903