Image
Image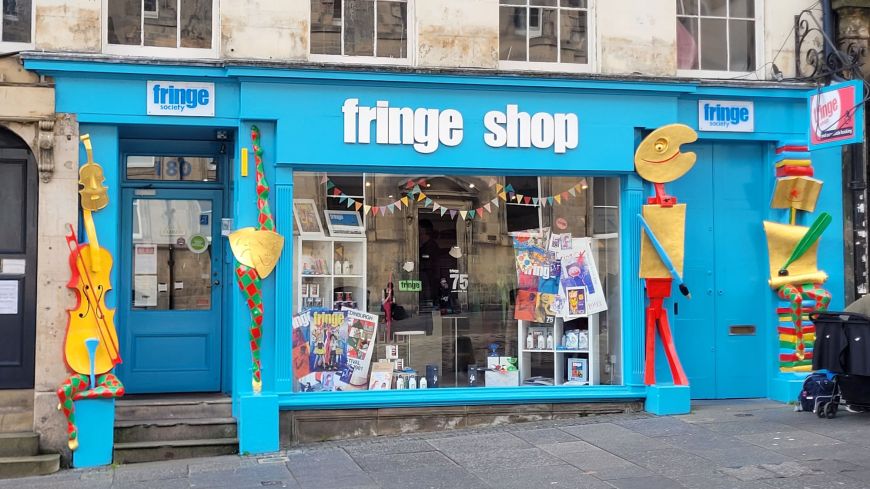 Telephone (box office)
0131 226 0000 (June - August)
The Fringe Shop is located on the Royal Mile (aka the High Street), just down from St. Giles Cathedral and Edinburgh City Chambers.
This has been the braincentre and headquarters for the Edinburgh Festival Fringe for decades, but in 2023 it was announced that the Fringe will be moving to a purpose-built Fringe hub in coming years.
The Fringe Shop is the front end, with office to the back. There is also a Fringe Press and Performers Centre in a separate building.
The Fringe box office is increasingly digital but you can buy or collect tickets here. Find information about the Fringe and Fringe programmes, or get your souvenirs here. The Fringe Shop sells merch such as T-shirts and mugs the year around.
Outside of the Summer months there is not much to see here, but as Edinburgh's Festivals season gets going (and especially in late July and throughout August) the area around the Fringe Shop is a magnet for street performers promoting their shows.
The whole High Street fills up with street performers and people putting on mini shows and thrusting fliers and often free tickets, or 2-for-the-price-of-1 type deals.
Anywhere within the vicinity of the Fringe Shop is a good place to hang out if you just want to get a flavour of the Fringe, preview some of the shows over August, and see street performers.
During June and July, this area of the High Street near the Fringe office is relatively busy with buskers and musicians.
There are also many other visitor attractions in this part of Edinburgh's Old Town.
Fringe Shop hours outwith the Fringe are Monday–Wednesday 10am to 4pm.