Image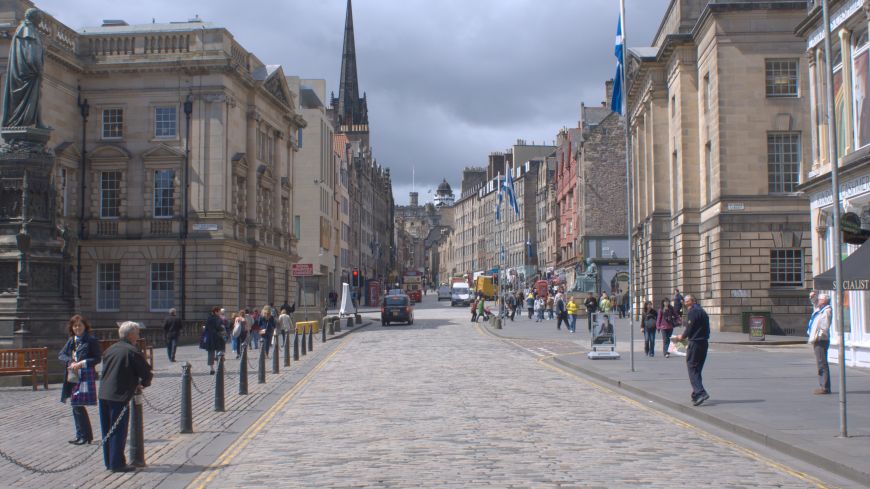 The Old Town has preserved its medieval plan and many Reformation-era buildings. One end is closed by the castle and the main artery The High Street (or the Royal Mile) leads away from it; minor streets (called closes or wynds) bud off the main spine in a herringbone pattern.
Large squares mark the location of markets or surround major public buildings such as St Giles Cathedral and the Law Courts. Other notable places of interest nearby include the Royal Museum of Scotland, Surgeons' Hall, the Royal Festival Theatre, and the University of Edinburgh. The street layout, typical of the old quarters of many northern European cities, is made especially picturesque in Edinburgh, where the castle perches on top of a rocky crag, the remnants of a dormant volcano, and the main street runs down the crest of a ridge from it.
The topography for the city is known as "crag and tail" and was created during the ice age when receding glaciers scored across the land pushing soft soil aside but being split by harder crags of volcaninc rock. The hilltop crag was the earliest part of the city to develop, becoming fortified and eventually developing into the current Edinburgh Castle. The rest of the city grew slowly down the tail of land from the Castle Rock. This was an easily defended spot with marshland on the south and a loch, the Nor Loch, on the north. Access up the main road to the settlement therefore was restricted by means of various gates and a City Wall (now mostly gone).
Due to the space restrictions imposed by the narrowness of the "tail" the Old Town became home to some of the earliest "high rise" residential buildings. Multi-story dwellings were the norm from the 1500s onwards. During the 1700s the Old Town had a population of about 80,000 residents. However, in more modern times it had declined dramatically to just 4,000 residents.
There are currently approximately 20,000 residents in the various parts of the Old Town. As the population was for a long time reluctant to build outside the defensive wall, the need for housing grew and hence the buildings became higher and higher. However, many of these buildings were destroyed in the Great Fire of 1824. They were then rebuilt on the original foundations. This led to changes in the ground level and the creation of many passages and vaults under the Old Town.
On December 7, 2002, another major fire in the Old Town engulfed part of the Cowgate. It destroyed the famous comedy club, The Gilded Balloon, and much of the Informatics department of the University of Edinburgh, including the comprehensive AI (Artificial intelligence) library.
- Martin Frost