Image
Image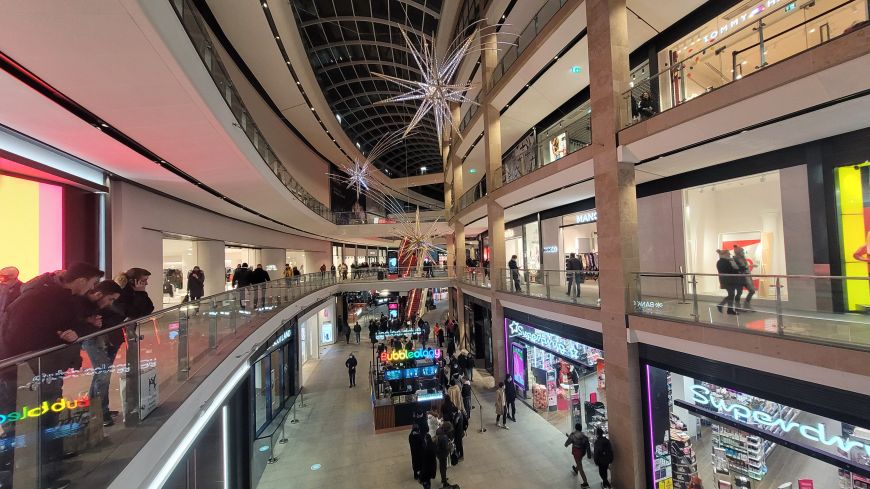 The St James Quarter is a major galleria shopping centre on the east end of Edinburgh's New Town and at the top of Leith Walk. The 80-unit retail centre opened on 24 June 2021.
The shopping centre has a tall, narrow structure, with a glass roof protecting people from rain. However, there are no doors at either end of the mall. 
The St James Quarter has around 30 restaurants and cafes, a Roomzzz Aparthotel, residential apartments, and a boutique Everyman Edinburgh Cinema in the "the attic" (the fifth floor). The department store John Lewis is an anchor, retail tenant.
The most distinctive element in the Quarter, and perhaps its most controversial, is the 12-story W Edinburgh hotel  (Scotland's first), with its signature, spirally design by Jestico + Whiles and Allan Murray Architects. The facade design is described as a winding steel ribbon, but the "golden turd" moniker appears to have stuck. 
The public toilets are free and well maintained.
Background
The St James Quarter, which covers 1.7 million sq ft with 850,000 sq ft of retail space, was built on site of the St James Centre (an older shopping mall), which closed in October 2016, and the adjoining New St Andrew House office. 
New St. Andrew's House was a grey, brutalist structure, occupied by the Scottish Office. It was often dubbed "Edinburgh's Ugliest Building". The demolition and creation of St James Quarter was part of an improvement project of the city centre.
The St James Quarter is opposite the Vue Omni Cinema, by the busy Leith St road and St James roundabout.