Image (reusable)
Image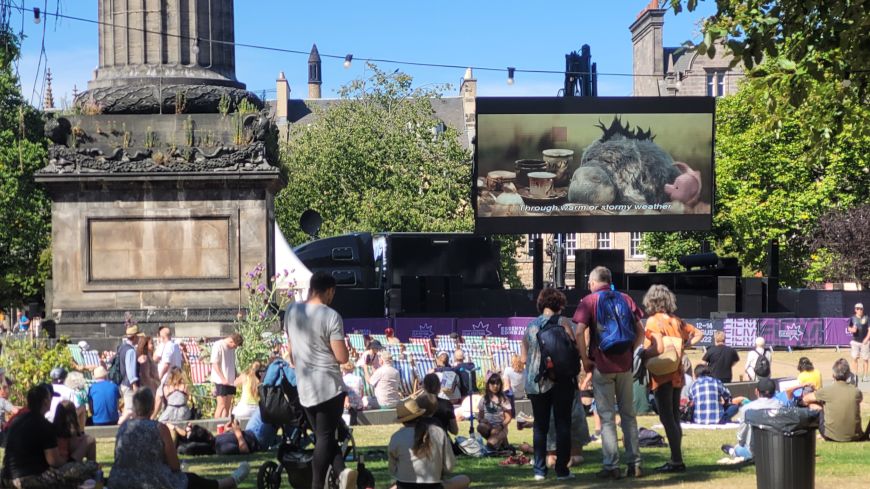 Film Fest in the City returns with a shortened, series of free and unticketed, outdoor screenings in St Andrew Square garden. The screenings takes place over three days where previously it was a week-long affair.
Full programme listed below.
Friday's screenings have a bookish theme, Saturday's schedule celebrates Scotland's Stories on Screen and Sunday's films are selected by EIFF Young Programmers featuring a range of female filmmakers.
Screenings are offered on a first-come-first-served basis (enter at south-west corner of St Andrew Square/Jenners entrance). The event is organised by the Edinburgh International Film Festival.
Film Fest in the City is supported by New Town business organisation Essential Edinburgh, EIFF's Official Beer Partner Innis & Gunn, EIFF travel partners LNER and government agency EventScotland, as part of the Year of Stories 2022.
Bring your favourite cinema snacks and picnic blankets or sit yourself down on one of the famous St Andrew Square deck chairs.
* 
The Film Fest in the City 2022 programme:
Friday, 12 August
11.00 | Paddington (2014 / dir. Paul King)
Everyone's favourite bear in his first big screen adventure as he travels from deepest darkest Peru to London to try and find himself a new home.
13.00 | Fantastic Mr Fox (2009 / dir. Wes Anderson)
Filmmaker Wes Anderson guides an A-list cast in this stop-motion take on Roald Dahl's classic book.
14.45 | SHORT FILM: What Makes Soup, Soup? (dirs. Conor Reilly, Tommy Reilly, Malcolm Cumming)
…one of life's greatest mysteries. From BBC Social team, a short film including a rising star, Glasgow-based Malcolm Cumming and composer Tommy Reilly, both known for their work on Anna & The Apocalype. In celebration of Scotland's Stories on Screen.
15.00 | Christopher Robin (2018 / dir. Marc Forster)
Perth-born Hollywood actor Ewan McGregor stars as a now-grown-up Christopher Robin who is visited by Winnie the Pooh to help find his lost friends in the Hundred Acre Wood.
17.00 | SHORT FILM: Neville is Dead (dir. Louis Paxton)
Neville is Magnus' best friend. Neville can't die. This is going to be AMAZING. A short film from an Edinburgh filmmaker who recently directed the last ever episode of tv series Shetland. In celebration of Scotland's Stories on Screen.
17.30 | Crouching Tiger, Hidden Dragon (2000 / dir. Ang Lee)
Join us for high-flying spectacle in filmmaker Ang Lee's martial arts masterpiece
19.40 | SHORT FILM: Flit (dir. Jack Allen)
A world-renowned, professional fly killer, named Carl, is on the cusp of finalising his latest and most powerful invention… an exciting new short film from an emerging Scottish filmmaker and animator.
In celebration of Scotland's Stories on Screen.
20.00 | 2001: A Space Odyssey (1968 / dir. Stanley Kubrick)
One of the greatest cinematic experiences of all time. Stanley Kubrick's journey into space is designed for the big screen.
Saturday, 13 August
11:00 | Brave (2012 / dirs. Brenda Chapman and Mark Andrews)
Follow Princess Merida as she forges her own path in Disney and Pixar's journey into the mythical Scottish kingdom of DunBroch. Celebrating Scotland's Stories on Screen. Pre-screening family entertainment, including face-painting.
12.50 | SHORT FILM: Fear of Flying (dir. Conor Finnegan)
A small bird with a fear of flying tries to avoid heading South for the winter. A short animation which screened at EIFF in 2013. Celebrating Scotland's Stories on Screen.
13:00 | The Illusionist (2010 / dir. Sylvain Chomet)
Based on the story by Jacques Tati, this beautifully animated tale tells of a French illusionist who travels to Scotland, where he meets a young woman where their exciting adventures together change both their lives forever. Celebrating Scotland's Stories on Screen. Pre-screening family entertainment.
14.49 | SHORT FILM: Widdershins (dir. Simon Biggs)
A pampered gentleman's seamlessly automated life is thrown into chaos when he pursues a free-spirited woman, against the advice of his robot butler. Scottish Film Talent Network-funded Scottish animation from the team at Once Were Farmers. Celebrating Scotland's Stories on Screen.
15:30 | Rob Roy (1922 / dir. W. P. Kellino), in celebration of Scotland's Stories on Screen
Join us for a special live musical performance to accompany this impressive 1922 classic film.
17.20 | SHORT FILM: Betty (Will Anderson)
A new short from the BAFTA Award-winning Scottish animator tells the story of an avian protagonist as he falls in love with Betty and then loses her through a series of bad decisions…
Celebrating Scotland's Stories on Screen.
18:00 | Wall-E (2008 / dir. Andrew Stanton)
An all singing, all dancing modern classic from Pixar.
20.00 | SHORT FILM: Don Vs Lighting (dir. Big Red Button)
Unlucky Don keeps getting struck by lightning… a short film from Big Red Button (Johnny Burns and Pier van Tijn), starring award-winning Scottish actor Peter Mullan. Celebrating Scotland's Stories on Screen.
20:15 | Free Guy (2021 / dir. Shawn Levy)
Affable bank clerk Ryan Reynolds discovers he is a computer game character in this recent action comedy.
Sunday, 14 August
11:00 | Shrek (2001 / dirs. Andrew Adamson, Vicky Jenson)
Join a whole host of fairy tale characters in this animated, tuneful and funny animated adventure.
13:00 | Big (1989 / dir. Penny Marshall)
Tom Hanks reconnects with his youth in this 80s family classic.
15:15 | Whip It (2009 / dir. Drew Barrymore)
Get your skates on and join Babe Ruthless and the roller-derby team in this funny and quirky drama.
17:30 | The Farewell (2021 / dir. Lulu Wang)
A funny and uplifting tale of a family reconnecting with their past
19:45 | Twilight (2008 / dir. Catherine Hardwicke)
Robert Pattinson and Kristen Stewart star in this everlasting teenage vampire romance.