Image
Image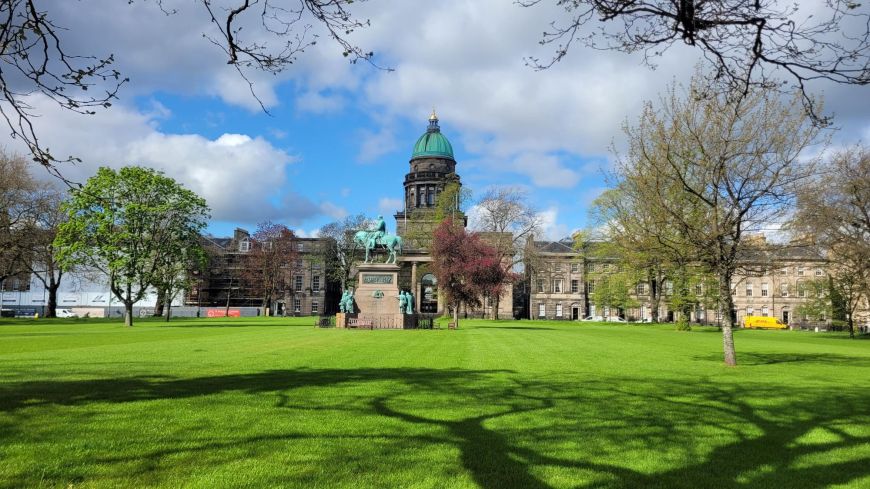 Charlotte Square was mostly designed according to plan by celebrated New Town architect Robert Adam who died in 1792 without ever seeing his vision completed years later. Charlotte Square, at the West End of George Street, is mirrored by St Andrew's Square at the East end of George Street.
The garden is surrounded by buildings of historical note, including the First Minister of Scotland's Official Residence at Bute House and the big green domed building of West Register House.
The National Trust's The Georgian House at 7 Charlotte Square offers a window into 18th century living with its neo-classical design and period furnishings on 3 floors.
The large statue in the middle of the gardens commemorates Prince Albert, the Royal Consort to Queen Victoria, and was unveiled by the Victoria herself. Heavy wrought-iron fence normally closes off the gardens.
The gardens were originally called George Square, but were renamed after George III's queen and first daughter to avoid confusion with George Square in the South of the city.
Edinburgh Book Festival
Like many of the Georgian gardens in Edinburgh's New Town these private gardens are normally off-limits to the general public although periodically open for special events like Doors Open Day and, from 1982 until it moved in 2019, the Edinburgh International Book Festival.
In August the marquees would go up and Charlotte Square Garden became a tented, literary village with book readings, meet-the-author events and discussions between writers from all backgrounds.
It included a cafe, book shop, and garden area to sit out on if the weather's good. The Gardens central location and the compact nature of the Book Festival makes it well worth a visit. Entrance was free, although events were usually ticketed.
The natural setting of the garden became a defining feature of the Edinburgh Book Festival, so much so that when it moved to its hybrid format, it sought out a similar "village green" setting in its home at the Futures Institute (following renovation of the former Edinburgh Royal Infirmary Building, from 2024) and Edinburgh College of Art from 2021 to 2023.