Image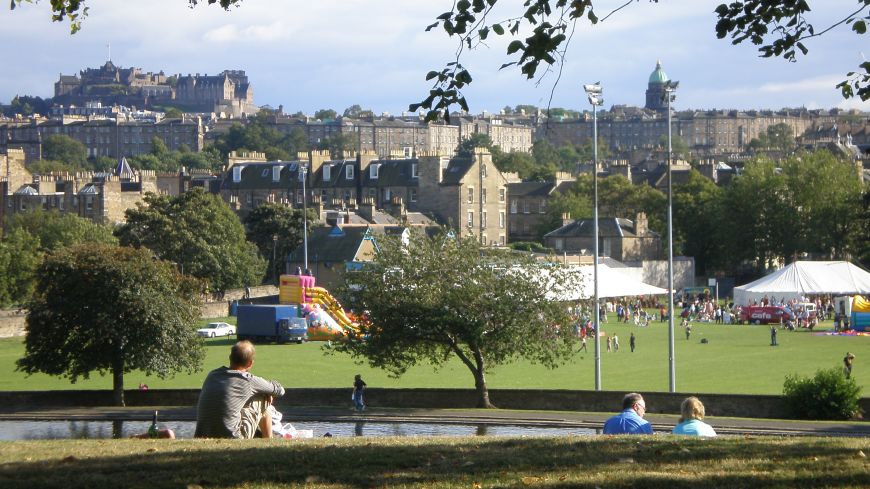 Credit
EdinburghGuide.com
Inverleith Park is a major public park, managed by the City of Edinburgh, a little North from the city centre. It's free to the public to use, although major events require a license. In a typical year, Inverleith Park hosts up to 400 events.
The park at 54 acres is one of Edinburgh's largest open green-spaces and is well set up for sporting and recreational activities with its 3 football, 4 rugby and 6 seven-a-side pitches, a cricket square, petanque area, and a children's playground.
As well as the large open green spaces for sporting activities, the park has a good-sized boating pond with raised banks above it for spectators. The pond is frequented by swans and ducks and at one end there is a "marsh" area with a wooden walkway with tall reeds growing around it.
Inverleith Park also has good views of Edinburgh Castle, making it a popular family viewing point for the Edinburgh Festival fireworks and the Midnight Fireworks at Hogmanay.
Inverleith Park was originally a farm when Edinburgh City Council bought it in 1889 and so appropriately enough an area in its North-West quadrant now accommodates allotments for local gardeners.
There's also a secluded Sundial Garden (the sundial dated 1890), and an arts access centre "Four Winds." There are boulevards with mature trees on either side of them, which you can walk or cycle along from one end of the park to the other. Traffic is not allowed through the park, although the path ways are big enough to drive a lorry.
The park is above all a hugely valuable community resource for walking the dog, jogging, quiet walks, or kicking a football around with friends. The community group, and charity, Friends of Inverleith Park was formed in 2002 to help keep it that way.
Looking down on the park from afar this part of Edinburgh looks surprisingly green due to its close proximity with the Edinburgh's Royal Botanic Garden, the large grounds of private boarding school Fettes College, the Grange cricket club, and Edinburgh Academy sports fields. Broughton High School is also nearby.
History
Inverleith Park, or South Inverleith Mains Farm as it was then known, was purchased in 1889 from Mr Charles Rocheid, for £33,500. The Rocheid family had owned the wider Inverleith Estate since the 17th century.
The memorial fountain dated 1899 (not in working condition), set in a rough granite obelisk, was erected in memory of John Charles Dunlop, councillor for the St Bernard's Ward.