Image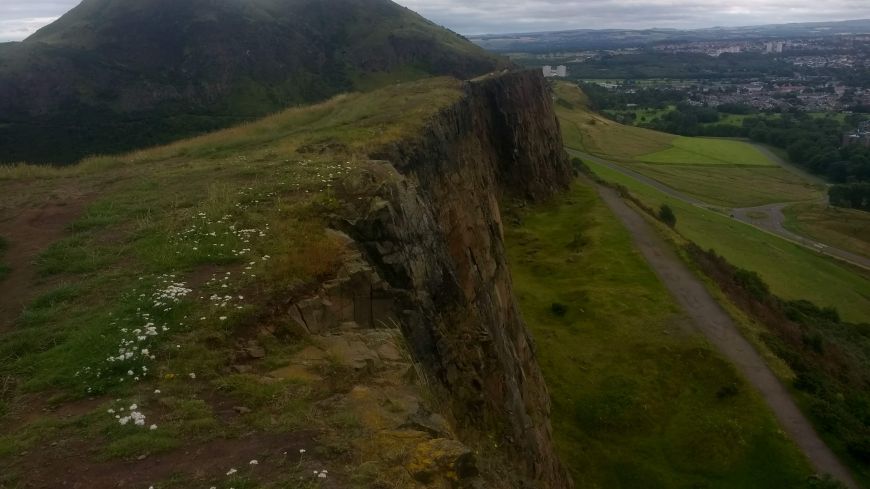 Holyrood Park is a windswept, hilly public park, but a few minutes walk from Edinburgh Old Town. The park encompasses a five-mile radius of land and has probably been a Royal Park since the 12th century and is now the responsibility of government cultural agency Historic Scotland.
Holyrood House, the royal residence in Edinburgh, is situated on the edge of the Royal Park.
With its volcanic cliff faces, steep pathways, mini lochs, and hillside ruin (St. Anthony's Chapel, which dates back to the 15th century), Holyrood reflects the rugged, natural landscape that can be found across Scotland on a grander scale.
There is evidence of human settlements going back some 10,000 years including cultivation terraces, rig and furrows believed to have been made by medieval farmers, and quarries used in the 18th century in construction of Edinburgh's buildings.
Holyrood Park is a great place to ramble. In the Spring, the grassy slopes are covered in yellow-flowered gorse, and there are well-maintained paths to the top of Arthur's Seat, with its distinctive polished, rock surface.
Historic Environment Scotland maintains the natural environment and is responsible for presentation of Holyrood Park for the enjoyment of the local community and visitors. This includes a Ranger Service based at Holyrood which as well as maintaining the park, provides a range of educational services such as tours, general information, and special events.
Climbing Arthur's Seat
The centre of the park, and visible from around the city, is the peak of Arthur's Seat.
It takes about half-an-hour from the Queen's Drive, an inner ring road around the park, at the base of Arthur's Seat, to mount the 251 metre summit. The top offers excellent views of Edinburgh (take binoculars), Leith, and a distant views across the Firth of Forth to Fife. On a good day, distant landmarks can be picked out with the naked eye.
It can get very gusty on top and lower areas can be boggy in Autumn and Winter, so you'll need to dress appropriately. In the Summer, remember your sun block.
Salisbury Crags
The ruddy-coloured Salisbury Crags are a series of 150 foot cliff faces which can be seen clearly from Edinburgh's Southside.
Directions to Holyrood Park
You can enter the park from any direction. If coming from the city centre, walk all the way down the High Street and continue past the Palace til you see the wide green expanse. The garden at the public tea room at Holyrood Palace is a pleasent place to stop for a coffee en route.
An easy ascent is from the East above Dunsapie Loch, a small artificial loch located between Dunsapie Hill and Arthur's Seat.