Image (reusable)
Image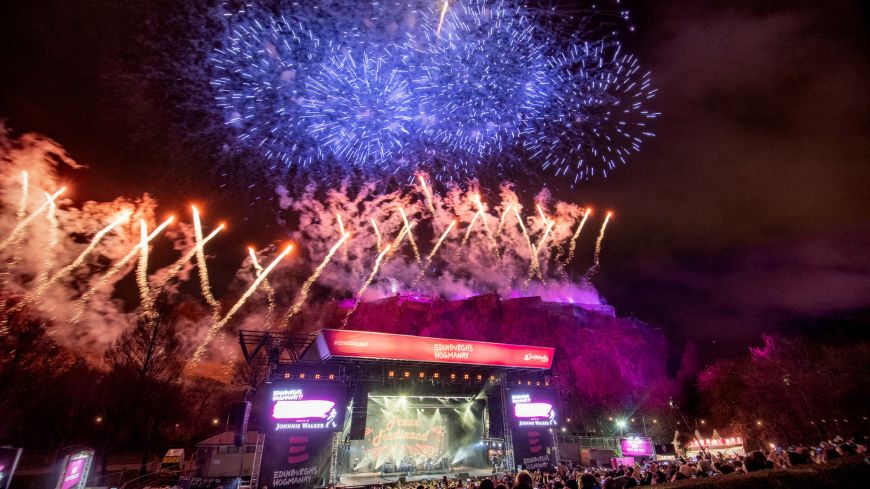 As Edinburgh's Hogmanay builds to the midnight bells "countdown firework" displays take place at 9pm, 10pm, and 11pm on New Year's Eve, with a climactic fireworks display at the turn of the New Year.
In 2019/2020, you can watch the fireworks online as part of Edinburgh's Hogmanay live stream show.
The crowd counts down in unison, then as the clocks announce the start of a new day, a new month, and a new year, the fireworks explode out of Edinburgh Castle and Calton Hill.
In 2018-2019, Hogmanay organisers introduced a specially created soundtrack for the Fireworks display, by German techno-marching band Meute.
Mark Ronson provides the 2019-2010 soundtrack for the accompanying fireworks display.
Thousands gather below the castle, many at the Edinburgh's Hogmanay Street Party on Princes Street, for this annual display which can be seen from vantage points across the city.
Revellers with tickets to the Concert in the Gardens are directly under the display in West Princes Street Gardens.
Calton Hill provides a longer range view of the Hogmanay Street Party and fireworks at midnight.
Following the fireworks, revellers across the country lock arms to sing Auld Lang Syne.
Edinburgh's Hogmanay organisers introduced the on-the-hour, Countdown Fireworks displays in 2012/2013.