Image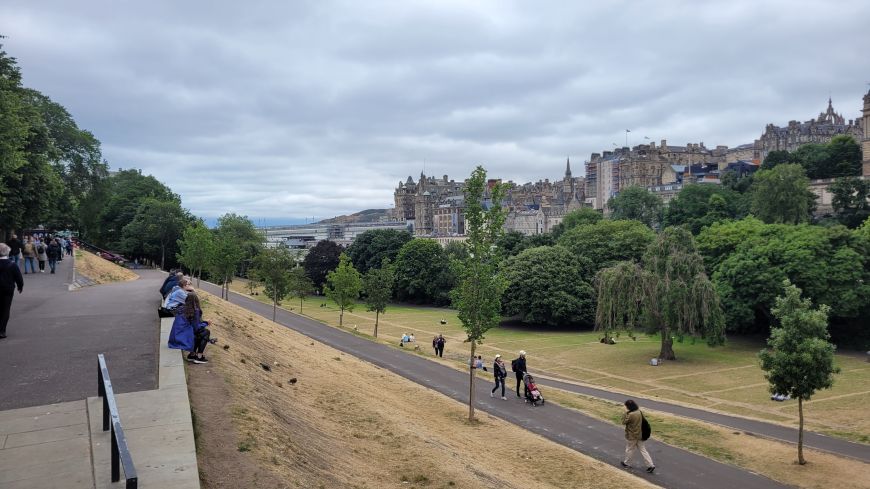 Although fenced off with Edinburgh's characteristic black, wrought iron railings, The Gardens are open to the public and easily accessed at various gates along Princes Street and other points. They are an obvious place to head for if you are looking to take a quick breather, and just five minutes walk from the High Street.
If the weather is behaving, join the office workers, backpackers, mini-golfers, old folk, teenagers with their kerry oots of beer, dossers, lovers, loungers and soak it all up.
East Princes Street Gardens is not only smaller in size than West Princes Street Garden, but it also generally busier, it being located beside the Waverley Station and the National Gallery Complex (aka The Galleries).
The Scott Monument backs on to East Princes Street Gardens and offers good views of Edinburgh from the top of its spire. A craggy, gothic curiosity it is in keeping with the romantic style of the author it was named after, Walter Scott.
In the Winter, East Princes Street Gardens is the location for the Christmas Market and has been host to Edinburgh's Ice Rink, one of Europe's largest outdoor ice rinks.
History of the gardens
The gardens were larger until in the mid-19th Century the Gardens had to make way for the North British Railways development of Waverley Station.
Its central location at the foot of the Mound and near Edinburgh's main railway station means that this is a bustling hub, particularly in the Summer with tour coach line-ups at Waverley Bridge, but is still a pleasant place to wile away the day or people watch while stretched out on the grass.