Image
Image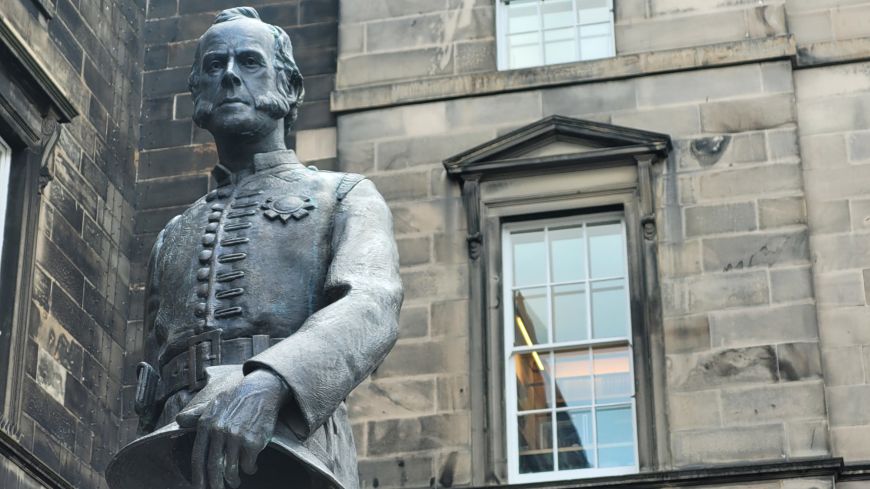 Street
1-6 Parliament Square
This bronze, memorial statue of James Braidwood, widely regarded as the founder of modern firefighting techniques, was unveiled on 5 September 2008 by Professor Sir Timothy O'Shea, Principal of the University of Edinburgh. The statue was unveiled around the same time as the unveiling of the Adam Smith statue.
In 1824, following the Great Fire of Edinburgh, James Braidwood was made the first City Firemaster of the world's first municipal fire brigade, then called the Edinburgh Fire Engine Establishment. 
The Central Fire Station - one of the city's four district fire stations - was located not far from where Braidwood's statue stands, at 188 High Street. 
A surveyor by trade, Braidwood introduced a scientific and professional approach to quashing and preventing fires. He introduced helmets that guarded the neck and protective uniforms. 
He trained teams to enter buildings instead of standing outside pointing a hose at the building. 
His men were trained to crawl through burning buildings in order to breath the few inches of oxygen below the smoke and they were instructed to carry rope going into a fire situation.  
His men drilled at 4am in the morning, practising climbing skills on North Bridge so they could escape burning buildings. The early morning drills gave his men the chance to train in the dark and ensured there wouldn't be crowds of onlookers. 
In 1833, Braidwood's exceptional reputation led to an invitation to form a similar service in the British capital. The London Fire Engine Establishment, the precursor to the London Fire Brigade, was funded privately by insurance companies. 
The following year, Braidwood was credited with saving Westminster Hall and a few other parts of the old Houses of Parliament in the highly destructive Fire of Parliament. 
Braidwood died in 1861, aged 61, in the infamous Tooley Street fire at Cotton's Wharf in London, when a falling wall crushed him. 
Huge crowds lined the route of his funeral cortege to pay their respects.  
Braidwood revolutionised firefighting by introducing numerous innovations, including the first standardised training program, the use of hydraulic equipment, and the implementation of fire safety inspections.
His death marked a profound loss for the firefighting community and led to significant changes in safety protocols and equipment standards.
His emphasis on training, discipline, and safety set new standards that continue to shape the firefighting profession to this day. Braidwood's influence extended beyond the United Kingdom, as his methodologies and philosophies inspired firefighting organizations around the globe.
James Braidwood's contributions were widely recognized during his lifetime. He was awarded the Freedom of the City of London, and his pioneering work was acknowledged by numerous national and international institutions.
A fund was established for a £75,000 memorial to Braidwood, to be created by the Glasgow sculptor, Kenneth Mackay. The campaign was led by Dr Frank Rushbrook CBE, 93-year-old former Firemaster at Lothian & Borders Fire Brigade. 
The statue that you find today at Parliament Square.