Image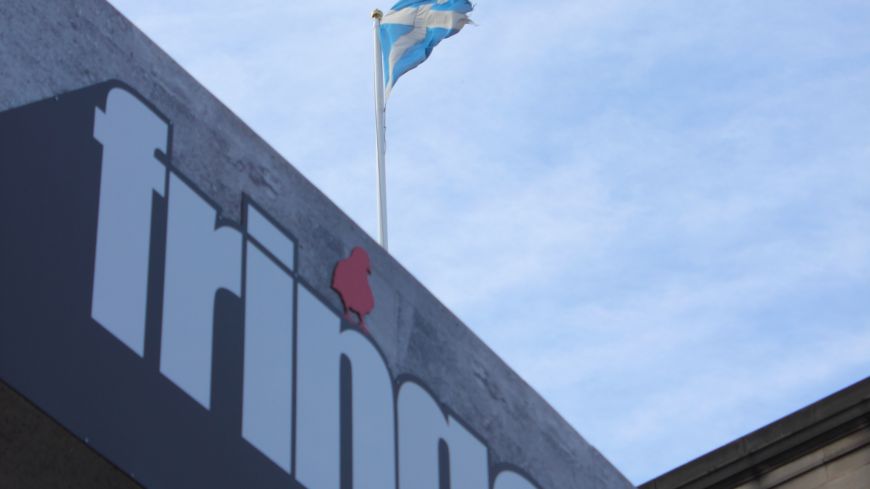 Yesterday, Freedom Day arrived in England and Level Zero here in Scotland, but it may be too late for many Edinburgh Festival performers apart from those brave, mad, or adaptable enough to put on a live, socially distant show.
This year, with so much up in the air due to pandemic restrictions the Fringe hasn't even published a print brochure and there's no deadline for producers to list a show in the programme on the Edinburgh Fringe web site.
Shows are fairly thin on the ground by comparison with normal years. On Thursday last week, the Fringe Society announced a further 114 Fringe shows were open to booking on its website bringing the total to more than 340 registered shows.
The shows are coming in, but at a trickle. Four days later, there are 361 shows registered on the Fringe site. Of those, 216 are "In Person", 44 are "online scheduled", meaning they have a set start and end time, and another 101 are "online on-demand", where you can watch at your leisure.
Compare this with 2019, when the Edinburgh Fringe hosted 3,841 live shows in 323 venues. 
The Fringe website currently lists only 73 venues and 16 of those are online (see in-person 2021 fringe venues).
Big Fringe names such as Pleasance and Assembly have drastically scaled back in 2021. Pleasance Courtyard, normally full of beer-swilling Fringe punters in August, currently lists four shows, one of them notably solo show Bacon, with Pip Utton as the eponymous artist. 
Pleasance has a few more shows at the EICC, 10 at time of writing, including Paul Aitchison's comedic magic show Could it be Magic for twelve nights, Richard Shelton's profile Sinatra, improv troupe NewsRevue, and singer-pianist Jeremy Sassoon's MOJO linking hits written by musicians of Jewish origin.
The shows are likely to be of a high quality, but there's nothing like the giant smorgasbord of choice of previous years.
Underbelly hasn't surfaced yet. Earlier this year, Edinburgh City Council granted the organisation permission to pitch its Circus Hub in the Meadows for a three-week run in August with five shows a day. There were 316 objections, on grounds of disruption, damage to the park, and privatisation of public space.
Fringe Dis-Assembles
Another people-magnet in August is usually Assembly's George Square Gardens marquee area. Only two shows are currently listed: the Best of Burlesque strip-tease/variety show and Myra's Story, a drama about a homeless street drinker in Dublin. 
Assembly has another show, Penny Chivas's Burnt Out, a meditation on recent, fiery events Down Under, at Assembly Roxy. And that's it, so far from Assembly.
Of course, there are shows online. Assembly is promoting 21 shows under Assembly Showcatcher and Pleasance has five shows.
The hybrid online and in person programme has been a go-to formula for venues and festivals alike, be it The Fringe, Jazz Festival, Art Festival, or Book Festival.  
But it would seem that some companies have been caught in the crack between full lockdown and the re-opening, in a no-man's land between uncertain, social distancing rules and the promise of a herd-immune, semblance of normality.
Multistory
The festival is used to rising to challenges. Lack of performance spaces and affordability of accommodation are often the vexing issues of the day, particularly in Fringe circles in past years. It's always interesting to see how visiting companies transform quiet and often drab Edinburgh buildings, nooks, and crannies into vibrant, bustling performance spaces.
It's a tougher challenge this year. By necessity, the hustle and bustle must be limited. At least, audiences must now distance just one metre, rather than two metres under the previous health order, that led to an open letter to the Scottish government last month from all the Edinburgh Festivals, for the cultural sector " to be treated the same as others". It will be exciting to see how some of the Covid-safe pop-up venues fare.
As Euro 2020 showed and the play Sweet F.A. plans to show, a football terrace is an ideal way to swerve around Covid restrictions. It's a play, with music, about an Edinburgh women's factory team, who fight for their right to play the beautiful game in 1916. The drama is set in the open air on a specially built stage within the main stand at Tynecastle Park.
George Watson's College will also have an outdoor stage, for a 6-day run of goth rock musical Little Shop of Horrors.
Julia Taudevin's migration drama Move (part of the Traverse's line-up) will be performed by five women on the beach at Silverknowes.   
One of this year's most anticipated venues is Multistory, an open-air, Fringe venue for pandemic times, in the NCP multi-story car park at Castle Terrace. Scotland's first multi-level car park was controversially awarded B-listed heritage status by Historic Scotland in 2019. The squat, concrete building's most praise-worthy feature is that it doesn't obscure the view of Edinburgh Castle and the castle rock towering above it.
Multistory is a joint venture by Gilded Balloon, ZOO, Traverse Theatre and Dance Base and it will be interesting to see how they do over the concrete decks of this brutalist Sixties structure. The group secured a significant chunk (£230,696) of the £1 million funding that the Scottish government allocated toward companies and promoters for live Fringe shows. 
Multistory's line-up includes raucous comedian Jason Byrne, witty Dundonian Fred MacAulay and Friends, and the inaugural Fringe show from Glasgow-based writer, director and actor Paul Black.
There's a bike powered, family musical Bicycle Boy; Captivate Theatre's Sunshine on Leith; and "acid croft" folk from Shooglenifty.
Edinburgh International Festival pavilions
Government funding also gave the Edinburgh International Festival (the "official" festival) a boost to the tune of £300,000 for its three outdoor, covered pavilions: Edinburgh Academy Junior School in the Inverleith area, Edinburgh Park pavilions out on Edinburgh's Western outskirts; and the Edinburgh Old College Quad in the Old Town, where the festival will have afternoon chamber music series, Scottish music, nights of spoken word and cabaret lates.
City of Edinburgh Council provided an additional £300,000 alongside the Scottish government funding.  Beneficiaries, announced at the end of June, also included: 
Pleasance - £169,619
Assembly - £162,962
Underbelly - £162,962
Space UK - £106,681
Summerhall - £166,780
Space UK has a strong presence at this year's Fringe with 57 in-person theatre, comedy, musicals, cabaret and family shows listed on the Fringe web site. 
These include: Cambridge University Musical Theatre Society with a brand new musical, On Your Bike, about working the gig economy; Colin Thomas with Trust Me, I Was The BBC Doctor; an a cappella, mystery-themed comedy act Semi-Toned; music anthology nights with The Legendary Night Owl Shows; and ChasingRainbows' Barry-Manilow inspired musical Looks Like We Made It.
Summerhall has 20 shows In Person over August in its Secret Courtyard bar - scots folktronica from Meursault, female Scots rock duo Sacred Paws, spoken word artist John Hegley, comedian Trevor Lock, artist Martin Creed, and others.
The arts venue, which has always been at home with experimentation, is pushing the online model out with 36 shows online - dance, theatre, film, and performance art.
Army at the Fringe is also back, albeit with a stripped-back programme of seven shows so far - magic from Kevin Quantum in The Trick That Fooled; Further Theatre's drama about digging out of Cold War East Germany in Tunnels; variety entertainment in Live @ The Drill Hall, among others.
The other famous army show, the Edinburgh Military Tattoo - the biggest show in August - cancelled its run completely in May for the second year running.
"The financial risks we confront in delivering The Royal Edinburgh Military Tattoo, at scale, on the Castle Esplanade in August are simply too great," said Chief Executive Buster Howes at the time.
"We have for months forensically monitored, assessed and sought to mitigate the constraints and uncertainties involved in mounting our Show. However, we now reluctantly conclude it would be irresponsible to press on and to risk the longer-term financial viability of our Charity, without the ability to underwrite and to offset the potential, substantial economic losses associated with last-minute cancellation obliged by changes in public health policy."
On the plus side, for those more nimble, usually smaller companies that do make it to Edinburgh, they may have less competition and more affordable rents.
However, for the future of live performance and the Fringe and Festival at large, let's hope more shows are announced in coming weeks. 
The Edinburgh Festival Fringe is from 6th - 30th August 2021 and the Edinburgh International Festival is from 7th to 29th August