Image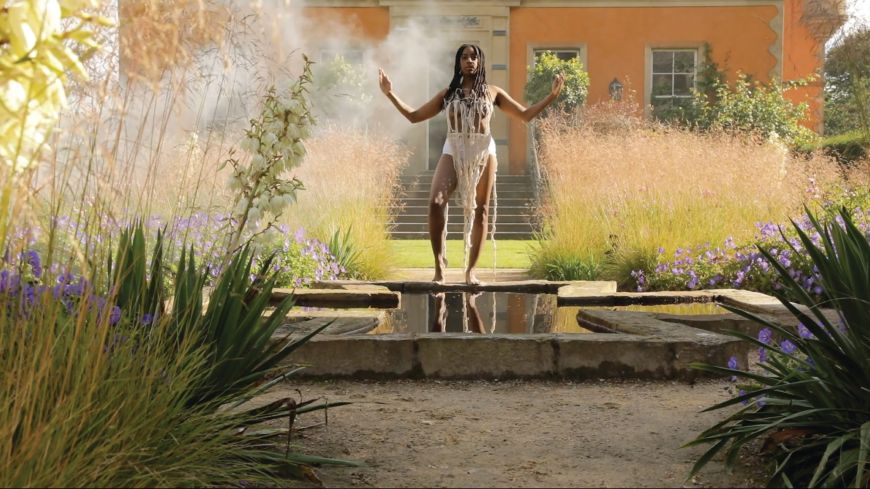 Last year was a write-off due to Covid-19 suddenly striking, but this year the 17th Edinburgh Art Festival (29 July – 29 August) is back with over 35 exhibitions and new commissions in visual art spaces across the city, complemented by an online programme of events and digital presentations.
The Edinburgh Art Festival in 2021 will feature the UK & European premiere of Lessons of the Hour, a ten-screen film installation by Isaac Julien inspired by renowned slavery abolitionist Frederick Douglass, himself a freed slave, who spent two years in Edinburgh in the 1840s campaigning across Scotland, England and Ireland.
The meditative piece, installed at the Scottish National Gallery of Modern Art, combines Douglass's writings with footage shot in Edinburgh, Scotland, London, and Douglass's home in Washington DC.
Also taking on themes raised by Black Lives Matter, is a new co-commission with Edinburgh Sculpture Workshop, by Irish artist Sean Lynch. In Tak Tent O' Time Ere Time Be Tint Lynch casts a spotlight on Edinburgh's public monuments and sculptures, the stories contained within monuments themselves, and the appropriate response to these legacies of history.
The new solo show RESET by Turner-prize co-winning artist Alberta Whittle, at Jupiter Artland, also responds to the Black Lives Matter movement, as well as pandemic and climate fears.
Whittle produced RESET, which opens tomorrow (18 July), at the height of lockdown, filming across Scotland, South African and Barbados. The film connects emergent fears of contagion, moral panic and xenophobia with a call to action – a demand – to face and heal injustices and cultivate hope in hostile environments. RESET culminates with the image of the 'garden' as a utopian space of re-learning, re-connecting and resetting, animated by Mele Broomes' solo performance.
Shot at Jupiter Artland, Whittle coordinated the filming remotely from Barbados, where she herself was in lockdown, weaving RESET together through contributions by writers, performers, fellow artists and musicians: Sekai Machache, Mele Broomes, Matthew Arthur Williams, Christian Noelle Charles, Ama Josephine Budge, Yves B Golden, Anushka Naanyakkara, Sabrina Henry, Richy Carey and Basharat Khan, who Whittle refers to as her accomplices.
A group show entitled RESET (group exhibition), featuring the aforementioned artists, will coincide with Whittle's solo exhibition of RESET at Jupiter Artland this summer.
The exhibition The Normal at the Talbot Rice is another vivid reflection of life during the 2020 pandemic and an exploration of resurgent communities that champion sustainability. The group exhibition includes: Larry Achiampong, Anca Benera and Arnold Estefan, Gabrielle Goliath, Kahlil Joseph, Tonya McMullen, Sarah Rose.
Auld Lang Syne
Nigerian artist Emeka Ogboh's Song of the Union, a Brexit-themed rendition of Auld Lang Syne inside the Burns Monument, is another interesting festival project, co-commissioned by the Festival with Talbot Rice Gallery.
The 7-channel audio installation, opening at the end of the month, is a response to the ongoing theatre surrounding the U.K.'s departure from the European Union. It features the recorded voices of citizens from each nation state of the EU, who currently reside in Scotland, singing Auld Lang Syne in their mother tongue.
The project description says: "the contradictions, hopes and harmonies that underscore the political concerns of the process are played out by Ogboh in the work" and will no doubt draw on the natural acoustic properties and historical symbolism of the circular neo-classical pavilion, that was built in 1831 as a national monument to Scotland's bard, Robert Burns.
Reflecting broad ecological concerns in the art world, Entanglements of Time and Tide, by celebrated Indian artist and researcher Sonia Mehra Chawla, mixes art and science for an "empathetic understanding" of the oceans and their significance as an ecosystem. The exhibition features new commissions in print, video, and living artworks of micro-biological organisms.
Science and art meld again at Collective's Hillside exhibition space, where Satellites Programme participant Alison Scott will produce new, integrated sound and print works that explore the space and possibilities of 'meteor-ontology': an exploration of how climate and weather are entangled in the nature of our being. Building on Scott's recent research Alison Scott: ditto ditto ditto works with folk and hacking cultures engaged in alternative practices of 'weather sensing' to explore weather as both embodied locally by the individual, and as part of industrial networks of weather-sensing infrastructure.
In a new approach for the Festival, Glasgow based artist, film-maker and programmer, Tako Taal curates the new Associate Artist strand with 'What happens to desire...', inviting commissions for public and digital spaces, by a new generation of artists living and working in Scotland: Chizu Anucha, Sequoia Barnes, Francis Dosoo, Thulani Rachia, Camara Taylor and Matthew Arthur Williams.
Platform, the festival's annual showcase of artists in the early stages of their careers, showcases four artists based in Scotland - Jessica Higgins, Danny Pagarani, Kirsty Russell and Isabella Widger in a group show, Platform:2021 at Institut français d'Ecosse during the festival.
Refreshed Fruitmarket gallery
The Covid-19 restrictions easing will be a good excuse to visit the popular Fruitmarket Gallery after it just reopened following a £4.3m renovation with the exhibition by Scottish artist Karla Black. The existing two-gallery building has doubled in size with the addition of a new warehouse space in the next door building, connected by a walkway.
Karla Black: Sculptures (2001–2021) is an attempt to redefine the traditional retrospective or survey show by combining existing and new work to "force a raw creative moment" to fill the Fruitmarket's pristine new gallery spaces.
The nearby City Art Centre will have work on a maritime theme by fave scottish poet-artist Ian Hamilton Finlay (1925-2006). Works in the exhibition Marine range from stone, wood and neon sculptures to tapestry over several decades.
At Ingleby Gallery, Music of The Spheres is the first ever exhibition devoted to work by Caribbean artist Frank Walter (1926-2009). His 'spools' - small circular paintings - in their consistency of scale and form, provide a kind of lens through which to witness the workings of Walter's inner eye.
At Royal Botanic Garden Edinburgh at Inverleith House, In Relation to Linum is a new solo exhibition from 1997 Turner Prize nominee Christine Borland. This multidisciplinary project, featuring watercolours, prints and sculptural pieces, explores the lifecycle of flax (Linum usitatissimum), evolving RBGE's 350-year relationship with the plant. From flax sown at RBGE to motion-captured planting processes, In Relation to Linum connects ecological heritage with the future of growing and making practices.
Stills, Edinburgh's centre for photography, has a solo presentation of work by Glasgow-based artist Sekai Machache. In this exhibition, the next in the Projects 20 series to take place at Stills, Machache presents a body of work titled The Divine Sky using allegory and performance to tell a complicated history through poiesis, immersive storytelling and photography.
Alongside Machache's exhibition the front space of the gallery continues to host The Nature Library, a reference library and reading space created by artist and curator Christina Riley.
Harryhausen
Fans of stop-motion, or "dynamation" by early special effects pioneer Ray Harryhausen can find "the largest and widest-ranging exhibition of his work ever seen", with newly restored and previously unseen material from his archive. Ray Harryhausen | Titan of Cinema is at the Scottish National Gallery of Modern Art (Modern Two).
Cartoon animation goes on show too in Jupiter Artland with mimi ᴉɯᴉɯ uʍop a new permanent outdoor installation by Scottish artist Rachel Maclean. Three years in the making, this is the first time Maclean has working entirely with cartoon animation and at an architectural scale, and her ultimate ambition is to transport Mimi's world to high streets around the UK.
Combining animation and architecture, upside mimi ᴉɯᴉɯ uʍop takes the form of an abandoned high-street shop, sited within the woodland at Jupiter Artland. Maclean has taken her inspiration from commercial spaces as sites of desire, combining this with the role forests play within fairy tales, being at once places of magic, of danger, of transformation and where the normal rules of daily life no longer apply.
The National Museum of Scotland will have an exhibition of around 100 viking-age objects from the Galloway Hoard, including silver, gold and rare textiles.
Among commercial galleries the Open Eye Gallery features new paintings and works on paper by Leon Morrocco, from the cold harbours of the East Coast of Scotland to the sun-drenched South of France.

The Scottish Gallery presents an extensive new exhibition to commemorate the centenary of the birth of Joan Eardley (1921-1963). Joan Eardley | Centenary will include her most celebrated subjects: the lost Glasgow, the streets and children of Townhead and her wild, spiritual home at Catterline on the Kincardineshire coast.
A new tapestry created by Dovecot Studios and inspired by Eardley's July Fields, 1959 will be unveiled as part of the exhibition.
Sorcha Carey, Director, Edinburgh Art Festival said: "Festivals have always offered a space for gathering, and this year more than any, we are proud to come together with partners across the city to showcase the work of artists from Scotland, the UK and around the world. Some exhibitions are newly made in response to the seismic shifts of the past year; others are the result of many years of planning and careful research; but all are the unique, authentic, and thoughtful products of our city's extraordinarily rich visual art scene."
"The past year has revealed how precarious things can be for artists and creative freelancers, as well as for the institutions and organisations that support the production and presentation of their work. As galleries begin to re-open across the city, and we look forward to welcoming audiences safely back to the festival and our city, now more than ever we need the space for community and reflection that art and artists can provide."
The Edinburgh Art Festival officially runs for a month from 29 July to 29 August, with many partner exhibitions continuing beyond that date. For full programme details see the Edinburgh Art Festival website.