Image
Image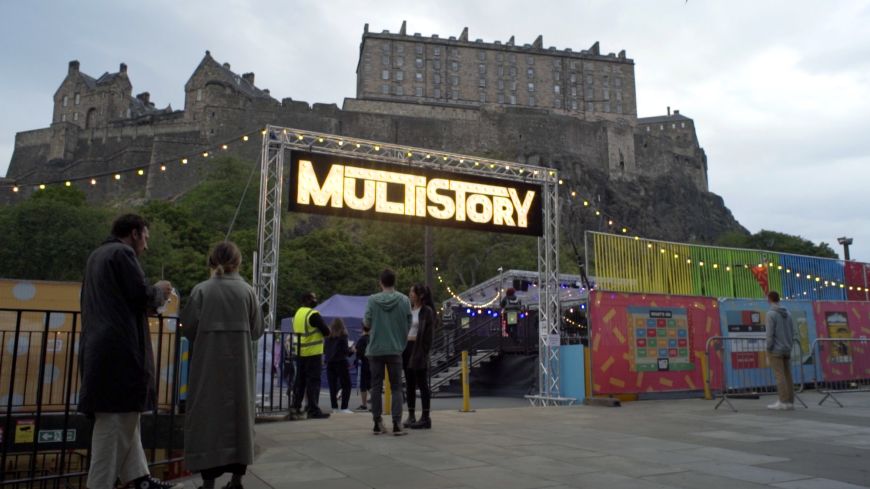 Street
Castle Terrace Car Park
In response to pandemic restrictions during August 2021 several venue operators clubbed together to transform the B-listed, multi-level car park at Castle Terrace into a Covid-safe, live events venue. Information below is maintained for archive purposes.
The airy, 2021 Fringe festival hub was created collaboratively by Gilded Balloon, ZOO Venues, Traverse Theatre and Dance Base. It was Fringe number 195.
Multistory has an open-air stage and audience area where performances are held. It's free to access the hospitality area, which has food stalls, a bar, seating booths (with table service), and pop up performances downstairs. The performance space has no cover from the elements (so dress appropriately), however the hospitality seating area is completely undercover one floor down.
The venue, which has a capacity of 324 with 1 metre of socially distancing, is open until 11pm daily from the 6th-29th August 2021.
Multistory is located under Edinburgh Castle, at the West End of West Princes Street Garden, and can be accessed via Lothian Road, Johnstone Terrace if coming from the Royal Mile, or King Stables road if you are coming from the Cowgate/Grassmarket.
The car park venue itself has to 2 entrances:
"Main Entrance" in the centre of the car park, for audience and hospitality
"Access Gate" for ticket-holding, audience members who would rather not queue or may need assistance to get to their seat. Situated close to the corner of Castle Terrace and Johnston Terrace. The access gate will be labeled "Access Gate".
Opening show awesomeness at #MultiStory!
Blue skies ✅
Castle view ✅
African Groove Machine ✅✅✅
Until 20 August ? https://t.co/6jqWjxMqLj pic.twitter.com/CjovXrA2cG

— Dance Base Scotland (@DanceBase) August 13, 2021
??a sneak peak of @EowynEmerald #YourTomorrow presented by @DanceBase at #MultiStory for @edfringe book right now https://t.co/FxCrYTwQeU pic.twitter.com/UYtIvNlcE8

— Jim Hollington (@jimhol) August 4, 2021
B-listed heritage car park
The Castle Terrace car park was completed in 1966 following a design inspired by a car park built in Nyropsgade, Copenhagen. The first multi-story car park built in Scotland, it was controversially awarded Category B listed building status by Historic Scotland in 2019, putting it in the same heritage bracket as the Balmoral Hotel and many other historic buildings in Edinburgh's Old Town and New Town.
The heritage body defended the decision saying that the car park has a "hugely innovative" design that doesn't obscure views of Edinburgh castle and it continues to have "positive use".
The street area in front of the Castle Terrace car park is also the location for a Farmers' Market.
MultiStory tickets
Tickets are on sale online.