Image (reusable)
Image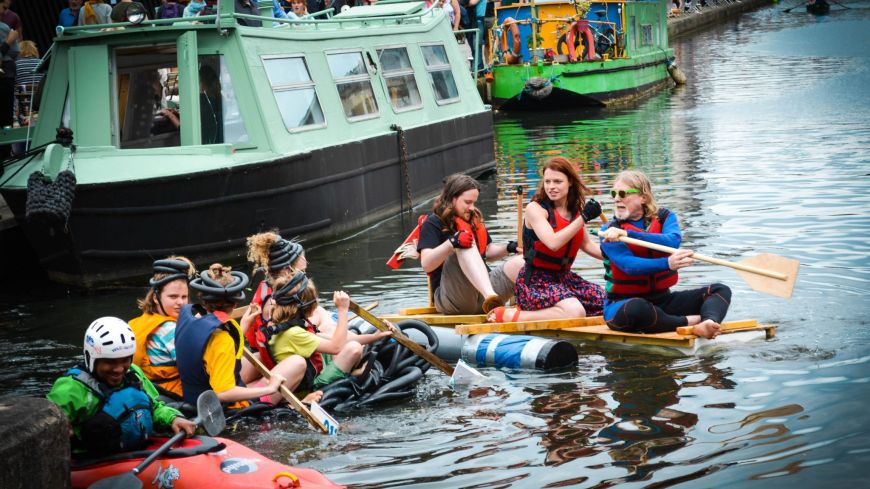 After a 3 year break, Fountainbridge Canalside Community Trust return with the Edinburgh Canal Festival and Raft Race centred on Edinburgh's historic waterway, the Union Canal.
A highlight will be seeing sailors in their home-built crafts competing (or sinking) in the raft race which starts at 2.30pm at the Canal Basin.
But there's other activities planned around the canal at 6 different Festival areas. You can try out e-bikes, kayaks, and "Akwakats" - a cross between a boat and an upright bicycle, visit canal boats for art sessions or for a glimpse at canal boat living, learn about foraging by the water and about town, and find out about the latest developments along the canal from members of community groups, over freshly roasted coffee and home bakes.
There's also a competition where you find a letter at each canal festival location to solve an anagram and win a small prize on the day. You'll also be entered for a grand prize draw to win a 2 hour private hire on the Lochrin Belle..
It's all in the name of appreciating the Union Canal which after decades of neglect has become something of a community life-force.
The canal celebrated its 200th anniversary earlier this year and is a major focus of the Edinburgh Art Festival in August.
Activities will take place at 6 main Festival areas (check website for latest programme info):
Canal Basin
Bridge 8 Hub Taster Sessions (12-2.30pm). Try the "Akwakats" (pedal boats)
Biketrax eBike taster sessions and bike hire.
The Four Sisters Boatel (12-3pm) A house-boat open-day.
Octangle Beauty Short treatment demos, mini taster treatments and goodie bags.
Live Music and entertainment (12-2.15pm)
Raft Race (2.30pm-4.30pm)
Leamington Liftbridge
Watershed Coffee Barge
Lochrin Belle Canal Boat (static) Free creative activities led by a local artist, Fiona Maher.
Stalls, demos and talks from Edinburgh Printmakers, The Sorted Project, Keep Scotland Beautiful, Fountainbridge Canalside Community Trust
International Rescue Corps First Aid Station
Printmakers and Nearby Development Site
Edinburgh Printmakers workshop, gallery and tours.
Holy Cow Lounge (at the Printmakers) vegan cafe.
The Grove Community Garden Open garden
Foragerium Workshop - learn about foraging (12.30-2pm at The Grove)
Visit The Forge, a community maker-space
Rhyze Mushrooms Log inoculation sessions. Spawn your log, take it home and watch them grow.
Fountainbridge Green
Performance stage with community entertainment and stalls with freshly roasted coffee and home-baked food among other things.
Harrison Park East
North Merchiston Club will have a bouncy castle and soft play, plus shows, workshops and demonstrations.
Axe Boom Boom (4-4.45pm) Capoeira, Drumming and Acrobatics show.
People Know How & Polwarth Parish Church will have scones, stalls, music and visiting the boat "All Aboard".
Two's Company Befriending (at Polwarth Church) Edinburgh City Mission's activity to highlight loneliness and encourage small acts of kindness.
Harrison Park West
Forth Canoe Club watersports taster sessions every half hour until 4pm.
Edinburgh Union Canal Society refreshments and raffle
Birchwood Art Studio - figure drawing with life model and a tutor – stay 5 mins or 90mins (2-3.30pm)
Joy Rides Edinburgh's electric trishaw (bike for 3)
Driftwood Adventure (1pm, 2pm, 3pm and 4pm) kayak and paddleboarding – £15pp for 45 mins.
Stalls from St. Michael's (bear tombola and make your own stained glass window), Merchiston Community Council, Fountainbridge Canalside Community Trust