Image
Image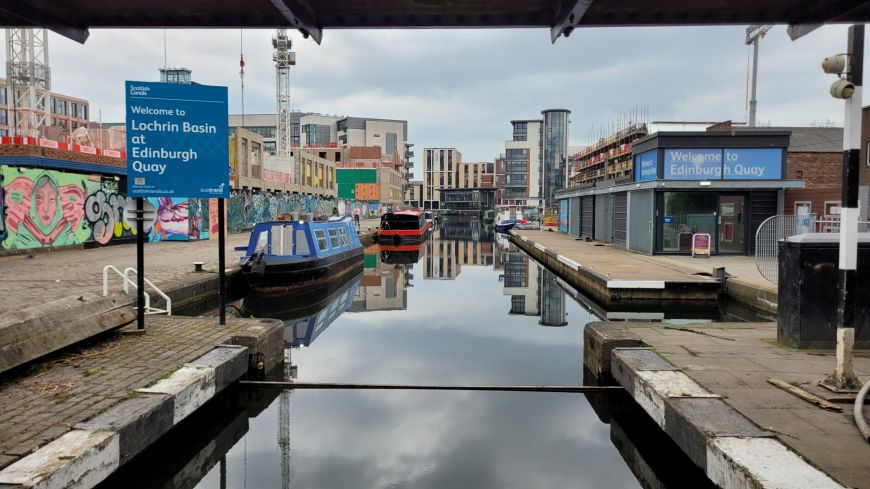 Lochrin Basin is the eastern terminus of the Union Canal, an open waterway in Fountainbridge, near the centre of Edinburgh. It's easy to walk pass it by without noticing it, as the area has been developed in recent years with many new buildings around the canal, particularly residential and office, but also cafés and some retail outlets.
Entering the Lochrin Basin through a cobbled side street off the Fountainbridge road is like stepping into another world compared to the bustling city behind you. Here at Edinburgh Quay, colourful canal boats are berthed along the waterway and pedestrians and cyclists meander up and down the newly cobbled pathway. The pace of life suddenly slows.
The path at the side of the canal is large and open at this point, but if you continue along the canal by foot or bicycle the tow path narrows significantly the further west you go.
Lochrin Basin is at the far end of the canal with a dock and terrace area with a distinctive flock of metal swan sculptures. A variety of boats are moored along the canal. It's a good place to pause and idle away the time watching boat and people traffic.
Look out a little further west for the Leamington Lift Bridge. The bridge is a functioning piece of canal heritage, used as a crossing these days by pedestrians and cyclists only. The bridge lifts 9 feet (2.7 m) to allow individual canal boats to exit and enter the Lochrin Basin.