Image
Image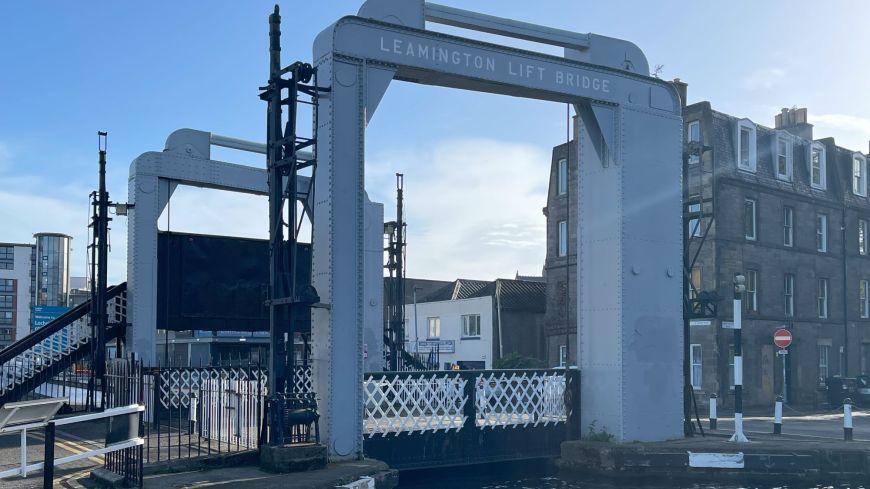 The Leamington Lift Bridge is a Victorian crossing on the Union Canal in Fountainbridge. The heritage bridge was originally installed so traffic on Fountainbridge could cross the canal, but with the shortening of the waterway in 1922, the bridge was moved to its current location, providing boat access to and from the new terminus at Lochrin Basin.
Designed by Scottish engineer Sir William Arrol, what makes the bridge unique is its vertical lift design, allowing the central span to be raised to accommodate boats and barges passing along the canal.
Approaching the Leamington Lift Bridge, you'll notice its elegant iron framework and intricate detailing, reflecting the combination of sturdy Victorian engineering and fine craftsmanship. A Red Wheel plaque, installed by the National Transport Trust in 2021, indicates that the bridge is of significant transport heritage.
The bridge has a wooden deck that can be raised, for boats to pass under one at a time, between two gantries to give a clearance of 9 feet (2.7 m) below.
The bridge is open to cyclists and pedestrians, many who are connecting with the canal tow path, and there is a lattice girder footbridge alongside the bridge which allows pedestrians to cross when the deck is raised for boats.
Leamington Lift Bridge, like much of the Union Canal, fell into disrepair from the1960s. When the canal was restored as part of the Millennium Link, the bridge was renovated and opened in working order in May 2002.
The bridge has been maintained in its current, operational condition thanks in part to a £350,000 award, in 2019, through Sustrans Scotland's National Cycle Network Development Programme, funded by the Scottish Government.
The funding supported an upgrade of the lifting mechanism and creation of the alternative pedestrian crossing when deck is raised and the bridge is closed to pedestrians.
The bridge is operated by boaters, trained by Scottish Canals, the Scottish Government body responsible for managing the country's inland waterways.