Image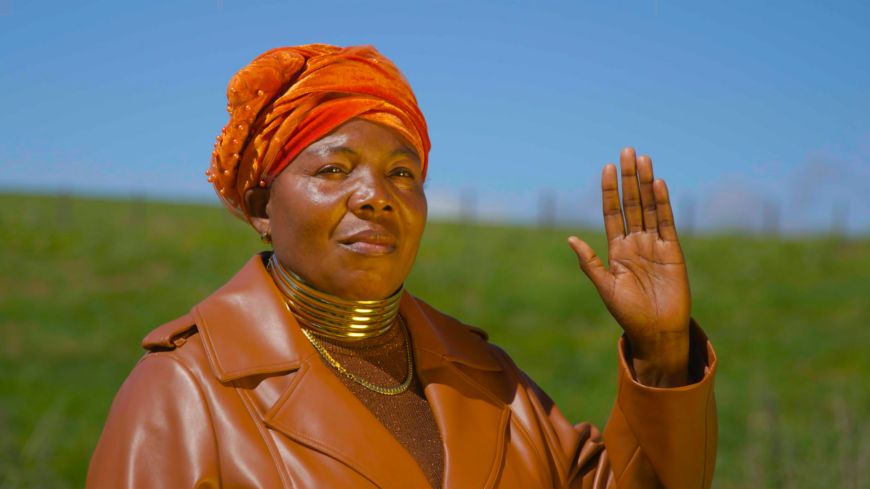 The first Edinburgh Art Festival under new director Kim McAleese will be "one of the largest yet" featuring 55 projects and exhibitions across more than 35 venues.
"It's a programme that asks how we can connect with and find mutual support internationally, platforming artists, individuals and communities who can find alternative ways to resist," said McAleese.
"I believe in the generative process of collaboration and want to embrace it by connecting, amplifying, promoting and sharing individuals, organisations, and projects that have an intimacy with these values."
She adds: "This year's programme guides you through our core galleries across the city, to parliament buildings for live performances, to Leith for public artworks, and Sculpture Gardens outside of Edinburgh for queer parties."
The three-week festival opens on 11 August (8pm), at the Queen's Hall, with the World Premiere of a hybrid opera and film work that explores The Troubles in Northern Ireland through the voices of working class women. "History of the Present" is a collaboration between Northern Irish writer-director Maria Fusco, Scottish artist film-maker Margaret Salmon, and composer Annea Lockwood. It commemorates the 25th anniversary of The Good Friday Agreement. Like many Art Festival events it's free (but ticketed).
A new EAF commission is an installation of Sean Burns' 16mm film "Dorothy Towers", which draws inspiration from the Clydesdale and Cleveland Towers, social housing built in 1971 adjacent to Birmingham's Gay Village. The film at the French Institute considers ideas of queer kinship and inheritance alongside experiences of HIV in the 1980s and '90s and has several related events which will explore themes raised in the work.
"Alberta Whittle: The Last Born – making room for ancestral transmissions" is another newly-commissioned performance, presented by EAF, National Galleries of Scotland and Forma. Taking Whittle's film "The Last Born" as inspiration, the performance at Parliament Hall, the buildings housing the Supreme Courts of Scotland, considers the poetics of abolition and how love and grief can become healing forms of release. The performance (13 August, £8/pay what you can) coincides with the artist's major solo exhibition, "create dangerously", currently on at Modern 1.
A Provocation, parties, and salons
Beirut-based, feminist art organisation Haven for Artists will be in-residence during the festival, launching on the afternoon of the first Saturday with an 'Opening Provocation', in conversation with Turner Prize winners Array Collective who are based in Belfast. Haven will also collaborate with the Wester Hailes Community Wellbeing Collective, for a day of conversation, food and open mic "exploring what urgencies, desires and offerings can be shared across borders, and how to care collectively and create spaces of safety and respite in a world of precarity".
Jupiter Rising joins forces with EAF to throw "one of the biggest one-night only parties in Edinburgh", at Jupiter Artland on Saturday 19 August, curated by artist Lindsey Mendick and collective Bonjour, a queer workers' coop based in Glasgow. Expect BBQ, karaoke, live art and music. Tickets are £5 (including drink).
"By punctuating the festival with a series of special weekend events," said McAleese, "we can open up the festival to new audiences, and in dialogue with other art forms and other festivals across the city in a spirit of collaboration."
With this in mind, the Art Festival has also joined with the Edinburgh International Book Festival and the Edinburgh International Film Festival for a new Sunday Salon series.
Now in its 9th edition, "Platform: Early Career Artist Award" celebrates early-career artists working in Scotland, with the opportunity to make and exhibit new work. This year's artists selected from an open call are Aqsa Arif, Crystal Bennes, Rudy Kanhye, and Richard Maguire. The exhibition runs throughout the festival at Trinity Apse on the Royal Mile.
Edinburgh-based poet Nat Raha presents the first iteration of a performance work "epistolary (on carceral islands)" commissioned for EAF 2023 x TULCA Festival of Visual Arts (Galway). The performance at 50 George Square on 18 August looks at the history of island prisons across the globe through the colonial project of the British Empire.
The work travels from Bass Rock in the Firth of Forth, to outposts of "empyre" such as Spike Island, Ireland, and to the Andaman Islands in the Bay of Bengal as Raha considers how the history of these islands can inform contemporary abolitionist struggles.
Pop art in Leith
Leith Library will be have an illuminated sign by Rabiya Choudhry throughout the EAF. The work repurposes philanthropist Andrew Carnegie's flaming torch motif, found on many Carnegie library buildings. In Choudhry's work, the torch is encircled with the words of African-American civil rights activist Ella Baker "give light and people will find the way" and the flame looks like an emoji.
In another installation by artist Rachel Mars, a replica of the "welcome" gate from Dachau concentration camp, which was stolen in 2014, will be welded at Royal Lyceum Workshop. The three-day installation is presented by Horizon Showcase, with live welding, and sound design by Dinah Mullen, exploring the purpose of memorials. The artist will join a festival panel on memorial, public space and architecture on 21 August.
Art from all quarters
As always, many of Edinburgh's galleries will present a range of exhibitions, the majority of which will be open to the public for free.
From the Old Town and Southside to the New Town, West End to Leith, there's an abundance of exhibitions over the course of the three weeks of the festival.
Stills will have a solo presentation of critically acclaimed Czech social photographer Markéta Luskačová.
The Peter Howson retrospective can be found at City Art Centre.
The National Museum of Scotland will deconstruct the little black dress, and in "Rising Tide" will showcase artistic responses to climate change in Oceania.
The Edinburgh College of Art will have its graduate exhibition and in "The Sounds of Deep Fake", curated by the Institute for Design Informatics, experimental artists such as Martin Disley and Theodore Koterwas will explore deep fake audio.
Textile gallery Dovecot Studios has their major exhibition "Scottish Women Artists: 250 Years of Challenging Perception with The Fleming Collection, and "Scottish Landscapes: A New Generation" highlights 10 recent graduates from Scottish art schools who challenge perceptions of the landscape genre.
At Collective, on Calton Hill, Tarek Lakhrissi presents "I wear my wounds on my tongue (II)", exploring desire, language and queerness; while Rabindranath X Bhose's installation work, "Dance in the Sacred Domain", is a bog made up of sculpture, poetry, performance and drawing, emerging from time spent meditating on bogland in Scotland.
Travelling Gallery, a contemporary art gallery in a bus, presents a new exhibition by Gabecare, a collaborative art project between Rachel Adams and Tessa Lynch investigating the domestic mess of 21st century living. It will travel across the city for the duration of the festival.
To the West of the capital, Jupiter Artland will host Lindsey Mendick as the artist for their 2023 season in "Sh*tfaced". Characterised by their hyperreal appearance and intense attention to detail, everyday scenes are crafted in ceramic as larger-than-life tableaux.
Edinburgh Printmakers presents artist Christian Noelle Charles' solo exhibition "What A Feeling! | Act I". Transforming the gallery space into a beauty salon, this presentation of new screen prints by Charles is the first part of an exploration project discussing the topics of racial identity, inequality and care through the Black Female Lens. Charles will also host an American-style block party on Friday 25 August in the Courtyard at Edinburgh Printmakers.
Wester Hailes, Community Wellbeing Collective (CWC) will host free wellbeing activities run by members.
At Modern Two, "Decades: The Art of Change 1900–1980" continues with 80 years of art from 1900 to the 1970s (the exhibition continues til 7 January 2023). Spanning a period of dramatic change, each work is drawn from the gallery's collection of modern art. It guides you through six chapters across six rooms at Modern Two. Each chapter speaks of a moment when artists rebelled against the previous generation, creating works that came to characterise a period.
Meanwhile, back in the New Town, the largest-yet show of work by Grayson Perry covering his 40-year career, can be found at the Royal Scottish Academy.
At the Royal Botanic Garden Edinburgh, "Shipping Roots" continues til the end of August with a look at colonial legacies through the movement of plant types between the UK, India and Australia.
The Edinburgh Art Festival 2023 runs 11-27 August. Full programme details at the EAF website.