Image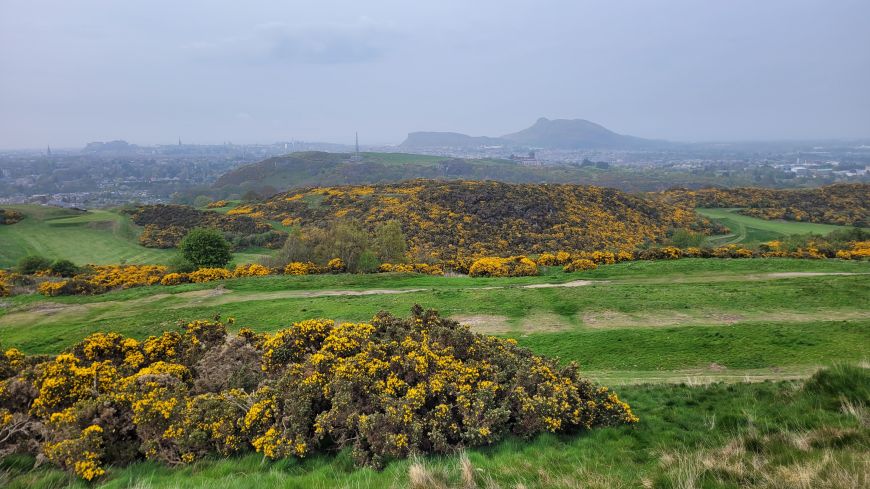 The Braid Hills are not the closest or easiest of Edinburgh's "Seven Hills" to reach from the city centre. But a climb to Edinburgh's second highest point is definitely rewarding, with great views in all directions.
The Braid Hills are a pair of small hills - Buckstone Snab (208m/682ft) and The Braids (178m/584ft) - to the south of the city. The hills are located in an area of the city where the built-up, urbanscape of Edinburgh begins to change to a more pastoral green space between the Morningside and Liberton residential areas.
You are entering the city's green belt. The footpath from the Braid Road end is through a mix of woodland with carpets of colourful flowers in spring, and views of the nearby suburban part of the city, typically stone, Victorian villas.
From the top of the Braid Hills, you can see the nearby Blackford Hill and its observatory, with the castle and Arthur's Seat off in the distance. In the glen below runs the Braid Burn. Both Buckstone Snab and Blackford Hill have telecom towers spiking from their summits.
The hill tops are undulating and grassy with extensive bushes of low-lying gorse everywhere. As with many parts of Edinburgh's green belt, the rugged hillscape merges with adjacent golf courses giving a sense of extensive greenspace. An alternative route up to the top of the Braid Hills is via the rough track, that skirts the North and East perimeter of Braid Hills golf course.
Look out for the helpful knowledge posts which share information about the history of the Braid Hills such as the presence of quarries in previous centuries and local bird life.
From the city centre, you can bike to the Braid Hills in 20-25 minutes. Due to the Braid Hills location, closer to the periphery of the city, they rarely get busy at the top like the more central Calton Hill or Arthur's Seat in Holyrood Park.