Image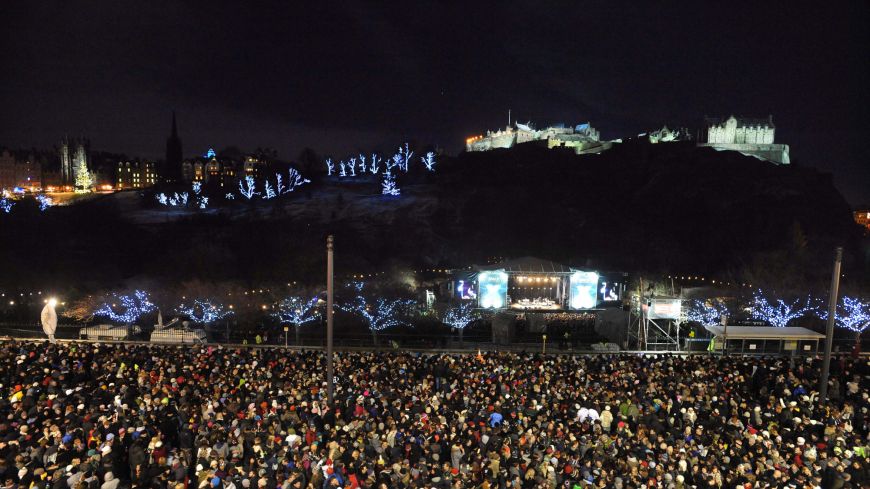 Third time lucky, you might say. After Covid-19 forced the closure of the three-day Edinburgh's Hogmanay festival in 2020, and then again in 2021, just days before it was due to take place, it's time to show, as the organisers put it, that "Edinburgh's Hogmanay is back with a bang!"
Under new organisers UniqueAssembly, the three-day Hogmanay festival celebrations will kick off with more self-contained festivities than in previous years. Organisers dropped the traditional Torchlight Procession through the city this year and tonight are holding a Night Afore Disco Party with Sophie Ellis-Bextor at the Ross Theatre in Princes Street Gardens. There are still limited Gardens tickets for the Night Afore Disco Party, which includes special guests Altered Images and Forth 1 DJ Boogie.
West Princes Street Gardens are a focal point of events each night of Edinburgh's Hogmanay including the World Famous Street Party tomorrow. Tomorrow evening's Street Party for 30,000 revellers on Princes Street is the big event, which at half the capacity of previous years, has sold out.
The adjoining Edinburgh's Hogmanay event, the Concert in the Gardens is also sold out. The concert, headlined by Pet Shop Boys, remains at the 10,000 capacity of earlier years.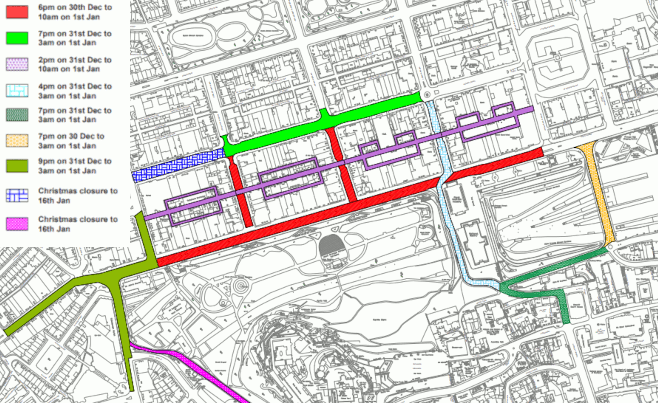 Music at the Street Party will be relayed throughout the arena along Princes Street on giant screens. Street food and drink will be available throughout the arena.
Street Party revellers will participate in the Midnight Moment with personal LED Wristbands lighting up the party on Princes Street.
The Candlelit Concert in St Giles' and the Festival of Ceilidhs 'Countdown to Hogmanay' events are also sold out.
However, tickets are still available across all areas for the Final Fling, headlined by Tidelines with special guests Elephant Sessions and Hamish Hawk, on 1 January.
Mini and Major Castle Fireworks Displays
Organisers have been advising people who don't have tickets to make alternative plans and watch the Midnight Moment fireworks above Edinburgh Castle from one of the many vantage points around the city. If you can see the castle, you should be able to watch the fireworks.
Fireworks will shoot from Edinburgh Castle each hour at 21:00. 22:00 and 23:00 as the city counts down to the main fireworks display of the Midnight Moment to welcome 2023.
Free Edinburgh Trams at Hogmanay
As is in previous years, to ensure revellers can get home safely after the Street Party and Concert in the Gardens, Edinburgh Trams will be rolling out free, late-night services from midnight until 05:00, operating every 15 minutes calling at all stops between West End and Edinburgh Airport.
Lothian Buses are also offering revellers a special Hogmanay ticket on their late-night services.
New Year's Day events
The Loony Dook has been (officially) dropped from the Hogmanay programme, but New Year's Day includes a programme of free performances from leading Scottish musicians from the worlds of indie, folk, jazz, RnB and hip hop in venues in Edinburgh's Old and New Towns as part of the brand-new First Footin' celebrations.
Artists including Callum Beattie, Roseanne Reid, Withered Hand, Swim School and Stina Marie Claire will be performing in bars, cafes and event spaces across the city from Rose Street to the Grassmarket, Greyfriars Kirk to The Huxley.
Audiences are encouraged to explore the city and, in the tradition of First Footin', are welcomed across the threshold bringing good luck and good cheer for the New Year.
Family Hogmanay
For families and younger audiences, the free and unticketed Sprogmanay makes a return on New Year's Day. The event includes pop-up performances from Mr Fibbers, Hip, Hop, Story, Stop! with Claire and Fergus McNicol and the brilliant Unicorn Dance Party featuring Sarah Rose Graber & Ruxy Cantir.
The events and activities will be operating on a 'First Come First Served' basis.
Just around the corner, at Assembly Roxy, the Sprogmanay Family Ceilidh offers an afternoon of dancing and fun hosted by the Fruin Ceilidh Band.
The relaxed 'have-a-go' environment is suitable for all levels of experience, and a great way to introduce kids to the joys of ceilidh dancing and music.
This year's Edinburgh's Hogmanay ends with a concert back in West Princes Street Garden, the Final Fling, where Glasgow based Tide Lines will be joined by special guests Elephant Sessions and Edinburgh's own Hamish Hawk in an all-Scottish line-up.
Sold out shows:
The Festival of Ceilidhs 'Countdown to Hogmanay' featuring the Alan Crookston Ceilidh Band.
Candlelit Concert at St Giles'
The second of the Festival of Ceilidhs 'Countdown to Hogmanay' with the Haggis Chasers Ceilidh Band
Concert in the Gardens, with Pet Shop Boys and DJ set from Elle Joe of Pretty Ugly DJ's,
The World-Famous Street Party