Image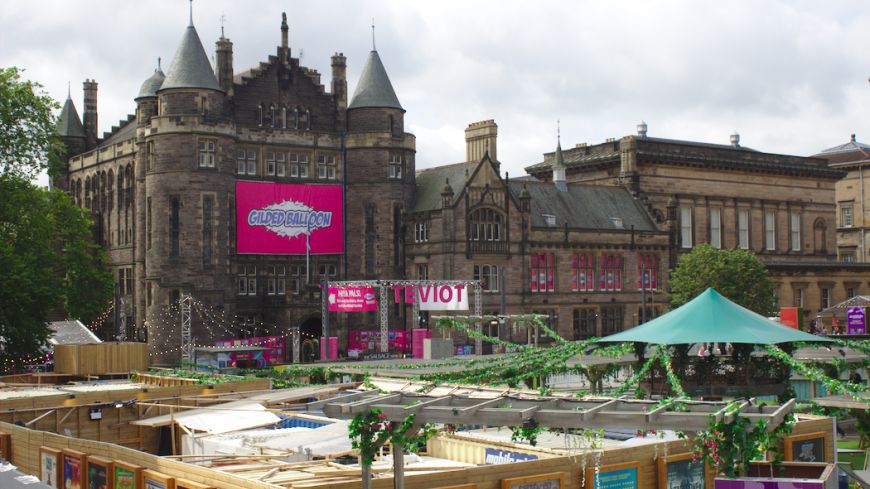 With just two more weeks to go to the start of the Edinburgh Fringe 2021 (6 – 30 August 2021), tickets for another 121 shows have been announced today.
There will be more buzz around Bristo Square this year after Underbelly and Gilded Balloon announced they will be setting up stall there. Gilded Balloon will be returning to the Edinburgh University building at Teviot House and Underbelly's free-to-enter Bristo Square site will be showcasing street performers, with street food. Underbelly also announced its first shows for George Square Garden.
Due to the uncertainty around pandemic restrictions the Edinburgh Fringe Society, the public face of the Fringe, hasn't published a brochure this year and is adding shows to its website database on a rolling weekly basis until the end of August.
After today's announcement, the Fringe website now carries over 460 Fringe shows.
There are 304 live, "In Person" events, 51 online scheduled shows with a fixed show time, and 129 on-demand shows.
For comparison, in 2019, the Edinburgh Fringe listed 3,841 live shows in 323 venues.
Not all recently announced shows are listed. For example, Fringe favourites the Ladyboys of Bangkok will be performing in-person in the Theatre Big Top, which will be in Festival Square this August, while recently announced online comedy, "shed" fest ShEdinburgh isn't listed.
The Fringe website now lists 73 venues. The term "in-person" venue is a fairly loose one, especially as show producers try and find Covid-safe places to present in.
Over a fifth of Fringe venues are online, and a higher percentage of venues than usual are spots on the map for the start of a walking or "immersive" tour: for example, Assembly's Agent November's Robyn Yew – Outdoor Escape Game, which sets off from Gardener's Cottage in West Princes Street Garden.
Others start outside Greyfriar's Bobby bar, by Adam Smith's Statue, the post box on Elm Row, on top of Arthur's Seat, or the tree with the City of the Dead plaque, outside St Giles' Cathedral shop.
Among the in situ performances that have taken the uncertainty of Edinburgh weather over the uncertainty of indoor Covid restrictions, is Grid Iron, bringing their show Doppler into the woods at National Trust's Newhailes House and Gardens. It's described as "a subversive fable about existence, consumerism and trying to live life in isolation when people just won't leave you alone." 
A different class of garden-set drama, Allotment, being staged in an allotment in Musselburgh's Lewisvale Park, sees two sisters ponder the cycle of life.
Changing gears, City Breakz at Summerhall is a hip-hop performance trail taking over unexpected places in city and town landscapes. Four dancers, a patch of linoleum each, and a sound system, throwing shapes as they journey through the urban environment.
Bristo Square
There are seven shows listed at Gilded Balloon Teviot House following today's programme refresh. Among these are Jack Docherty's Nothing But, a tender comedy, about lost youth, infatuation, and fatherhood; Shaparak Khorsandi with It Was the 90s! (WIP); Fred MacAulay In Conversation; and Jay Lafferty with Blether.
Last week, I was wondering when Underbelly would pop up. Many of the Underbelly shows are not listed on the Fringe site at time of writing, but you can book 13 of Underbelly's shows via its website - they include a cappella group, The Magnets; Underbelly's comedy line-up show Edinburgh Comedy Allstars; camp cabaret from Margaret Thatcher Queen of Soho and Myra Dubois; sell-out, bad parenting comedy from The Scummy Mummies; and deadpan humour from Frenchman Marcel Lucont.  
There are movie parodies in Dreamgun Film Reads; Canadian comedian Tom Stade with You Ain't Seen Nothing Yet; magic and breakdance from Magical Bones, and more.
On the other side of town, Jo Caulfield is bringing her unique brand of wicked wit to The Stand this Fringe, for four nights only. Paul Sinha has a four-day run with Hazy Little Thing Called Love, and every other night in August will see a different set of comedians in the Stand's flagship comedy show The Best of Scottish Comedy.
MultiStory has added listings, including Celebrating Okoe: a tribute to a great drum master, mixing Ghanaian rhythms with a range of musical genres and dancing. 
At the same venue is Shiva's Camino, which celebrates how culture can cross borders, told through a medley of feisty Flamenco, Scottish step, Indian Classical, Bollywood and contemporary dance. 
And Éowyn Emerald & Dancers – Your Tomorrow is described as 'an entertaining and deeply intimate jazz dance for two performers, celebrating the private moments, uplifting intimacies and companionable bliss of the relationships that unite us.'
In Person Children's Shows
Buff and Sheen - a roaming comedic dance-clown performance - is at Dance Base. In this, two window cleaners tackle their 'most massive window yet'. Will their dancer-ly skill and ingenuity be enough to get Dance Base's window shiny shiny? The performance is non-verbal and is "a blast of fun" for family audiences of all ages and neuro-diversities.
Comedy Club 4 Kids is at Assembly Roxy, featuring a different line-up every day of stand-up and sketches for 6+ kids..
The Garden of Delight by Theatre Alba is at Duddingston Kirk Manse Gardens. The interactive, environmentally focused promenade performance features music and songs for the whole family. Children are led by a jester on a quest round the garden encountering good and evil magical creatures.
Family-friendly Hunt for Treasure Island starting at The Georgian House Charlotte Square is another to look out for. It's 1881, and the manuscript for Robert Louis Stevenson's new novel has just been stolen. His wife Frances is on the case, but she needs your help to get it back before it's destroyed forever. An adventure that unfurls around the streets of Edinburgh's New Town.