Image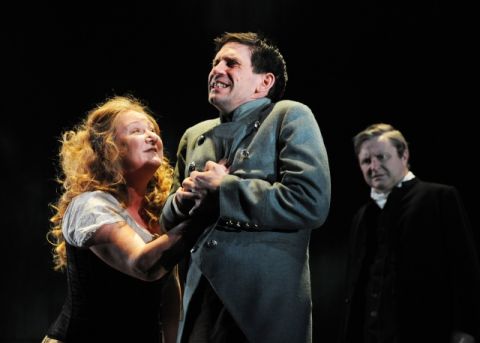 Company
Traverse Theatre Company
Production
Rona Munro (playwright), Dominic Hill (director), Naomi Wilkinson (Designer), Chris Davey (Lighting Designer), John Harris (Sound Designer/Composer), Andrzej Goulding (Video Artist)
Performers
Kathryn Howden (Janet Horne), Hannah Donaldson (Helen), Captain David Ross (Andy Clark), Elspeth (Vicki Liddelle), Douglas (George Anton), Nick (Ryan Fletcher), Niall (Neil McKinven)
The last witch burning in Scotland in the early 18th century, enacted at this year's Edinburgh International Festival, has an uncomfortable resonance 300 years later with an all-too-familiar tale of superstition, torture and brutality.
Rona Munro's play The Last Witch fitted well into the intimate surroundings of the Royal Lyceum Theatre. The play, specially commissioned for the Festival, is based on fact and legend of the fate of Janet Horne, convicted and burned for witchcraft around 1727 in a dark episode on the eve of Scotland's intellectual Enlightenment.
A sharp-tongued countrywoman in the northeast plays on the superstition of her neighbours, flirting with a fire that eventually consumes her. She is burnt to death in a tar-filled barrel lit by an executioner too squeamish to strangle her first -- usual practice to save a victim from the agony of the flames.
Before the execution, she is subjected to brutality and sleep-deprivation, cant and hypocrisy. But the only confession of guilt wrung from Horne is to save her young daughter from a similar fate.
Kathryn Howden as Janet brings passion and style to the play, with Andy Clark as her protagonist, the callow sheriff Captain David Ross, a former lover she taunts for his performance who determines her fate and in turn is haunted by his deed. A minister stands by, unwilling to extend a Christian forgiveness.
The play's director Dominic Hill feels historical drama should also have contemporary relevance.
"I wasn't interested in presenting an historically accurate view of Scotland in 1727," he said. "I think any playwright writing a big play, even if it is an historical play, is in a way still writing a play about the world in which we live."
The resonance of torture and suffering in the 21st century "are absolutely there", he said in an interview.
"You know, a woman tortured through sleep deprivation, a man who imposes a kind of law on society (who) is stamping out the irrational, stamping out music, stamping out magic as it were, and imposing law and order on a society that had its own customs and ways of working for hundreds of years....
"That's not a million miles away from what's happening in various parts of the world in the last few years, so although (the play) is historical, I think ... the attitudes and the actions and the notions of the characters are 21st century."
Rona Munro has written extensively for stage, radio, film and television. She was commissioned to write The Last Witch as Edinburgh International Festival Creative Fellow at the Institute for Advanced Studies in the Humanities at Edinburgh University.