Image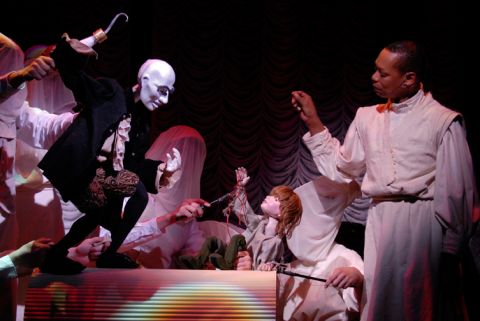 Production
Lee Breuer and Liza Lorwin (co creators), Julie Archer (design), Johnny Cunningham (composer)
Performers
Karen Kandel (narrator), Basil Twist, Lute Breuer, Lindsay Abromaitis-Smith, Sam Hack, Sarah Provost, Jessica Scott, Jessica Chandlee-Smith, (puppeteers)
"All children, except one, grow up. Mrs. Darling put her hand to her heart and cried, "Oh, why can't you remain like this for ever!"  Wendy knew that she must grow up. You always know after you are two. Two is the beginning of the end."
"Peter Pan: (or The Boy Who Wouldn't Grow Up)," J M Barrie's most famous play was rewritten in 1911 as a novel, "Peter and Wendy". Rather than being just an adventure story for children, it can be read as a self help guide for adults who have lost touch with their imagination and need to be re-introduced to the art of children's games and imaginative play. It's more about the loss of childhood, motherly love and the passage of time than childhood itself.
The starting point of Mabou Mines' brilliantly inventive adaptation is the power of traditional storytelling. The Narrator (Karen Kandal) sits centre stage in the Darling family's nursery, reading the opening chapter of "Peter and Wendy," surrounded by books and toy boxes, while cardboard doll's houses and a bed pop-up like a child's picture book. Slowly we are drawn into the tale of Peter Pan, the mischievous little boy and his fairy, Tinkerbelle, who fly into the nursery to find Wendy, Michael and John, taking them on an adventure to the island of Neverland, the home of the Lost Boys, princess Tiger Lily and Captain Hook, " the sinister pirate".
Karen not only narrates the story beautifully, she also creates a distinct voice and personality for Peter Pan, with his soft lilting Scottish accent, Wendy (as little girl and adult) and no less than 27 other characters. Peter Pan is "acted" by a 2ft  tall, brown haired, Japanese bunraku puppet, worked by three manipulators (veiled behind beekeeper-style outfits). Large wooden artists'-dolls and bunraku puppets also impersonate Nanny the dog, the Lost Boys, Captain Hook and the tick tocking crocodile.
A magical world of pirates, mermaids and fairies is created through simple storytelling, nursery toys and a foot tapping medley of romantic Celtic music; Scottish jigs, ballads, a lullaby and tango are performed live by six musicians and a singer from a box in the Dress Circle. Paper snowflakes drift through bedtime darkness, tiny shadow puppets light up a doll's house window and a bedsheet and rope transforms into a pirate ship.
The essence of The Boy Who Wouldn't Grow Up - the conflict between the innocence of childhood and the responsibility of adulthood - is imaginatively captured in this enriching, enchanting production. Created with true childlike vision by Lee Breuer and Liza Lorwin and dramatised by a virtuoso story telling performance from Karen Kandel and the puppeteers, it reaches the heart of Barrie's personal subtext on the nature of eternal childhood as well as his Scottish cultural roots through music and song.
Times: 2-5 September, 7.30pm; 5 September, 2.30pm.