Street
City Observatory, 38 Calton Hill
Collective (sometimes referred to as "Collective Gallery") is a charitable organisation that runs a programme of visual art exhibitions, projects and commissions at the site of the historic City Observatory on Calton Hill.
Originally established as an artist-run organisation in 1984, Collective moved to a temporary gallery space at the City Observatory on Calton Hill in 2013 where it set out to be "a new kind of observatory, inviting the public to view the world around them through the lens of contemporary art."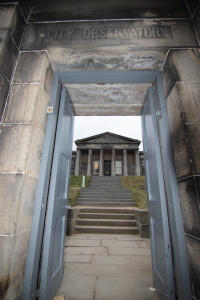 Collective re-opened on Saturday 24 November 2018 after a £4.5m redevelopment project in partnership with City of Edinburgh Council, which included the restoration of the City Observatory building, designed by William Playfair in 1818, a new purpose-built exhibition space with panoramic viewing terrace, and a restaurant, The Lookout by Gardener's Cottage.
The Playfair Observatory building houses two telescopes, a shop showcasing the work of contemporary artists and makers, and a library which is open to visitors.
Another distinctive building within the walled site is the green-roofed City Dome which was built in 1895 to house the Buckingham telescope, as its 22-inch lens was too large to fit in Playfair's Observatory. Now branded as the Dome at Collective, the rotunda hosts a changing programme of exhibitions and installations.
On the South-West side is Transit House which was completed in 1812 and housed a transit telescope used to calculate accurate time. Sailors set their chronometers by the clock in the window. The building is now an educational space for visiting groups.
Collective's office set into the excavated Hillside building in front of the Observatory, with an art exhibition space, and above, roof-top terrace providing a viewing area of the city spread out below.
The Lookout restaurant juts out of the rock on the North West corner of the site.
Observatory House, which was used as the Edinburgh Observatory til Playfair's building was completed, is now used as holiday accommodation and is not open to the public.
Guided Tours
Collective runs guided tours on the Observatory site.
You can also download and listen to recorded tours of the Observatory site and Calton Hill created by artists entitled "Observers' Walks".
Opening Hours
Tuesday – Sunday, 10am-4pm
Entry is free (donations welcomed)