Image
Image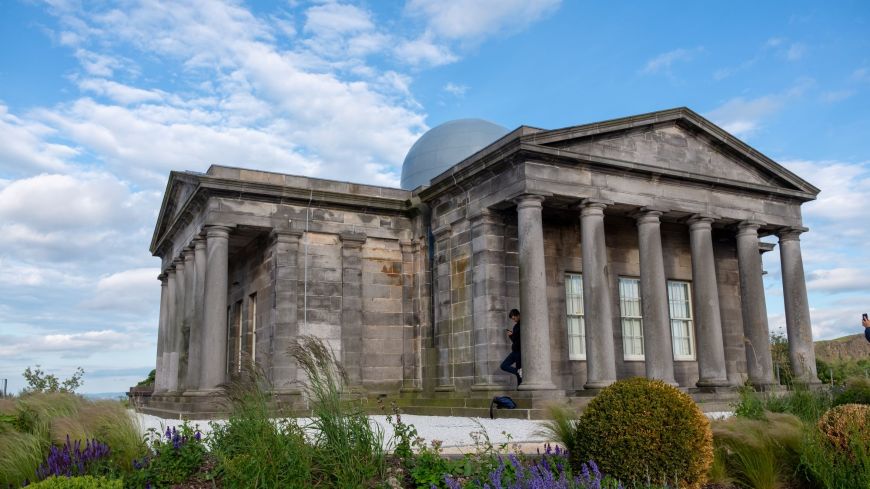 Credit
Gunnar Ridderstrom
Telephone (info)
0131 556 9536 (Edinburgh Museums)
The City Observatory on Calton Hill was the main centre for the Edinburgh Astronomical Institution and subsequently Astronomer Royal until 1896 when it was decided to move to Blackford, due to light pollution in the city centre spoiling the view of the night sky.
The Calton Hill site was returned to the City Council. From 1938 until 2008, it was operated by the Astronomical Society of Edinburgh, with the aim of furthering public interest in astronomy.
The City Observatory site and buildings re-opened in 2018 after extensive redevelopment and is home to art gallery Collective. Prior to this the buildings were falling into disrepair and had become vandalised. Several domes (Crawford Dome, Cox Dome, and Tweedie Dome) had to be removed.
Temple to the Stars
The temple-like structure at the centre of the site is the City Observatory building. The distinctive, neo-classical building was designed by celebrated Edinburgh architect William Playfair in 1818. Playfair's building replaced an earlier, octagonal observatory, that had been constructed for Thomas Short's first Calton Hill observatory in 1776, but that was considered inappropriate for astronomers. 
A transit telescope was installed in the East wing which was used to regulate a clock, which controlled several slave clocks in the city. Mariners in the Firth of Forth set their chronometres from this precise time-keeper, first by trudging up the hill to the observatory and then, in 1852, from their ships in the Firth of Forth after the installation of the time ball on the Nelson Monument.
Observatory House, a gothic, corner tower built in 1776 as part of James Craig's unfinished plan for Short's original observatory remains. It has been renovated as temporary accommodation.
On the southeast corner of the rectangular observatory compound, you can also find a classical monument to influential mathematician John Playfair, who was president of the Edinburgh Astronomical Institution (and William Playfair's uncle).
After the historic visit of Edinburgh King George IV in July 1822, the title of "Royal Observatory" was bestowed upon the City Observatory. However, the astronomers still suffered a shortage of funding and it wasn't until the early 1830s that a government grant allowed for the acquisition of expensive instruments.
In 1834, Professor Thomas Henderson was appointed as the first Astronomer Royal to work in the building. He is credited with discovering how to measure parallax and the distance to a star (alpha Centauri) while in his previous job in South Africa.
The large green dome, the City Dome, was an add-on in 1895 designed to house the Buckingham telescope as its 22-inch lens was too big for Playfair's observatory.
As well as regular exhibitions by Collective, The Lookout restaurant has fantastic views out across the city.
The buildings on the site are owned by Edinburgh City Council, while artists from Collective run regular public exhibitions and guided walks in the Calton Hill area.