Image
Image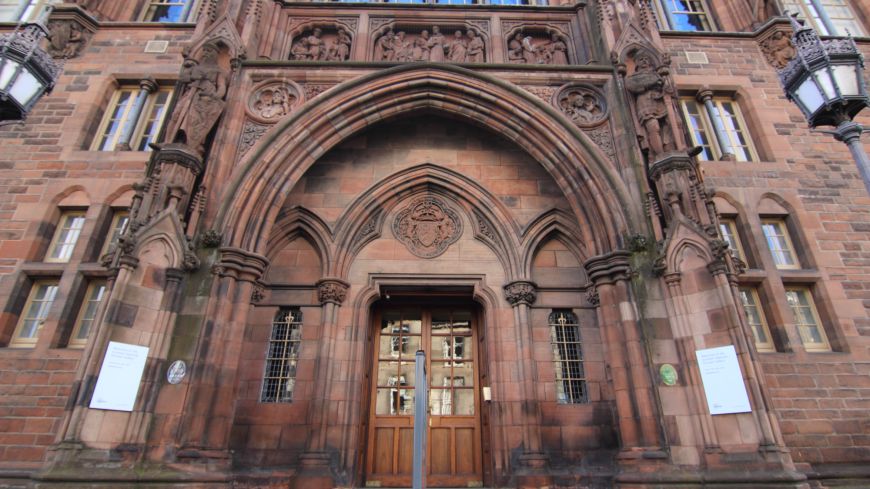 Telephone (info)
(0131) 624 6200 (info)
(0131) 624 6494 (Portrait Gallery Shop)
Portrait (aka The Scottish National Portrait Gallery, until rebranding in March 2023) provides a unique visual history of Scotland, told through the portraits of those who shaped it.
Admission to the gallery is free, although an entrance charge is made for special exhibitions.
People that you can find hung here range from famous faces from Scottish history such as rare images of Mary Queen of Scots (and Lord Darnley), Bonnie Prince Charlie, poet Robert Burns, author Walter Scott, philosopher David Hume, economist Adam Smith, and contemporary portraits of pop culture icons like comedian Billy Connolly and actress Tilda Swinton.
The gallery is decorated in elaborate murals and sculptural embellishments inside and out including a Zodiac ceiling with 2,000 golden stars and 47 constellations in the Great Hall as you enter the gallery.
The Portrait Gallery re-opened following renovation work in November 2011.
Library and Print Room
An excellent resource if you are looking for anything to do with portraiture and Scottish history. The Print Room has over 50,000 works of art on paper, including the Photography Collection, and a notable collection of portrait miniatures.
The Library and Print Room are free to all, but visits must be pre-booked.
The gallery is also available for hire, including the impressive Great Hall, the Ramsay Room (gallery space), Robertson Room (gallery space), and Portrait cafė.
Portrait is one of the venues taking part in the Edinburgh Art Festival in August.