Image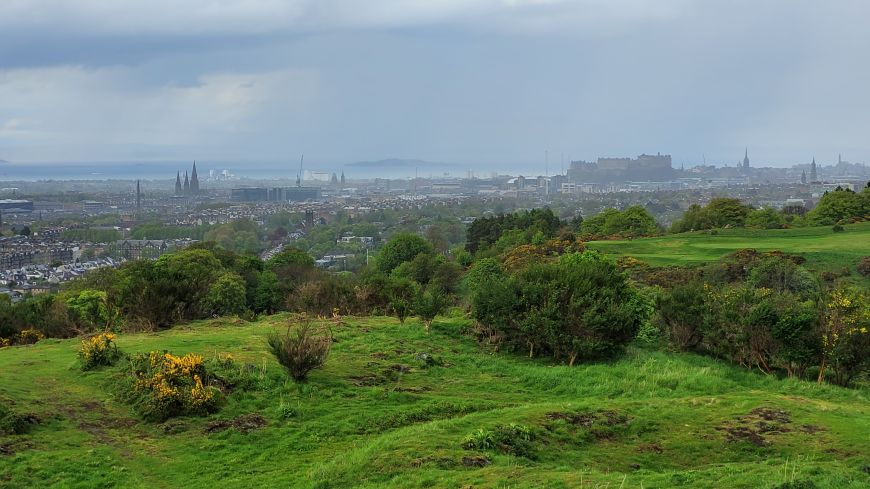 Craiglockhart Hill is really two hills, Wester Craig (175m) and Easter Craig (158m), with a valley between the two summits called Glenlockhart.
In spite of some excellent views of the city on a good day, to Edinburgh Castle and Arthur's Seat in the North, and down the coast in East Lothian, the Craiglockhart hills are less busy than Edinburgh's "Seven Hills", due to its location in the residential neighbourhoods of Braidburn and Craiglockhart to the South of Edinburgh. That said, the hills are serviced by bus and you can cycle much of the route to Craiglockhart hills off-road, along the Union Canal tow path from the city centre in 20 minutes or so.
Easter Craiglockhart is one of twelve sites managed by Edinburgh city council's Countryside Ranger Service and an active community group called the Friends of Easter Craiglockhart.
Community volunteers devised a nature trail around the hill and in 2009 that won a Green Flag award for the semi-natural woodland, unimproved grassland and carefully managed marsh area on the banks of an ornamental pond. Today, the group offers information and walking trails as part of its conservation work.
Easter Craiglockhart hill was designated a local nature reserve in In 2004.
Geology
The hills are formed of carboniferous basaltic lava and ash on sandstone. Part of Wester Craiglockhart has an exposed upper lava deposit about 30 metres thick features a central area of well-formed columns.
When this lava crystallized, a series of hexagonal cracks produced the columnar structure.
The glen took its present form over 17,000 years ago when an ice sheet covered the area. Meltwater from the Water of Leith, then dammed by ice, cut the channel creating two separate hills of Craiglockhart.