Image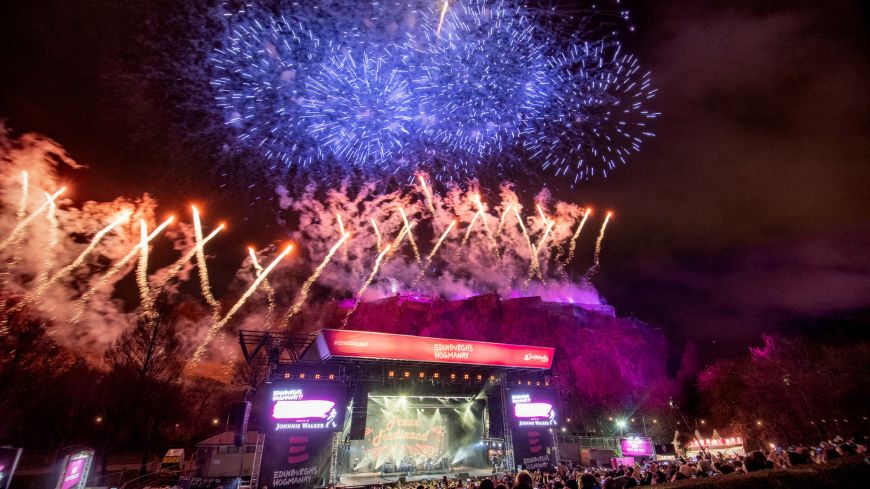 This year's Edinburgh's Hogmanay celebrations and the midnight fireworks will be live streamed around the world on Facebook, YouTube and on the Hogmanay website from 7.30pm on 31st December to 1am on 1st January.
A 16-strong camera crew will shoot the Hogmanay proceedings on the streets of Edinburgh, with a live edit being streamed online for the first time in the event's history.

In previous years, the BBC's live coverage of the Hogmanay Street Party has been geo-fenced, but this year, late-night revellers in Australia and Asia will be able to catch Edinburgh's Hogmanay celebrations live before going to bed, or North American audiences get in the mood for their local and regional celebrations by watching Edinburgh revellers partying through the bells.
The decision to go ahead with the live video stream was precipitated by the decision by BBC and STV television stations to air pre-recorded rather than live shows.
Organisers Underbelly estimate it will cost around £200,000 to film and stream the five-and-a-half hour live cast.
The Edinburgh's Hogmanay online live stream will include the whole of the Street Party on Princes Street as it fills up, with excerpts from DJ Mark Ronson's Hogmanay in the Gardens including his exclusive new soundtrack for the "Midnight Moment" fireworks display over Edinburgh Castle.
Camera crews will be mingling with revellers on the street to give viewers a taste of some of the street theatre and live music on the various stages, with hosts of the show the Mac Twins conducting "celebrity chats", meeting street party people, and providing commentary on the night's revel rousing.
Music acts at this year's Hogmanay Street Party include Marc Almond, Rudimental DJ, Mungo's Hi Fi, Idlewild, The Snuts, Shooglenifty, VanIves, Keir Gibson and Arielle Free.
Artistic acts that will be found throughout the Street Party arena include Circus Alba (Scotland), Compagnie Remue Ménage (France), Close Act-Theatre (Netherlands), Dundu (Germany), Avant Garde Dance (UK) and Gandini Juggling (UK).
The livestream Hogmanay show is being created by director James O'Brien (LOCOG Sports Presentation, T4, MTV, Rapido TV) and his team at Progress Productions for the third year of Underbelly's production of Edinburgh's Hogmanay.
Street Party tickets still available at edinburghshogmanay.com and (+44) 131 510 0395
More on Edinburgh's Hogmanay Street Party and the 3-days of events at Edinburgh's Hogmanay