Image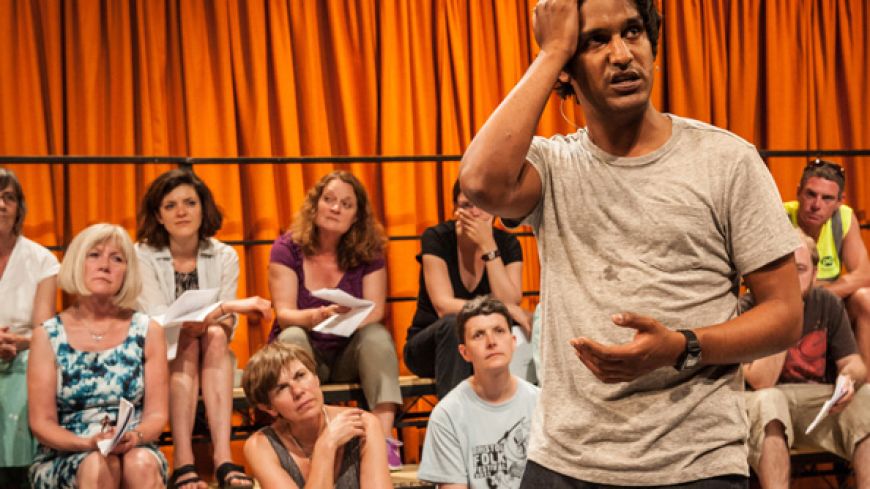 Company
Actors Touring Company, Young Vic Theatre, Brageteatret, Schauspielhaus Wien
Production
David Greig (writer), Ramin Gray (director), John Browne (composer), Chloe Lamford (designer), Alex Caplen (sound), Charles Balfour (lighting)
Performers
Neve McIntosh,(Claire), Rudi Dharmalingam (The Boy), CoroEdina Choir.
As I came out of Traverse 1 after The Events, a woman behind me asked her friend, "What do you think?" "Disjointed and frustrating". They both agreed it was confusing, as do I.
I am a great admirer of Greig's work and have seen many of his plays and translations/adaptations, from the witty, multi-lingual Airport, the romantic love song Midsummer, the glitzy pantomimic version of The Bacchae to the poetic romp of Prudencia Hart -all rich in poetry, energy and dramatic inventiveness.
The inspiration for The Events is the brutal massacre of 77 young people in Norway by Anders Breivik on July 22, 2011. This atrocity (followed by the Sandy Hook school killings, Boston bomb attack, Woolwich shooting), has since created international debate about right-wing extremism, racism, religious hatred and terrorism.
The setting is a large bare room, a church hall space where a choir is being rehearsed by their repititeur at the piano. Leaning on a wall on one side of the stage is Claire, a priest. At the other side sits a young man, watching but unable to join in.
It is revealed that she has survived a mass shooting incident which left many people in her multi-cultural community choir dead. When cornered by the killer she thought she would be shot, a moment of terror like "my soul leaving my body". The event has challenged her faith, the ability to forgive.
Claire (Neve McIntosh), is so mentally scarred she needs to find out who could commit such an inhumane deed and, moreover, why.
The Boy (Rudi Dharmalingam) represents the assassin as well as other characters - his father, the psychologist and the priest's girlfriend Catriona.
Claire has to confront what happened to her and the choir: "how can I hate him if I don't understand him?"
In a series of extremely disjointed scenes, Claire questions these people who know him, and the killer himself, to find out why he did this. Does he hate foreigners, does he take drugs, is he ill, is he evil by nature?
Interspersed throughout, the choir perform several hymns and songs, and also join Claire in her personal search for the truth. In turn they stand to ask the Boy random questions with the use of a microphone.
Given the subject matter of mass murder, political activism and the emotion involved, it is critical to have empathy, an intellectual connection.
The main confusion lies in having one actor play the Boy and several other roles not least the protagonist. The text and dialogue needs clarity, a dramatic path to follow through identifiable characters.
Neve McIntosh's delivery was at times stuck on a monotonous level, with an insular, cool, chilling manner such that her true feelings about the tragedy are not fully expressed.
The CoroEdina choir is the central focal point on stage: the fluidity of music, power of lyrics, the sharing of Christian beliefs, faith and love – this is where the emotion is felt.
Show times:
4 - 24 August, 2013: different times daily.
On tour:
17 - 21 September, 2013 - Tron, Glasgow
Then venues in England and Ireland
September to November.
see www.atctheatre.com
International tour to Norway and Austria.