Image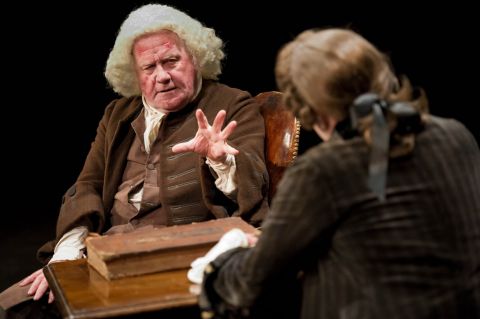 Production
Max Stafford-Clark - director: Russell Barr, Ian Redford, Max Stafford-Clark - writers
Performers
Ian Redford - Dr Johnson: Andrew Byatt - James Boswell: David Beames - Mrs Anna Williams, Mr Oliver Goldsmith, Sir Joshua Reynolds, Lady Flora MacDonald, King George 111, Mr Edward Dilly, Mr John Wilkes: Trudie Styler - Mrs Hester Thrale: Katie - Hodge, the cat
James Bowell's Life of Samuel Johnson is one of the most famous biographies ever written about a man who was the literary icon of the eighteenth century.
Arguably the most distinguished man of letters in English history he was renowed for his prodigious intellect, wit, critical observations and idiosyncratic mannerisms. 
In this production by Out of Joint theatre company, their director Max Stafford-Clark and actors Russell Barr and Ian Redford have adapted Boswell's biography and his 'Journal of a Tour to the Hebrides', a journey he undertook with Johnson in the latter stage of Johnson's life.
Although it is somewhat lengthy, the tomes have been skilfully adapted - affording the audience a glimpse into this multi faceted personality who had an acute mind, marvellous ready wit but who also suffered from bouts of melancholia.
With minimal stage settings - two chairs and a table - Ian Redford deftly portrays this articulate, complex man who rose from humble beginnings. He even bears a striking resemblance to the robust character.
Russell Barr, who was billed to portray a range of other characters, was ill and Andrew Byatt and David Beames, stepping in at short notice, did a sterling job of sight-reading from scripts. Andrew Byatt was Boswell and David Beames adroitly performed a variety of characters Johnson met throughout his life - Mr Oliver Goldsmith; Mrs Anna Williams; Sir Joshua Reynolds; Lady Flora MacDonald; King George 111; Mr Edward Dilly and Mr John Wilkes.
When he was older Johnson fell in love with Mrs Hester Thrale, a brewer's wife. Performed by Trudie Styler, she imbued the character with suitable haughtiness, appropriate for the period. Overall, it was an entertaining production.
Show times: Til 28 August
Tickets: £6 - £17