Image (reusable)
Image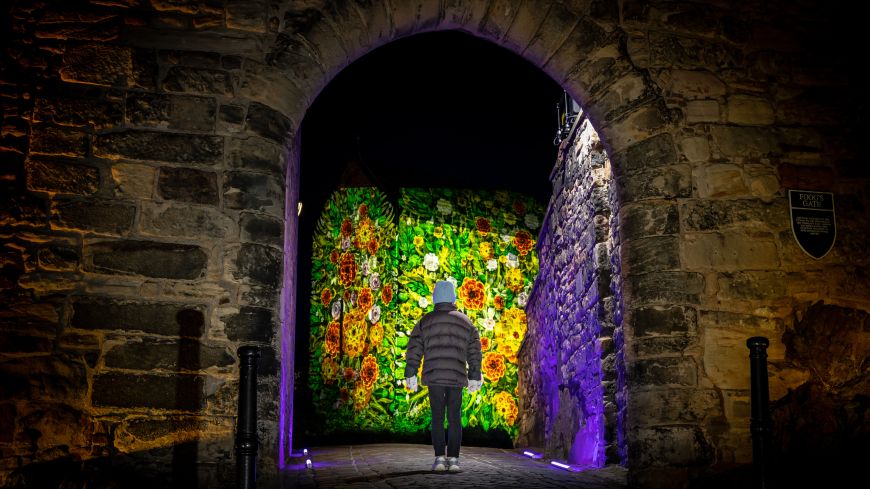 Castle of Light returns for a third year in 2022, transforming Edinburgh Castle's walls, buildings and ramparts with projected light and sound into a 60-minute historical walking tour, running over six weeks during the Christmas season.
A team of local designers with long-time experience working with light and the moving image have created a show that draws on "the history, geology, mythology and the sheer drama" of the castle to "excite, entertain and enlighten".
Edinburgh Castle has been used before for projected light shows - the Edinburgh Military Tattoo uses light projection as part of its show and the opening event of Edinburgh International Festival in 2016 was a mesmerising light show Deep Time, projected on the outer castle and castle rock.
But this is the first "immersive" walking tour that uses light projection and storytelling to delve into Edinburgh Castle's history.
Rex, the lion rampant, will be there to guide families and unravel the mysteries of the castle, including background to The Honours of Scotland (also known as the Crown Jewels).
The Royal Botanic Garden also holds an illuminated, winter walking tour called Christmas at the Botanics over the same period.
The Castle of Light Consortium partners are War Productions Limited, Double Take Productions, NL Productions, and Andy McGregor.
Edinburgh Castle is Scotland's most popular paid visitor attraction. It is maintained by government heritage agency, Historic Scotland.
Castle of Light 2022 dates
Every Friday, Saturday and Sunday, starting on Friday 18 November until Friday 30 December, excluding certain dates (24, 25 and 26 December).
The event also runs Monday 19 to Thursday 22 December, Tuesday 27 to Friday 30 December, and an access night takes place on Thursday 8 December.
Castle of Light 2022 Tickets
Tickets are available online from the dedicated Castle of Light website. Ticketed entry slots will run every 15 minutes between 4.30pm and 7.30pm each evening, with last entry between 7.30pm and 7.45pm. The event closes at 9pm.
Adult early bird tickets cost £18 (using the promo code: COLSM22), with concession rates, family tickets and discounts for Historic Scotland members also available.
Standard tickets are:
Adult (16-64yrs) £20
Concessions (65yrs+) £16
Child (5-5yrs - must be accompanied by an adult aged 16+) £12.
Family tickets and HS Member discounts are also available.