Image
Image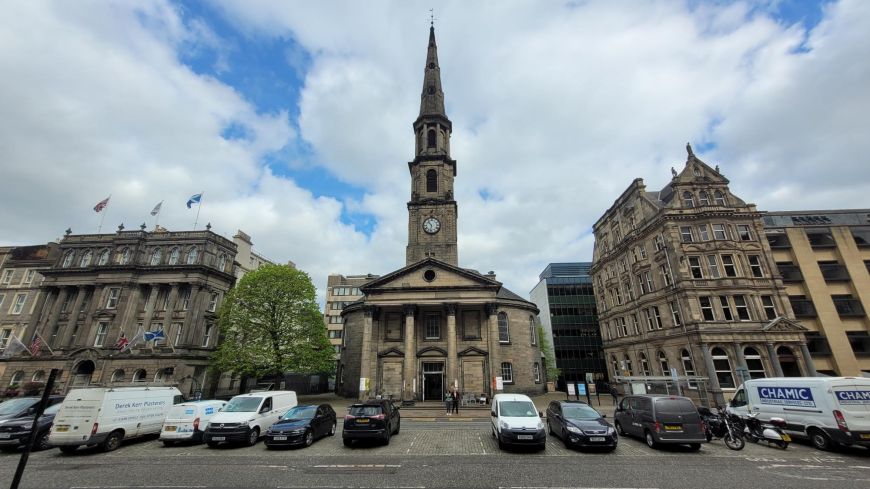 Telephone (box office)
0131 225 3847
One of two elegant New Town Churches that was built according the James Craig's plan of 1767 for the New Town. The original plan to build a twin, in St Andrew Square, of St George's Church in Charlotte Square had to be reassessed after the land was bought by wealthy businessman Sir Lawrence Dundas.
Today, St Andrew's and St George's West is open daily for worship and hosts occasional chamber and choral music. During the Edinburgh Fringe there are usually 4 concerts a day.
History
Captain Andrew Frazer and Robert Kay won a Council held competition for the design of St Andrew's and the church was founded in 1781 and opened in 1784.
Since then it has featured significantly in Scottish history.  In 1843, following what was known as "the Disruption," around a third of ministers, angered by the erosion of liberties of the Church of Scotland by civil courts walked out of the annual General Assembly, and set up the free church of Scotland.
In 1964 the congregations of St George's Church in St Charlotte Square and St Andrew's were united forming St Andrew's and St George's. In 2010 St Andrew's and St George's united with St George's West in Shandwick Place to become St Andrew's and St George's West. Sunday services ceased at St George's West at the end of September 2010. 
Listen for the bell peals on the half hour and on the hour.