Image
Image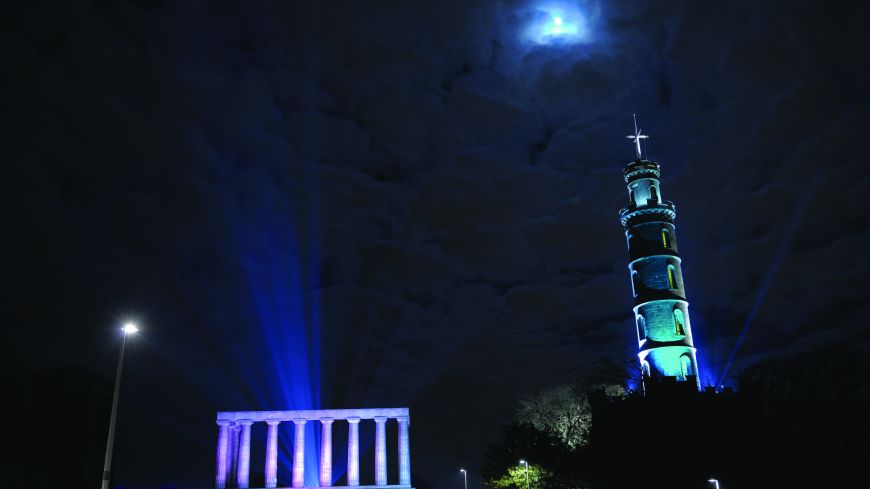 The Nelson Monument on Calton Hill was built between 1807 and 1816 to commemorate Admiral Horatio Nelson who died at the Battle of Trafalgar in 1805.
A tall tower in the shape of an upturned telescope, it sits atop the central hill. The monument offers some excellent panormas of the surrounding Edinburgh New Town and Old Town, and well beyond to the road and rail bridges on the Firth of Forth.
The tower was designed by architect Robert Burn, but he died before the project's completion, leaving it to Thomas Bonnar to complete the pentagonal, castellated base of the building between 1814 and 1816.
At 456 feet above sea level the Monument is highly visible from far off. This led to a large time ball, made of a zinc and timber, being added to the Monument in 1852 to enable captains of ships moored in the Firth of Forth to set their chronometers (time pieces or clocks) for accurate navigation by observing the dropping of the ball at one o'clock Greenwich Mean Time each day.
Nine years later the one o'clock gun at Edinburgh Castle was added, to give an audible signal.
Time Ball Restoration
The time ball, which used to drop at noon in the Winter months and 1pm in the Summer, came back into action after a £250,000 restoration in Spring 2009. It had not been operational for some years due to disrepair.
The time ball continues to drop at one o'clock, operated by an employee of Ritchie & Sons Clockmakers.
Trafalgar Day
The site of the Nelson Monument was originally a mast used to signal to ships in the Forth. On Trafalgar Day (21st October), weather permitting, the Trafalgar flag signal "England expects that every man will do his duty" is flown from the Monument.
Museum
The museum on the squat, ground floor has a free exhibition, explaining the importance of the time ball for maritime navigation. There's also a display explaining the tactics Nelson used to gain victory at Trafalgar and a model of his ship, The Victory.
Admission
Summer (from August) Monday 1pm-6pm, Tuesday-Saturday 10am-6pm
Winter (from October 1st) Monday-Saturday 10am-3pm
Admission to climb to the top of the tower is £6, but admission to the museum on the ground floor is free.