Image
Image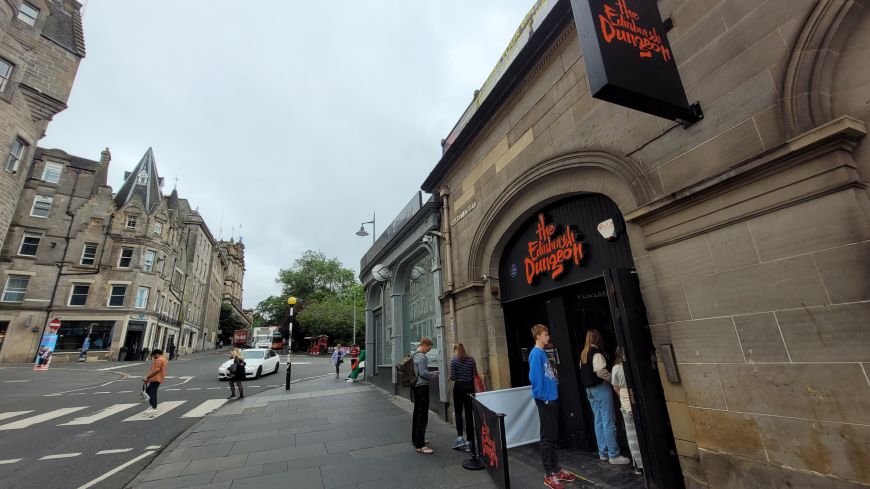 Telephone (box office)
0871 423 2250 (13p p/min plus your provider's access charge)
Indoor, gothic theme park that stages a series of macabre episodes from Edinburgh's last 500 years in a low-lit fabricated set beside Waverley Station.
During the course of the 70 minutes, audience members are led in groups through a series of dark and dingy chambers, where actors playing historical characters - a hanging judge, a cackling witch Agnes Finnie, body-snatchers Burke and Hare, and the cannibal Sawney Bean - recreate potted dark and gory histories of Edinburgh.
Audience members are roped in to the show throughout to be humiliated or worse - put in the dock to be hung (while the rest boo and bay "hang!"), sat in the torturer's chair in the torture chamber, or placed away in a darkened corner of a cannibal's lair "for supper".
A few mechanical devices, sound effects and theatrical use of lighting create sudden scares although they cannot hide the staginess of the show. The acting is of a high quality, with a good mix of gallows and toilet humour involved ("gardez l'eau!"), helping to create an engaging experience. Adults and older kids will see the funny side, while younger kids might find it a little overwhelming - children must be over 5 to enter and over 8 is recommended.
The tour includes multiple rooms and finishes with a mirror maze through never-ending arches which will have the group going around in circles.
The biggest thrill is the Drop at the end of the tour (it's optional and has age restrictions). In the show, it is built up as a drop from a hangman's rope. In reality, it's a fairground ride (no ropes around necks are involved!). Locked into a long chair, the audience members are raised toward the ceiling and then, suddenly, it drops to the ground creating a split-second feeling of horrifying helplessness.
In that split second, a flash goes off as a camera captures the look of terror on the faces of audience members. On the way out, the audience gets a chance to buy the photo of that moment for an additional £12 - which seems steep. At the start of the tour, everyone lines up to have photos taken on entering the show with friends and props which, the Dungeon staff will also offer to sell to you after applying various scary, Edinburgh Dungeon green-screen effects and published the images in a photo-book.
Considering that adult tickets were £21.95 and £17.50 for kids when booked in advance online (up from £14 and £12 online in 2019), it seems like an expensive souvenir.
Tickets (2022)
Adult Standard ticket from £19.76
Adult Anytime ticket from £26.95
Child £17.50