Image
Image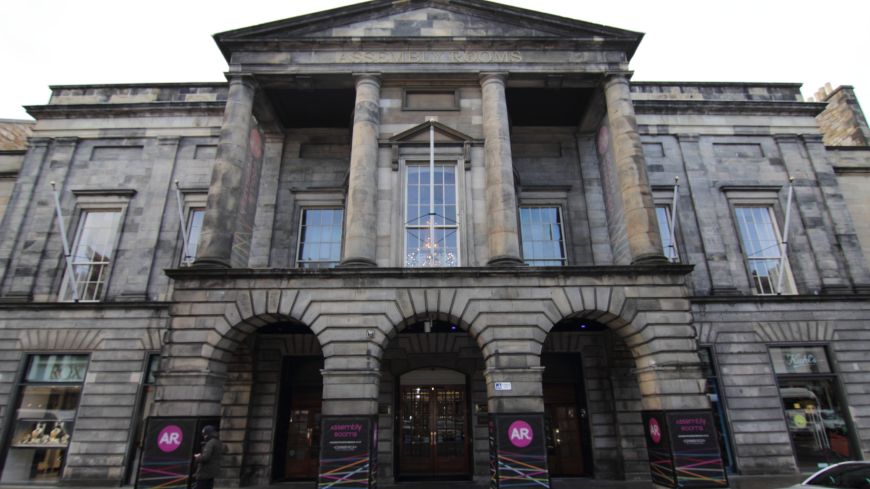 Credit
EdinburghGuide.com
Telephone (box office)
0131 623 3030 (Assembly Festival)
This elegant 18th century building, situated in Edinburgh's New Town, is a mixed use venue owned and managed by Edinburgh City Council.
Throughout the year the Assembly Rooms is the scene of conferences, ceilidhs, gigs, health fairs, balls, talks, and many other special events.
Assembly Rooms is also one of the Fringe's most prestigious venues.
Its largest rooms are the Music Hall and the Ballroom which have a capacity of 788 and 400 respectively for theatre configurations, or 600 and 400 capacity for general receptions.
A history of the Assembly Rooms.
Fringe controversy
After a long wait, a £9.3 million refurbishment of The Assembly Rooms was approved by Council in December 2010, in spite of protests, by longtime Fringe tenants Assembly, at the plan to introduce shops and a restaurant at ground level.
The Assembly Rooms re-opened following its refurbishment in July 2012 in time for the Edinburgh Fringe in August.
In spite of its long association with the venue, Assembly lost its tenancy and the refurbished venue was run as Assembly Rooms Fringe (AR Fringe) by the same people behind The Stand until 2017 when Assembly Festival returned as the Fringe tenants. Assembly operates six performance spaces with the Music Hall, Ballroom, Drawing Room, Powder Room, Front Room and Bijou.
Assembly has continued to use the venue as one of its main performance hubs, spreading out into George Street in front of the building.