Image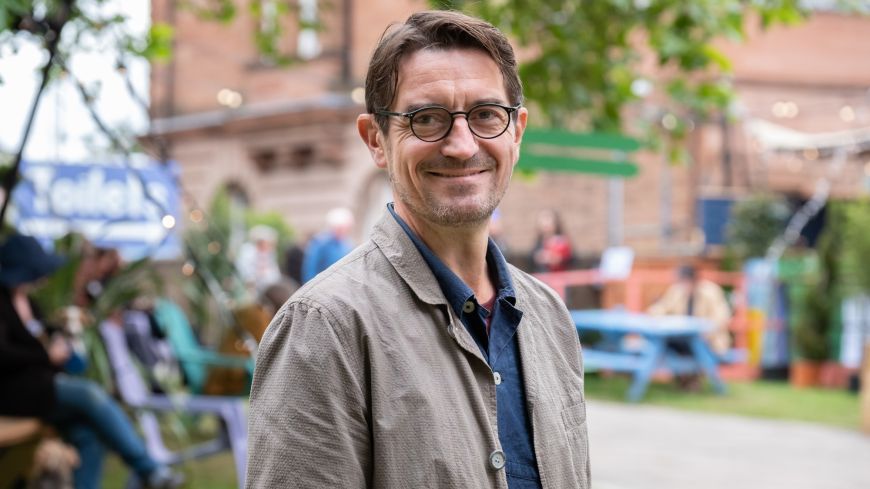 The Edinburgh International Book Festival has unveiled its 40th anniversary programme featuring more than 470 authors, writers and thinkers in nearly 600 live events.
"This year's Book Festival programme is called The Joy of Words and it's been truly a joy to bring it together," said Nick Barley, for whom this is the fourteenth and his final festival as EIBF Director.
"My team and I have aimed to build an uplifting festival that is packed with exceptional thinkers from all over the world. At a time of polarised opinion and deep divisions, we hope to rediscover the pleasure of conversation; the satisfaction of spending time with people who can offer positive insights into the world today."
Based in the ECA again, this year's festival packs together a busy programme of debates, conversations, book signings, and all things literary, although (like this year's Fringe) it is smaller in scope than the pre-pandemic EIBF after what Barley called a "brutal" fall in ticket sales last year. 
Barley (pictured) is confident that EIBF audiences and the box office are coming back as Covid fears recede.
Booker winners
Over the course of the 18-day festival from 12th to 28th August 2023, seven Booker Prize winners will be on hand for conversations and book signings including 2022 winner Shehan Karunatilaka, Eleanor Catton, Ben Okri, James Kelman, Ian McEwan, and Anne Enright with her brand new novel The Wren, The Wren. 
Former International Booker winner David Diop will also appear, as will this year's winners, the Bulgarian author Georgi Gospodinov and translator Angela Roden.
Other international names include the Prime Minister of Iceland, Katrin Jakobsdottir, who joins Ragnar Jonasson to discuss their crime novel Reykjavik.
Naturally, Scotland-based authors feature heavily, with established names such as Irvine Welsh, Jenny Colgan, Denise Mina, Chris Brookmyre and Alexander McCall Smith discussing their books.
They are joined in the festival by many British authors including Deborah Levy, Sebastian Faulks, and Katherine Rundell; and writers from further afield including Colson Whitehead, Chika Unigwe, Eileen Myles, Isabella Hammad, Ayobami Adebayo, Yiyun Li, Iman Mersal, Clemens Meyer, and Raja Shehadeh.
Laura Cumming's Thunderclap, Raynor Winn's Landlines and Malorie Blackman's Just Sayin' are three of a series of memoirs to be demystified by their authors on stage this year, alongside Jenni Fagan who was part of the first Book Festival Outriders project in 2017. 
Twenty years in the making Ootlin is Fagan's highly anticipated memoir, offering a very personal insight into her experiences of growing up in the care system.
While the emphasis this year will be on in-person events, more than 100 events will be live streamed.
Five Festival Late Nights will be held, the first time in three years, including salons hosted by Damian Barr and writer and broadcaster Gemma Cairney.
Planet in focus
Cairney will also be in conversation with one of this year's headline authors, activist and school-striker Greta Thunberg at the Edinburgh Playhouse on Sunday 13th August. The event sold out in under a day and will be live-steamed.
The EIBF will be addressing carbon and climate issues in a series of events that look at the health of our planet. The festival's Climate Positive strand includes an event with Mikaela Loach, activist and author of It's Not That Radical, who is also a medical student at the University of Edinburgh.
Politics
To mark the 25th anniversary of the Good Friday Agreement - Irish foreign correspondent Fergal Keane (who reported on The Troubles) will be joined by Aoife Moore and Jan Carson to discuss the fragility of peace.
Continuing in a political vein, former Prime Minister Gordon Brown, Labour front-bencher Wes Streeting MP, Conservative peer Ruth Davidson, and former Scottish Labour leader Kezia Dugdale will share their experience and insights into this country's political future.
Also, continuing a well-established trend First Minister Humza Yousaf will be participating in the EIBF with an interview with Hashi Mohamed, who arrived in Britain as an unaccompanied child refugee from Kenya – and is now one of Britain's leading housing barristers.
75th Anniversary of NHS
To mark the NHS 75th anniversary this year, Sarah Brown will lead a conversation about the challenges facing the system, while Devi Sridhar and Gavin Francis will discuss the cost of the cure. 
The event is part of the Outside the Box strand which introduces audiences to the innovators "whose ideas genuinely offer new approaches to resolving humanity's challenges" and also includes an event with David Farrier and Karine Polwart in which they interrogate how to transform planning for the future.
Poetry / Slam
This year's poetry lineup features stars from the USA including Claudia Rankine and Eileen Myles, as well as Canadian poet Dionne Brand. From Britain Zaffar Kunial and Alice Oswald come together on stage to present not-yet-published new work, while Liz Lochhead reads from her New and Selected Poems.
Carol Ann Duffy presents poems from her new collection Politics, and Don Paterson will discuss his memoir of growing up in Dundee.
There's also multilingual poetry from Marcas Mac an Tuairneir, who writes in Gaelic and English, alongside Sam O'Fearraigh, who writes in Irish and English. Gerda Stevenson will present poetry in a variety of languages and formats in her event with JL Williams, and audiences will enjoy events featuring spoken word from Leyla Josephine and Michael Mullan.
On its last weekend, the EIBF hosts the "Loud Poets Grand Slam Final", with I Am Loud Productions, where 12 poets compete for a £3,000 prize and the coveted title of Slam Champion.
Think Tanks
Embracing the convivial spirit of this year's programme, Think Tanks is a series of events offering audiences the chance to 'deep-dive' into topical issues such as the ethics of AI, with leading scholar Kate Crawford, or how the law can improve government with The Good Law Project's Jolyon Maugham KC, whilst also enjoying food and wine (or a soft drink).
A new study, The Edinburgh Readerbank, is the product of a major new long-term research partnership between the Book Festival and Durham University. This study asks the question: 'what is the relationship between reading, imagination, and mental health?'
Audiences can hear from experts as they share perspectives on belief, perception, and the imagination, and can also participate in this potentially game-changing study by contributing their data at a special drop-in data centre on site.
Outriders Europe
In the Outriders Europe project, four pairs of authors undertook intrepid journeys across Europe, travelling in the mountains of Transylvania and along the contested border of the island of Cyprus.
In two special events, audiences can hear from authors like Scottish storyteller Mara Menzies who, alongside Sami playwright Rawdna Carita Eira, trekked across the Sápmi lands of northern Finland, Sweden and Norway, and from other writers with connections to Scotland - Dean Atta, Cal Flyn, and Victoria McNulty - who join to talk about their own amazing journeys with writers from elsewhere in Europe.
Writer to writer
Bernardine Evaristo, Jackie Kay, Val McDermid, Elif Shafak, and Ali Smith talk about how their experiences have informed their writing careers in a series called What Makes a Writer and, in its 40th year, the Festival has selected 40 writers for New Writers, New Worlds.
This strand highlights 20 emerging Scottish authors including Heather Parry and Em Strang, and international writers like Jenny Erpenbeck and Leila Slimani. 2023 also sees the return of three authors who attended the first ever Festival in 1983  — Alastair Moffat, Michael Rosen, and A.N. Wilson.
Edinburgh International Book Festival tickets go on sale on 29 June 2023.