Image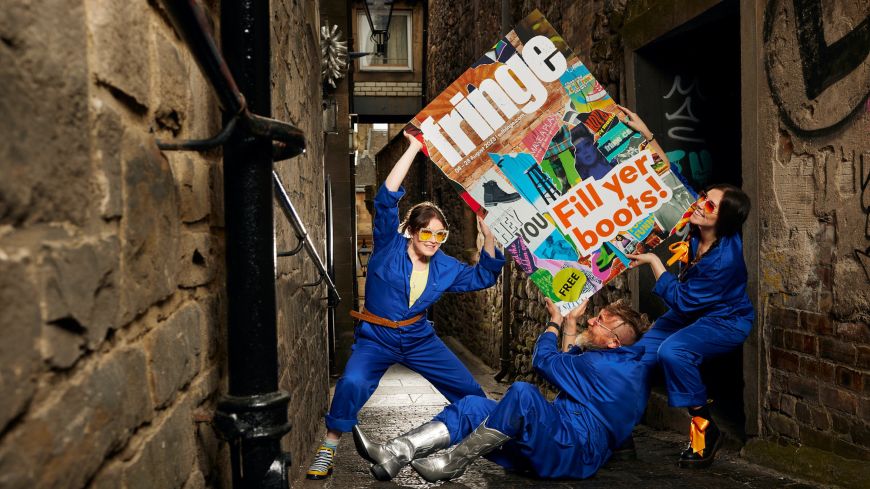 Credit
Peter Dibdin / EdFringe
The Fringe Society launched the official Edinburgh Festival Fringe 2023 programme today. Tickets for most Fringe shows have already been on sale through the staggered box office opening, where tickets were released in waves in February, March and May. 
But there's still a slew of new shows out today, including 30 new shows from Zoo, 20 from Scottish Storytelling Centre, and 9 new shows at The Traverse theatre.
This year's Fringe programme has a total of 3,013 shows, which is down on last year's 3,171 shows and over a fifth fewer shows than the 3,841 total of the pre-pandemic Fringe in 2019.
This year's numbers reflect continued strong interest in performing on the Fringe, but many artists and producers are struggling with the increasing cost of accommodation and putting on shows in Edinburgh. 
Not surprisingly, over a quarter (798) of shows are from Scotland, with 535 (17.75%) of those shows coming from Edinburgh alone. 
A little less than half (1,417) of the rest of the shows are from the rest of the UK, and the remainder (26.5%) are from around the world with 64 non-UK countries represented.
As always, there's a broad and varied array of different genres and subject matter, much that could have been plucked from the headlines; from Scots TV celebrity Gail Porter's autobiographical mental health comedy, to a musical ecological play that integrates an ice installation, to a show about the founder of the Segway performed on Segways. 
Theatre and comedy are well represented as well as dance, musicals, circus, cabaret, kids' shows, gigs, performance art, street shows (on the Royal Mile and the Mound), and spoken word. 
"Getting the programme out into the world is such an important moment for everyone involved in the Fringe," said Shona McCarthy, Chief Executive of the Edinburgh Festival Fringe Society. 
"The ideas, originality and passion that performers bring to Fringe stages every year is testament to the role that Edinburgh plays in celebrating and promoting their work to the world. The Fringe '23 programme is bursting with every kind of live performance, so whether theatre premieres are your thing, or the best of live comedy, street arts or circus, jump straight in and fill yer boots with as much as you can." 
"Fill Yer Boots" (slang for "take as much as you want") is the theme for this year's programme cover and the wider Fringe marketing campaign.
This year will also see a return of the Fringe app, available in July.
If rising ticket prices are a deterrent, Fringe-goers should note that there are 308 free shows and 463 Pay What You Can/Want shows. That's over a quarter of shows.
Fringe Days Out is also back offering local communities who would normally be excluded from the Fringe,  free tickets and travel to shows.
New venues
Every Fringe, there are productions performing out of unusual venues around the Edinburgh area. Two shows from Arts Council England's Horizon Showcase include Forge (p 273) at the Royal Lyceum Theatre's set and costume workshop in Roseburn, and Bodies (p 171) an immersive, interactive show taking place in the swimming pool of Dean's Community High School in Livingston.
Angry Snatch: A Reclamation Job in 15 Rounds (p 243) is a site-specific theatre show staged in the Port O'Leith Boxing Club, while The Recovery Through Comedy Show (p 130) features stand-up sets by Armed Forces veterans in Lady Haig's Poppy Factory. 
Ben and Natalie Nardone present their historical children's show, Plague, Poo n' Punishment (p 28), at The Lost Close, hidden just off the Royal Mile, while Eliminate the Impossible (p 170) is a Sherlock Homes-style adventure taking place around the city using an app.
"This programme will hit the Fringe with the creative wildness, political provocation and huge cultural impact that the festival delivers year after year, at a time when we need it most. I am so proud to continue to be a part of this phenomenal event, " said Fringe Society President Phoebe Waller-Bridge, whose Fringe show Fleabag debuted in August 2013. 
"We need help processing what the hell is going on in the world as well as being treated with the imaginative escape that only the immersive experience of the Fringe can provide. Whether your appetite is for theatre, dance, music, circus or street performing, August in Edinburgh will have it all. The only thing it needs now, is YOU!'
Get a paper copy of the Fringe brochure or search the online database