Image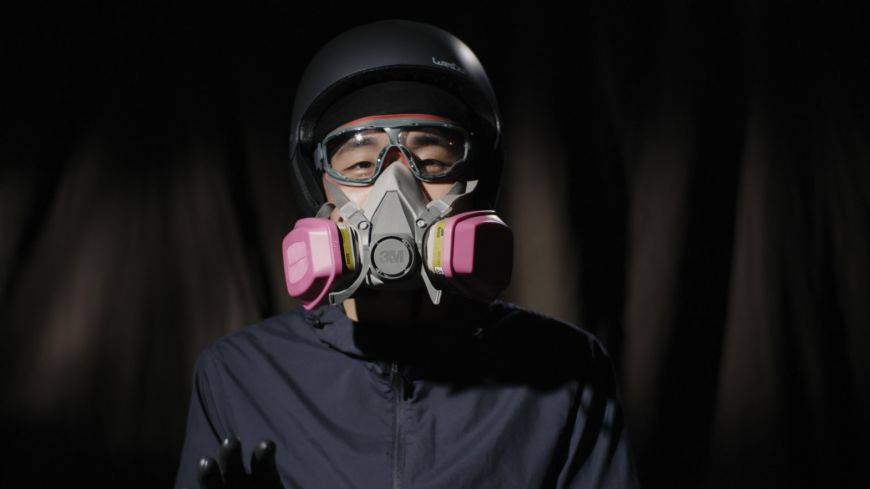 Credit
Faceless documentary
The Edinburgh International Film Festival unveiled its full, hybrid programme of films today, with 31 new features and 73 shorts – with 18 marking their world and 3 international premieres at the Festival.
The programme - launched digitally - is smaller, but more diverse than in previous years, with 50% of the new features from a female director or co-director.
Moving from its usual June slot in the calendar, the EIFF will run between 18 and 25 August, along with Edinburgh's summer Festivals.
The bulk of the in person screenings will take place at Filmhouse. The Opening Film Pig starring Nicolas Cage, the Closing Film Here Today, directed and starring Billy Crystal, and Special Preview screening of Everyone's Talking About Jamie will take place at Festival Theatre.  There is also a cocktail party event in St Andrew Square, prior to the screening of Everyone's Talking About Jamie.
As previously announced, there are screenings with partner venues across Scotland and free (ticketed) outdoor screenings of films in South Queensferry and St Andrew Square. 
The festival warms up with previously announced Film Fest on the Forth, a watery themed and now sold out series of popular films on 31 July and 1 August at Port Edgar Marina. During the festival in August, Film Fest in the City will host daily screenings of films in St Andrew Square.
EIFF tickets go on general sale at 12noon on Thursday 29 July (24 hours after Filmhouse members).
Introductions, Q&As, in person events and more screenings will be available on-demand through a dedicated streaming platform Filmhouse at Home. Films are typically available for 72 hours after the first public screening.
In Person ticket prices are £10 (£8 concession) and £5 for under-25s. 
Online ticket prices are £10 for features and £8 for shorts, while EIFF Youth online events are free.
"To say that the last 16 months has been challenging for everybody is, of course, a massive understatement," said Chief Executive Ken Hay, "one of the things that we've all missed the most is the communal cultural experience and that's what this year's EIFF is all about - celebrating not just the return to cinema but the return to life".
EIFF programme Highlights
Highlights of the programme include Leos Carax's Annette starring Adam Driver as a stand-up comedian and Marion Cotillard. It won the Best Director award at Cannes.
Immigration stories come to the fore with Haider Rashid's Europa starring British-Libyan Adam Ali as a young Iraqi refugee fighting to survive in the wilderness; Oscar-nominated Kaouther Ben Hania's The Man Who Sold His Skin tells of a young Syrian refugee who agreed to having his back tattooed in exchange for a better life in Europe. 
Maryam Moghaddam and Behtash Sanaeeha's Ballad of a White Cow sees a wife fighting against the broken justice system in Iran after her husband is executed for a crime he did not commit and New Zealand's The Justice of Bunny King tells the story of a troubled single mother trying to get the custody of her children back.
Two Scottish films exploring island life receive their World Premieres at EIFF: the previously announced documentary Prince of Muck (screening across Scotland) and Hebridean feature drama The Road Dance.
Documentaries
In documentaries, Walk with Angels offers a visceral look at South Africa's legacy of Apartheid and child trafficking, and Rebel Dykes explores the underground lesbian community in London in the 80s. 
Two personal documentaries, Radiograph of a Family from Firouzeh Khosrovani centres on the director's parents and uses them as a lens to look at Iran's society split between secular and Islamic beliefs and Alicia Cano Menoni's Bosco focuses on the director's grandfather living in Uruguay and his ancestral roots in a small Italian village.
Highlighting contemporary social issues, documentary The Gig Is Up shines a light on the forgotten gig economy workforce, from Deliveroo to Amazon.
The European Premiere of journalist Jennifer Ngo's Faceless centres on the pro-democracy protests in Hong Kong. Ngo, a Human Rights Press Award recipient, joins a panel discussing issues raised in her documentary in the Reel Talks strand of discussions. 
Documentary Fathom, looking at the culture and language of humpback whales, will also have a discussion panel, including one of the film's subjects, Dr Ellen Garland, biologist at University of St Andrews.
Horror, Animation and Shorts
Highlights in the horror department include David Bruckner's The Night House and Martyrs Lane from Ruth Platt reinventing the classic ghost story. 
In animation, Academy Award-winning director and animator Phil Tippett presents the second instalment of his Miltonesque Mad God, followed by a digital Q&A.
The "godfather of techno" Laurent Garnier and Gabin Rivoire, the director of the documentary Laurent Garnier: Off the Record will be doing digital Q&As.
The quirky French feature comedy Mandibles sees two friends trying to train a giant fly to make money off of it and Norway's Ninjababy blends animation and live action to tell the story of a young cartoonist and her unexpected pregnancy.
There's digital Q&As lined up with the director of Ninjababy, Yngvild Sve Flikke; director of Radiograph of a Family, Firouzeh Khosrovani; and the director of The Gig Is Up, Shannon Walsh.
The film festival this year has seven strands of short films – fiction, animation, documentary and experimental. All short films are available to audiences digitally on Filmhouse at Home.
Awards and Funding
Festival audiences will have a chance to vote for their favourite film which will receive the 2021 Audience Award. However, there is no Michael Powell Award for Best British feature this year.
As well as sponsorships and partnerships, EIFF has benefited from ongoing support from a range of government agencies: Screen Scotland, the PLACE Programme (a partnership between the Scottish Government, City of Edinburgh Council and the Edinburgh Festivals), the Scottish Government through the Festivals Expo Fund, the City of Edinburgh Council, EventScotland and the British Film Institute (BFI) using funds from the National Lottery. 
Culture Minister Jenny Gilruth said: "I am delighted to welcome the festival back after its absence last year to remind us of the magic of watching films on the big screen. 
"Through the Scottish Government's PLACE programme, over £124,500 has been awarded to the festival to support a range of activity including a Talent Lab for professional development; Script Starter, a new screenwriting programme for under-represented writing talent from across Scotland; and a dedicated youth programme, designed to engage young people directly and support aspiring film makers."
"I am also pleased that £50,000 of funding from the Scottish Government's Festivals Expo Fund has contributed to the Edinburgh International Film Festival's innovative development of communal cinema experiences, so that a series of movies - including the Scottish-made documentary Prince of Muck - can be enjoyed nationwide."
Full details and tickets are available from the Film Festival.