Image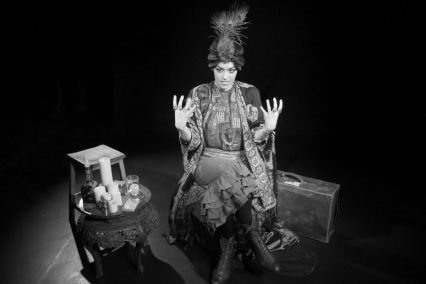 Production
Lucy Roslyn (writer), Jamie Firth (director), Minced Beats (sound), Bogdan Vacerescu (original music).
Performers
Lucy Roslyn (Myra Collins).
Listen carefully, the storm is coming. The wind is picking up, dirt is rising, electricity fills the air - and in the cloud? Monsters.
Out of the cloud rolls the gimcrack Boon and Doggett Circus, still struggling its way across the famine struck dustbowl of the Dirty Thirties. This is no Ringling Brothers, it's not very razzle-dazzle and fortune-teller Myra Collins is plying her trade as a sideshow. She doesn't offer tricks, just hope, and in the Depression era that could be a valuable commodity – "'People will pay to believe that anything is possible".
Some see the storm as the End of the World and certainly the signs are all there; the banks are collapsing, the crops are dying – the land is now a dustbowl, a graveyard. In times like these people look for a guiding light, but is she really cursed with second sight or just an old fraud trapped in her own pretence?
Like anyone Myra has her struggles, she may be (like her clients) far from where she wants to be, but she is first and foremost a showman. Raised to use the elaborate sign language gestures learned from her mother she has a commanding mystical presence. Added to this she has two signs that she learned from a performing chimpanzee – showmanship and grief. The question that remains is whether she can offer you a light?
BoonDog Theatre (of which Lucy is Creative Director) has a marvellous talent for shining a light on entertainment history, bringing it out of the shadows and yet somehow making it darker. The simple staging allows focus; the audience drawn into the light of the candle, and the flickering and repeated extinguishing of hopes and dreams. While the story weaves a spellbinding mood, its weft could be stronger. As with last year's Goody (an overlapping circus story of the relationship between trainer and chimpanzee), the story seems a little prone to repetition and doesn't progress smoothly or fully.
The inherent lack of communication that dogged Goody is however cast aside as it ramps up to its tearful, emotional conclusion. The production is darkly funny, nostalgic and sad and the performance is a masterclass in the art of monologue.
Not perfect in its insight but, suitably, it's a great piece of showmanship.
Show Times: 1st to 13th and 15th to 27th August 2018 at 5:40 pm
Tickets: £8.50 (£6.50) to £10.50 (£8.50).
Suitability: 14+ (some strong language)